FIFA headliners are common in the FIFA group. FIFA 20's cards were released a few days ago. FIFA 19 has the first headliners cards. But, many sports fans didn't understand how the cards work. Headliners have a high players' rating. Here are ten popular FIFA headliners.
1. Keylor Navas (Headliners 90-OVR 87)
Keylor has enough playtime at Paris Saint-Germain. FIFA 20 has two in-forms from Keylor. The goalkeeper has conceded 11 goals so far in Ligue 1 this season. He has a menacing 90 headliners FIFA card.
2. Kevin De Bruyne (Headliners 95-OVR 91)
Kevin might pick a 95 headliners card. He has made 15 assists and scored seven goals in the current English Premier League campaign. But, his high OVR rating limits his future growth.
3. Ciro Immobile (Headliners 90-OVR 86)
Ciro has three headliners cards in FIFA 20. All the other FIFA players have one or two in-form cards. He has five assists and 23 goals this campaign. Ciro might be a Headliner soon.
4. Steven Bergwijn (Headliners 87- OVR 82)
Steven is one of the top players for PSV Eindhoven. He has made 10 assists and five goals in 16 games. The Dutch footballer deserves a Headliners since he has two in-form cards.
5. Timo Werner (Headliners 87-OVR 83)
Timo is one of the youngest players in the Bundesliga. He is a talented striker who has made six assists and scored 18 goals this season. The striker has two in-form headliners cards.
6. Lautaro Martinez (Headliners 85- OVR 81)
Lautaro and Romelu Lukaku form Inter Milan's attacking dual. They have helped the Italian club improve its ranking at Serie A. Lautaro has made three assists and scored ten times this season. He earned one in-form card.
7. Dele Alli (Headliners 87-OVR 84)
Dele Alli wasn't performing well at Tottenham Hotspur a few seasons ago. Even so, his form has improved since the club hired Jose Mourinho. He has two assists and six goals this campaign. Also, he has an 87 headliners card.
8. Theo Hernandez (Headliners 85-OVR 76)
Theo plays as a defender for AC Milan. He has made two assists and scored five goals in 16 appearances. The club has only conceded 26 goals so far. Theo has two in-form cards in FIFA 20.
9. Tammy Abraham (Headliners 85-OVR 76)
Tammy has been in great form this year. He has made 21 appearances for Chelsea in this campaign. The striker has made three assists and scored 13 goals for the Blues. He received two in-form headliners cards.
10. Georginio Wijnaldum (Headliners 87-OVR 84)
Georginio is one of Liverpool's most underrated footballers in this campaign. He has played in 22 games for the England club so far. The midfielder has an 84 headliners card that might improve soon. His recent four consecutive wins might earn him extra overall points.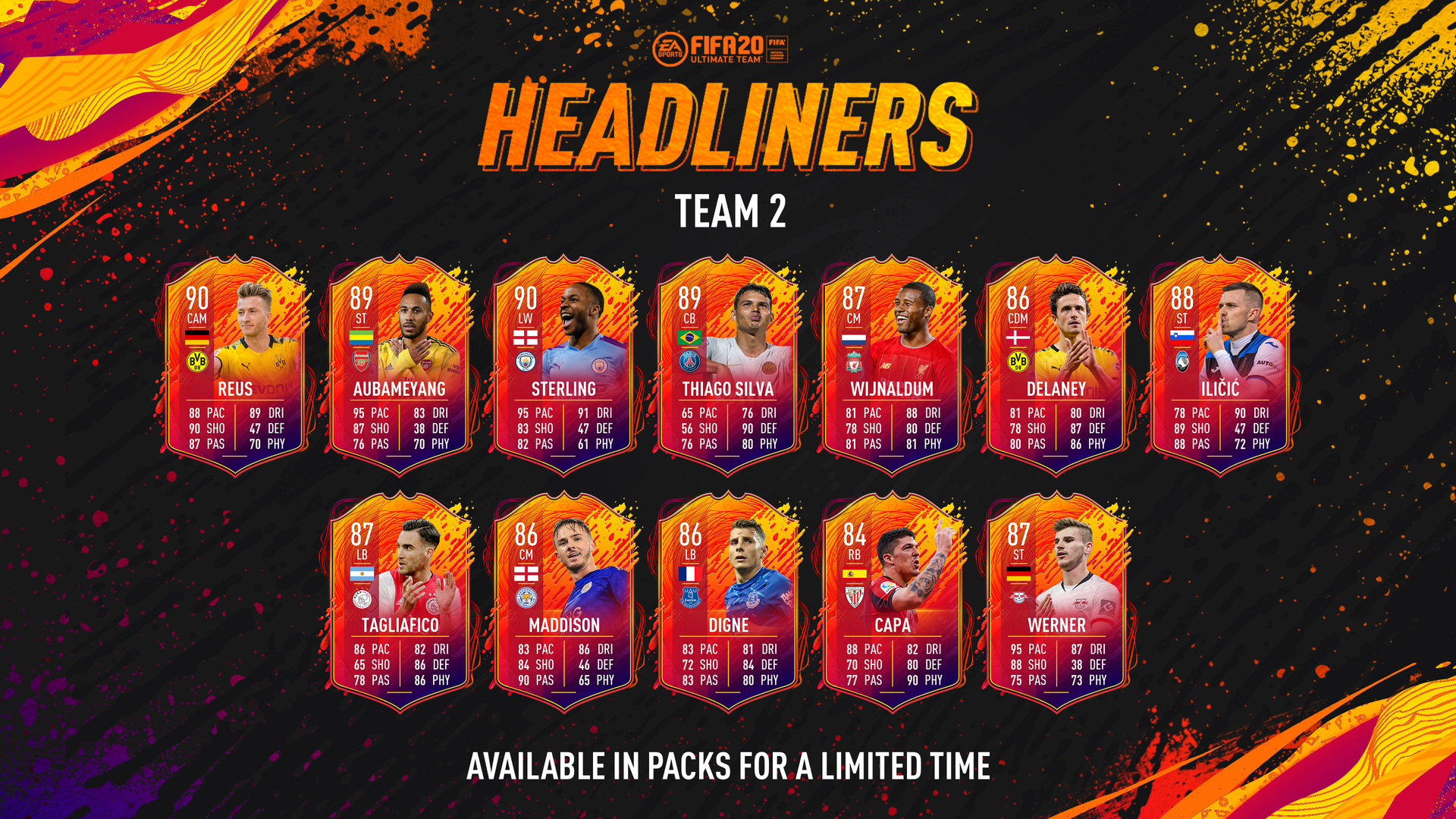 Headliners Team 2 was released last Friday. Many FIFA fans eagerly waited to see which players would be added to the team. Betway allows sports fans to compete in esport tournaments. The headliner remains permanent if a club wins four consecutive games in a DOMESTIC LEAGUE.