The FIFA Interactive World Cup 2014 is over. Find out who won the title.
FIFA Interactive World Cup 2014
To who don't knows, FIFA Interactive World Cup is an official FIFA tournament that recognizes, every year, the virtual football talents of gamers playing the EA SPORTS™ FIFA series on the PlayStation®3. It is recognised by Guinness World Records as the world's largest on line gaming tournament and more than 5,000,000 players have taken part since 2009. FIWC is an official FIFA tournament that gives football fans the chance to live out their passion for football and to interact with other fans around the world. Participants from every continent battle it out to qualify for the Grand Final, where the FIWC champion is crowned.
The world's top 20 virtual footballers travelled to Rio de Janeiro as part of a dream three-day trip, which culminated in a visit to the Maracana to see France take on Germany in the first FIFA World Cup quarter-final. Ronaldo and Dwight Yorke were the footballing heroes present in the Final Showdown.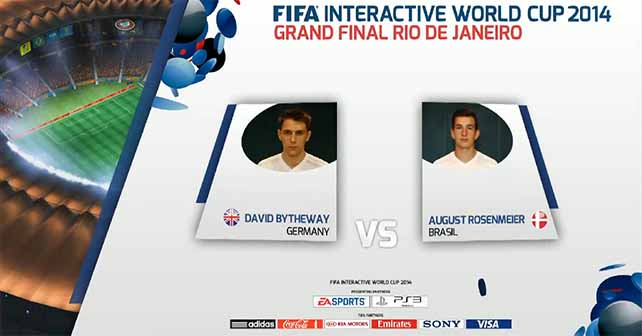 FIFA Interactive World Cup 2014 Champion
Denmark's August Rosenmeier is the new FIFA Interactive World Cup (FIWC) World Champion after beating David Bytheway of England 3-1 in the Grand Final on the iconic Sugarloaf Mountain in Rio de Janeiro, Brazil.
Rosenmeier, competing in his third consecutive FIWC Grand Final, also received a cheque for USD 20,000 and will travel to the Ballon d'Or to rub shoulders with the world's best footballers.
"I'm absolutely delighted and I can't describe how it feels to be champion," said the 18-year-old. "Denmark isn't here at the World Cup but we showed them we can play football on the virtual pitch. It was amazing to receive the trophy from Ronaldo."
In a tense final, Bytheway went ahead playing with Germany before Rosenmeier stormed to victory playing as host country Brazil.
Speaking about the Dane's win, Ronaldo said:
"I think it's great to see this beautiful tournament here during the World Cup," said Brazil legend Ronaldo. "I was really impressed by the level of skill on display at the Final Showdown. These guys are really talented and I thought Rosenmeier was a worthy winner."
Now in its tenth year, this was the first time the FIWC Grand Final took place at the same time and in the same country as the FIFA World Cup.
FGN watched the semi-finals and final matches and can ensure that he deserved the title. Congratulations.
FIFA Interactive World Cup 2014 Results
August Rosenmeier was the great winner of FIFA Interactive World Cup 2014 but some great gamers were on this tournament too. Check out all the FIFA Interactive World Cup 2014 Results:
Quarter-final
August Rosenmeier (DEN) 3-0 Alban Xhemajli
Rafael Fortes (BRA) 1-5 Jorrick Boshove (NED)
Steven van de Vorst (NED) 2-1 Farid Diffallah (FRA)
David Bytheway (ENG) 1-0 Adrien Viaud (FRA)
Semi-final
August Rosenmeier (DEN) 2-0 Steven van de Vorst (NED)
Jorrick Boshove (NED) 0-1 David Bytheway (UK)
3rd place match
Steven van de Vorst 2-1 (NED) (aet) Jorrick Boshove (NED)
Final
August Rosenmeier (DEN) 3-1 David Bytheway (UK)

FIFA Interactive World Cup History
It was the first time that a Danish player got the FIWC title. Check out all the winners:
2014: August Rosenmeier (DEN)
2013: Bruce Grannec (France)
2012: Alfonso Ramos (Spain)
2011: Francisco Cruz (Portugal)
2010: Nenad Stojkovic (USA)
2009: Bruce Grannec (France)
2008: Alfonso Ramos (Spain)
2006: Andries Smit (Netherlands)
2005: Chris Bullard (United Kingdom)
2004: Thiago Carrico de Azevedo (Brazil)