The schedule for the way to the FIWC 2017 Grand Final in London was finally unveiled. Discover here all the Road to London dates.
FIWC 2017 – Schedule for the way to the FIWC Grand Final London
What has been kept a secret for quite some time, will now finally be revealed! This is the schedule for the way to the FIWC Grand Final in London including all event dates from February until May. The combined prize pool for all the live events building up to the FIWC Grand Final in London is an impressive $1.3 M, with the first Regional Final kicking off in Paris on February 4. Season 1 qualifying events for the regions Americas and Rest of World will follow in Sydney and Miami on February 11 and
19 respectively.
Participants in Season 1, which took place in November 2016, and Season 2, which runs from January 1 until the end of the month, qualify for a Regional Final in their area and from there for the Ultimate Team Championship. The top eight players from UTC will then ultimately qualify for the Grand Final. The live qualification events for Season 2 will take place in Vancouver, Singapore and Madrid in April and May 2017.
Season 1 Regional Finals:
Europe
Paris – February 4
Rest of the World
Sydney – February 11
Americas
Miami – February 19
Season 2 Regional Finals:
Americas
Vancouver – April 22 UPDATED
Rest of the World
Vancouver – April 21 UPDATED
Europe
Madrid – May 6
Each Regional Final of Season 1 & 2 will showcase 16 players on each console (Xbox One and PlayStation 4), playing a combination of round-robin and bracket-style elimination matches to determine the divisional winners. As introduced in last year's FIWC Grand Final, the divisional champs will then faceoff in a two-leg finale across both platforms to determine the inter-divisional winner.
Players who try their luck in Season 3 qualify for a Regional Final as well but then make their way directly to the Grand Final in London in August 2017! The Season 3 qualification period will come about from February until the end of April. Accompanying Regional Final dates and locations will be announced soon.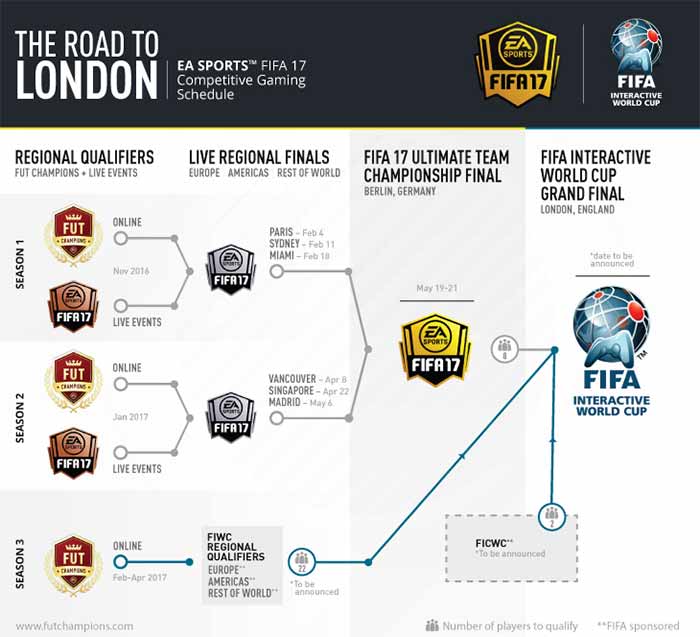 The FIFA Interactive World Cup (FIWC) is the largest gaming tournament in the world. The virtual football championship is organised by FIFA and its presenting partner EA SPORTS™. The tournament already enabled 6 million football fans from all around the world to fight for the title of the best FIFA player 2017. This year's winner does not only receive $200,000 USD prize money, but also an invitation to the Best FIFA Football Awards and with that the chance to meet the best football players in the world.