List of all On Line items from the EA Sports Football Club Catalogue.
EA Sports Football Club Catalogue
The EA Sports Football Club Catalogue is a kind of store where players can trade the FCC (Football Club Credits) they earned by hundreds of items.
Every time you play FIFA 14, you earn XP points and FCC until the daily limit of 2,000 for each one. As we already explained, you can spend the FCC to unlock items on EA Sports Football Cub. You need to get a specific level to buy certain items. That's why XP points are important. Players can not trade items of a higher level and are not allowed to buy a item more than once. The purchased items are marked with a green tick and the inactive items are marked in gray until the player reaches the respective level.
To access to EA Sports Football Club Catalogue, players just need to select 'Football Club' from the main FIFA 14 menu and then 'Catalogue'. It is not possible to access Catalogue from the FUT Web App.
Inside the EA Sports Football Club Catalogue, the items are organized by level of experience and by category. It is possible, for example, to filter the items that are exclusively for Ultimate Team mode. The categories available are: Game Play items, Ultimate Team items, On line items and Career items.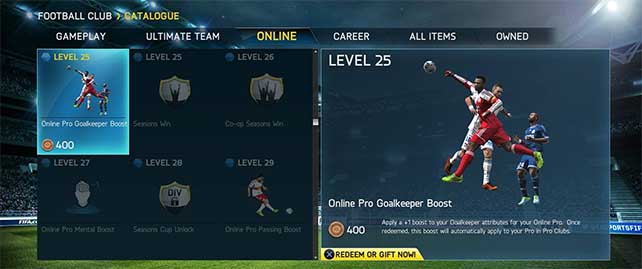 On Line Items
Here is the list of all On line items that you can trade from catalogue:

[accordion]
[accordion_item title ="Co-Op Seasons"]

| | | |
| --- | --- | --- |
| ITEM | LEVEL | FC CREDITS |
| | | |
| Co-op Seasons Draw | 2 | 500 |
| Co-op Seasons Extra Match | 6 | 500 |
| Co-op Seasons Win | 8 | 1000 |
| Co-op Seasons Draw | 11 | 750 |
| Co-op Seasons Extra Match | 13 | 700 |
| Co-op Seasons Draw | 18 | 1000 |
| Co-op Seasons Extra Match | 22 | 900 |
| Co-op Seasons Draw | 24 | 1250 |
| Co-op Seasons Win | 26 | 2000 |
| Co-op Seasons Draw | 32 | 1500 |
| Co-op Seasons Extra Match | 36 | 1100 |
| Co-op Seasons Extra Match | 38 | 1300 |
| Co-op Seasons Extra Match | 42 | 1500 |
| Co-op Seasons Win | 43 | 3000 |
| Co-op Seasons Extra Match | 48 | 1700 |
| Co-op Seasons Extra Match | 55 | 1900 |
| Co-op Seasons Extra Match | 60 | 2100 |
| Co-op Seasons Win | 88 | 4000 |
| Co-op Seasons Extra Match | 94 | 2300 |
| Co-op Seasons Draw | 96 | 2000 |
| Co-op Seasons Extra Match | 105 | 3500 |
| Co-op Seasons Draw | 122 | 4500 |
[/accordion_item]
[accordion_item title ="On Line Pro"]
| | | |
| --- | --- | --- |
| ITEM | LEVEL | FC CREDITS |
| | | |
| Online Pro Ball Skills Boost | 2 | 200 |
| Online Pro Goalkeeper Boost | 4 | 200 |
| Online Pro Mental Boost | 6 | 200 |
| Online Pro Passing Boost | 8 | 200 |
| Online Pro Defense Boost | 10 | 200 |
| Online Pro Physical Boost | 12 | 200 |
| Online Pro Shooting Boost | 14 | 200 |
| Online Pro Boost Bundle | 18 | 1250 |
| Online Pro Ball Skills Boost | 23 | 400 |
| Online Pro Goalkeeper Boost | 25 | 400 |
| Online Pro Mental Boost | 27 | 400 |
| Online Pro Passing Boost | 29 | 400 |
| Online Pro Defense Boost | 31 | 400 |
| Online Pro Physical Boost | 33 | 400 |
| Online Pro Shooting Boost | 35 | 400 |
| Online Pro Boost Bundle | 43 | 2000 |
| Online Pro Swerve Pass Trait | 52 | 600 |
| Online Pro Fancy Flicks Trait | 58 | 750 |
| Online Pro Diving Header Trait | 58 | 850 |
| Online Pro Ball Skills Boost | 63 | 1000 |
| Online Pro Goalkeeper Boost | 65 | 1000 |
| Online Pro Fancy Passes Trait | 65 | 1000 |
| Online Pro Mental Boost | 67 | 1000 |
| Online Pro Passing Boost | 69 | 1000 |
| Online Pro Defense Boost | 71 | 1000 |
| Online Pro Black Gloves Acessory | 72 | 1500 |
| Online Pro Physical Boost | 73 | 1000 |
| Online Pro Shooting Boost | 75 | 1000 |
| Online Pro Bicycle Kicks Trait | 86 | 1500 |
| Online Pro Undershirt Acessory | 91 | 3500 |
| Online Pro High Socks Acessory | 101 | 2000 |
[/accordion_item]
[accordion_item title ="Seasons"]
| | | |
| --- | --- | --- |
| ITEM | LEVEL | FC CREDITS |
| | | |
| Seasons Extra Match | 3 | 300 |
| Seasons Win | 4 | 500 |
| Seasons Draw | 5 | 400 |
| Seasons Extra Match | 6 | 500 |
| Seasons Extra Match | 7 | 400 |
| Seasons Win | 8 | 750 |
| Seasons Draw | 9 | 600 |
| Seasons Extra Match | 10 | 600 |
| Seasons Extra Match | 12 | 700 |
| Seasons Extra Match | 16 | 800 |
| Seasons Draw | 19 | 800 |
| Seasons Extra Match | 21 | 900 |
| Seasons Draw | 23 | 1000 |
| Seasons Win | 25 | 1000 |
| Season Cup Unlock | 28 | 2000 |
| Seasons Draw | 30 | 1200 |
| Seasons Extra Match | 31 | 1000 |
| Seasons Draw | 34 | 1400 |
| Seasons Draw | 36 | 1600 |
| Seasons Extra Match | 37 | 1100 |
| Seasons Draw | 39 | 1800 |
| Seasons Extra Match | 40 | 1200 |
| Seasons Draw | 41 | 2200 |
| Seasons Extra Match | 44 | 1400 |
| Seasons Draw | 46 | 2000 |
| Seasons Extra Match | 52 | 1300 |
| Seasons Draw | 54 | 2400 |
| Seasons Extra Match | 56 | 1500 |
| Seasons Win | 62 | 1500 |
| Seasons Extra Match | 64 | 1600 |
| Seasons Win | 69 | 2000 |
| Seasons Extra Match | 71 | 1700 |
| Seasons Extra Match | 75 | 1900 |
| Seasons Extra Match | 79 | 2500 |
| Seasons Extra Match | 81 | 1800 |
| Seasons Draw | 82 | 2600 |
| Seasons Extra Match | 84 | 2000 |
| Seasons Draw | 90 | 2800 |
| Seasons Extra Match | 92 | 3000 |
| Seasons Win | 97 | 3000 |
| Seasons Extra Match | 98 | 3500 |
| Seasons Draw | 110 | 4000 |
| Seasons Win | 125 | 7500 |
[/accordion_item][/accordion]