FIFA gamers have two good reasons to buy XBox: a free FIFA 14 copy and an exclusive content: football legends
Football Legends is the FIFA 14 Ultimate Team Exclusive Content to XBox
After the win of PS4 over the XBox One in the E3 2013, Microsoft is trying everything to persuade gamers to buy XBox One. They used the Gamescom 2013 to a big announcement: every Xbox One pre ordered in Europe will include FIFA 14 for free (while stock lasts). Yes, you read it well. If you want to buy FIFA 14 for next-gen consoles, you don't will to spend anything if you choose the Microsoft console. The news was revealed during today's Microsoft conference.
If you are a FUT lover and want another good reason to try XBox One, there is another one: all the XBox gamers (including XBOx 360) will have a FIFA 14 Ultimate Team exclusive content: Football Legends.
Fans of the beautiful game have long dreamt of fantasy lineups featuring the legends of the past and the superstars of today. Those dreams are now a reality with football legends coming to the ever popular FIFA Ultimate Team mode, only on Xbox 360® and Xbox One®.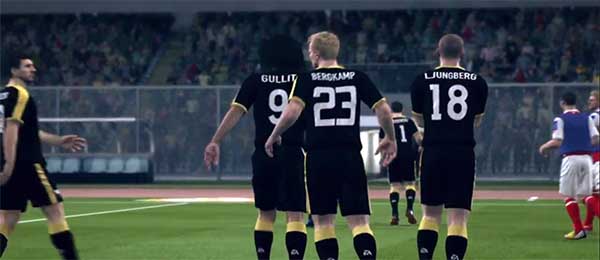 Football Legends cards will be white
The star-studded lineup includes some of the greatest football legends to ever step onto the pitch. Freddie Ljunberg, Ruud Gullit, Pelé and Dennis Bergkamp are just some of the greats that players can now add to their FIFA 14 Ultimate Team starting XI. Each football legend will have unique attributes based on their skills and flair during the peak of their careers, and will be randomly inserted into FIFA 14 Ultimate Team Gold Packs beginning at the launch of the Xbox One.
Here is a video of Football Legends, the exclusive content of FIFA 14 Ultimate Team XBox consoles: