The FUT 13 TOTS is over. But there is time to a last team with the best TOTS players, picked by the Dev Team: the EASFC TOTS.
FUT 13 EASFC TOTS – The Best of the Best Players of the Season
EA Sports have released eight FUT 13 TOTS. The DIV Team picked the best players of those Team of the Seasons in a a single one. It isn't a new TOTS. Just something like a best of.
Here it is the new FUT 13 EASFC TOTS:
Starting Eleven
GK: Federico Marchetti, Lazio – 83 (84)>89
RB: Philipp Lahm, Bayern München – 87>92
CB: Andrea Barzagli, Juventus – 84>89
CB: Thiago Silva, PSG – 87 (89)>92
LM: Franck Ribéry, Bayern München – 90 (91)>94
LM: Gareth Bale, Tottenham Hotspur – 85 (88)>93
CDM: Arturo Vidal, Juventus – 84 (85)>89
CM: Iniesta, FC Barcelona – 90 (91) / 96>95
LW: Cristiano Ronaldo, Real Madrid – 92 (94) / 97>96
ST: Zlatan Ibrahimović, PSG – 88 (89)>94
CF: Lionel Messi, FC Barcelona – 94 (96) / 98>97
Subs
GK: Thibaut Courtois, Atlético Madrid – 79 (81)>86
LB: Leighton Baines, Everton – 80 (81)>86
CAM: Mathieu Valbuena, Marseille – 82 (84)>87
CAM: Juan Mata, Chelsea – 86 (87)>90
ST: Edinson Cavani, Napoli – 86 (88)>92
ST: Robin van Persie, Manchester United – 88 (89)>93
ST: Stefan Kießling, Bayer 04 Leverkusen – 79 (81)>88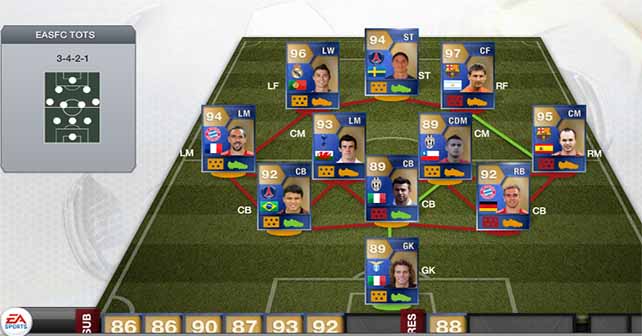 Click above the image to maximize it
You can view this team in-game in the Web App HERE.

The FUT 13 EASFC TOTS was released on Friday June 21st and it is available in packs between June 21st 6pm (UK time) and Sunday June 23th 6pm.
This is the last FUT 13 TOTS release. Don't lose this last chance to improve your FUT 13 squad with the best players of the game. Buy them on the auction market or get them on packs. Take advantage of the special Happy Hours to get the best IF cards of this TOTS.
We will continue to bring you everything about the In Form Cards. Stay with us.