Find out who are in the FUT 13 TOTS players of Ligue 1.
FUT 13 TOTS – Ligue 1 Players of the Season
The new FUT 13 TOTS of the Ligue 1 is:
Starting Eleven
GK: Mickaël Landreau, SC Bastia – 82>87
RB: Rod Fanni, Marseille – 76 (78)>82
CB: Nicolas N'Koulou, Olympique Marsielle – 80>85
CB: Thiago Silva, PSG – 87 (89)>92
LB: Benoît Trémoulinas, Bordeaux – 76 (79)>83
CM: Florent Balmont, LOSC Lille – 79>84
CDM: Blaise Matuidi, PSG – 77 (79)>83
CAM: Mathieu Valbuena, Marseille – 82 (84)>87
LW: Dimitri Payet, LOSC Lille – 80 (81)>86
ST: Jérémie Aliadiere, FC Lorient – 73>74
ST: Zlatan Ibrahimović, PSG – 88 (89)>94
Subs
GK: Yoann Thuram-Ulien, ES Troyes AC – 68 (71)>74
CB: Aurélien Chedjou, LOSC Lille – 80 (81)>85
CB: Mamadou Sakho, PSG – 80>85
CDM: Didier Digard, Nice – 70>74
CAM: Rémy Cabella, Montpellier SC – 75>81
CF: Jérémy Ménez, PSG – 81 (82)>87
RW: Pierre-Emerick Aubameyang, AS Saint-Etienne – 79 (80)>85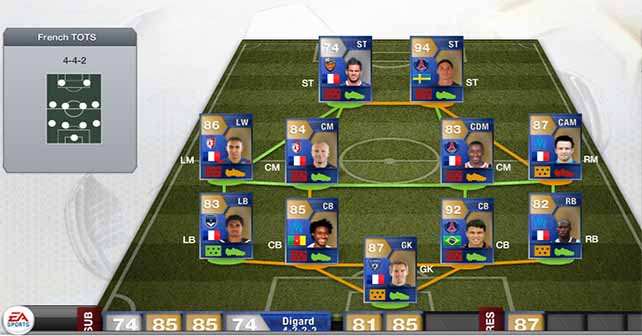 Click above the image to maximize it
You can view this team in-game in the Web App HERE.

The FUT 13 TOTS of the Ligue 1 was released on Wednesday June 5th and it is available in packs between June 5th 6pm (UK time) and June 12th 5:30pm. It is easy to guess that Ibrahimovic TOTS will cost a fortune. And he will not be the only one. Thiago Silva TOTS will be available only for who have more than 1 million coins to spend.
A new FUT 13 Team of the Season will be released on the next Wednesday. Don't lose this chance to improve your FUT 13 squad with the best players. Buy them on the auction market or get them on packs.
We will continue to bring you everything about the TOTS. Stay with us.