Every week there is a new FUT 14 Legends Spotlight. This week is the time of Frank De Boer.
FUT 14 Legends Spotlight – Frank De Boer is the New Legend of the Week
FIFA 14 Ultimate Team Legends are special cards that are included in the game as any other card. The players of these cards are some of the greatest football players of all time. Each football legend have unique attributes based on their skills and flair during the peak of their careers. They probably are the best cards of the game. These special cards are only available for XBox One and for XBox 360.
During the week in which a Legend is featured in the Spotlight, you are more likely to find this item than at any other time of the year. During a Legends Spotlight, all other Legends will still available in FIFA 14 Ultimate Team. However, you are more likely to find that featured legend for that particular week.
Each week, EA Sports will highlight a particular Legend, whom players can then challenge along with a few of his legendary friends in Legends Team Challenge. Gamers will be able to earn coins for defeating that week's featured Legend and their squad (only the first time). It's just like FUT Team of the Week, but with the world's finest footballers.
The sixth player to be appointed to Legend of the Week was Frank De Boer.
In the 90s, Ajax Amsterdam was one of the most popular and successful clubs in Europe and defender Frank de Boer was just one of many stand out players on their roster. He started his career in the Dutch capital in 1988 and spent eleven seasons there. During that time, the club won five league titles, two Dutch Cups, the UEFA Cup in 1992 and the UEFA Champions League in 1995.
In addition, de Boer's playing career led him to Spain from 1998 until 2003, where he played with FC Barcelona for five seasons, winning one league title in 1999. He followed that up with a season for Galatasaray in Turkey followed by a year playing for Rangers in Scotland. He then ended his career in 2006 after spending two seasons playing in Qatar.
Success followed de Boer all around the world. He enjoyed a successful International career with The Netherlands making 112 appearances over the course of his career. He was a part of the squads at the 1994 and 1998 FIFA World Cups and the 1992, 2000 and 2004 UEFA European Championships.
After retiring as a player, de Boer took charge of Ajax in 2010 and since then, he has managed the club to three straight league titles. He served as an assistant for The Netherlands National Team during the 2010 FIFA World Cup where the country finished second.
Frank is also the younger twin to Brother Ronald. The two spent large chunks of their careers playing on the same field including multiple seasons together at Ajax, FC Barcelona, Rangers and on the Dutch National Team.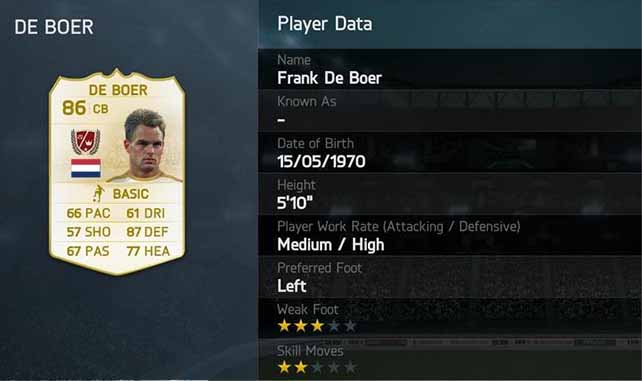 The Spotlight changes to a new Legend each week on Friday at 6pm UK time (9am Pacific).
Check our website to know who are the FUT 14 Legends Spotlight.