Every week there is a new FUT 14 Legends Spotlight. This week is the time of Jens Lehmann.
FUT 14 Legends Spotlight – Jens Lehmann is the New Legend of the Week
FIFA 14 Ultimate Team Legends are special cards that are included in the game as any other card. The players of these cards are some of the greatest football players of all time. Each football legend have unique attributes based on their skills and flair during the peak of their careers. They probably are the best cards of the game. These special cards are only available for XBox One and for XBox 360.
During the week in which a Legend is featured in the Spotlight, you are more likely to find this item than at any other time of the year. During a Legends Spotlight, all other Legends will still available in FIFA 14 Ultimate Team. However, you are more likely to find that featured legend for that particular week.
Each week, EA Sports will highlight a particular Legend, whom players can then challenge along with a few of his legendary friends in Legends Team Challenge. Gamers will be able to earn coins for defeating that week's featured Legend and their squad (only the first time). It's just like FUT Team of the Week, but with the world's finest footballers.
The third player to be appointed to Legend of the Week was Jens Lehmann.
Jens Lehmann is one of the best German goalkeepers to ever play the game.
Lehman began his career in 1988, spending ten seasons with FC Schalke 04. The club was promoted after his third season, and Lehman helped the side win the UEFA Cup in 1997.He even managed to score two goals as a goalie, once from the penalty spot in 1995, and another from open play in 1997.
Lehman left Gelsenkirchen and had a short stint in Milan before returning to Germany and signing with Borussia Dortmund in 1999. He spent five years there, winning a Bundesliga title in 2002.
Jens Lehmann joined Arsenal in 2003 and played in all 38 matches for the London-side en-route to their undefeated Premier League title. A year later, he would add an FA Cup to his trophy cabinet.
After the five-season stint with Arsenal, Lehmann returned to Germany for a second time, this time with VfB Stuttgart. Lehman played in 65 matches before retiring briefly in 2010. He would make brief return to the sport in 2011, signing with Arsenal once again, but would only play in one match as a substitute. Lehman would retire for good in 2011.
With Germany's strong pedigree of fantastic keepers, Lehmann's presence on the international stage never quite matched what he contributed domestically. But even so, he was a part of Germany's 2002 FIFA World cup runner-up squad and he was their first-choice keeper in 2006, where Germany hosted the FIFA World Cup and finished 3rd overall.
Jens Lehmann Career's Highlights
UEFA Cup title – 1996-97 (as a member of FC Schalke 04)
Serie A title – 1998-99 (as a member of AC Milan)
Bundesliga title – 2001-02 (as a member of Borussia Dortmund)
Premier League title – 2003-04 (as a member of Arsenal)
FA Cup title – 2004-05 (as a member of Arsenal)
UEFA Goalkeeper of the Year – 1997, 2006
FIFA World Cup All-Star Team – 2006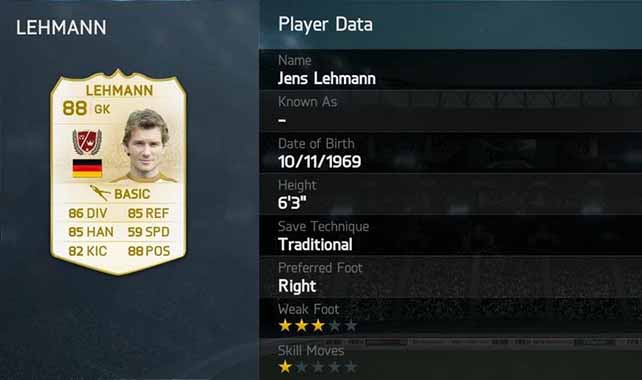 Click on the image in order to maximize it
The Spotlight changes to a new Legend each week on Friday at 6pm UK time (9am Pacific).
Check our website to know who are the FUT 14 Legends Spotlight.