Every week there is a new FUT 14 Legends Spotlight. This week is the time of Paolo Maldini.
FUT 14 Legends Spotlight – Paolo Maldini is the New Legend of the Week
FIFA 14 Ultimate Team Legends are special cards that are included in the game as any other card. The players of these cards are some of the greatest football players of all time. Each football legend have unique attributes based on their skills and flair during the peak of their careers. They probably are the best cards of the game. These special cards are only available for XBox One and for XBox 360.
During the week in which a Legend is featured in the Spotlight, you are more likely to find this item than at any other time of the year. During a Legends Spotlight, all other Legends will still available in FIFA 14 Ultimate Team. However, you are more likely to find that featured legend for that particular week.
Each week, EA Sports will highlight a particular Legend, whom players can then challenge along with a few of his legendary friends in Legends Team Challenge. Gamers will be able to earn coins for defeating that week's featured Legend and their squad (only the first time). It's just like FUT Team of the Week, but with the world's finest footballers.
The seventh player to be appointed to Legend of the Week was Paolo Maldini
Today, the number of athletes who spend their entire career with one team are few and far better, especially those who play for more than a decade. Italian defender Paolo Maldini not only spent his entire career with AC Milan, he's the first name that comes up in conversation when people talk about the Rossoneri.
Maldini started his career with Milan in 1985 at the age of 16, and he proceeded to make 647 appearances for the club over a 25-year span. During that time, he helped the club expand their trophy case with seven Serie A titles, five Champions League trophies, five UEFA Super Cups and one Coppa Italia, before he retired in 2009.
Although defenders are not known for their goal-scoring abilities, Paolo Maldini amassed 29 goals for the club, including the fastest ever Champions League Final goal in 2005, giving his team the lead after only 50 seconds of match time.
His international career with Italy lasted from 1988 until 2002. During that period, he was a part of the Italy's FIFA World Cup third place finish in 1990 in addition to a runner's up finish at the following World Cup in 1994. He was also part of the national team during Italy's 2000 European Football Championship run, where they lost to France in the finals.
The Maldini family has a long history with Milan. Paolo's father Cesare played for the club from 1954-1966 and managed them on two separate occasions. Additionally, his two sons are currently part of Milan's Youth Academy.
Maldini's #3 was retired by Milan, making him only the second player for the club to have that honor bestowed upon him. If either one of his sons ends up playing professional for Milan in the future, they will be eligible to wear the number.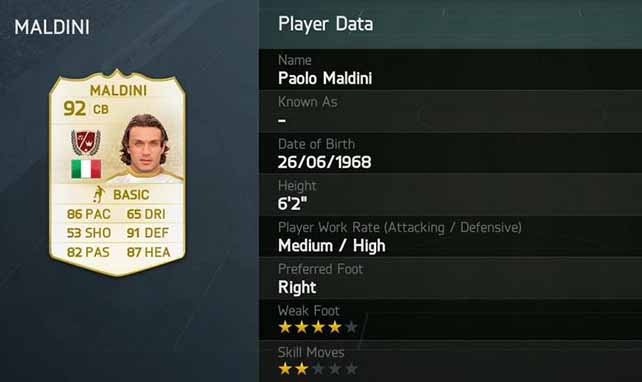 The Spotlight changes to a new Legend each week on Friday at 6pm UK time (9am Pacific).
Check our website to know who are the FUT 14 Legends Spotlight.