Welcome to the FUT 15 Community Weekend, where you can find free FIFA 15 untradeable packs, a new great featured tournament and Happy Hours.
FUT 15 Community Weekend
This weekend, FIFA Ultimate Team will be celebrating the FIFA community with great promotions, such as:
FREE packs – EA will be giving every FUT fan one free pack on Friday May 8, Saturday May 9, and Sunday May 10 at 18:00 UK.

Big Tournament Rewards – there will be three new tournaments over the weekend. Play at least one match in any of the Community Weekend tournaments to win one of 3000 rare tradable In-Forms! (Winners will be chosen at later date.) – Full list of available In-Forms below.

Special Pack offers – new pack offers will be available every day.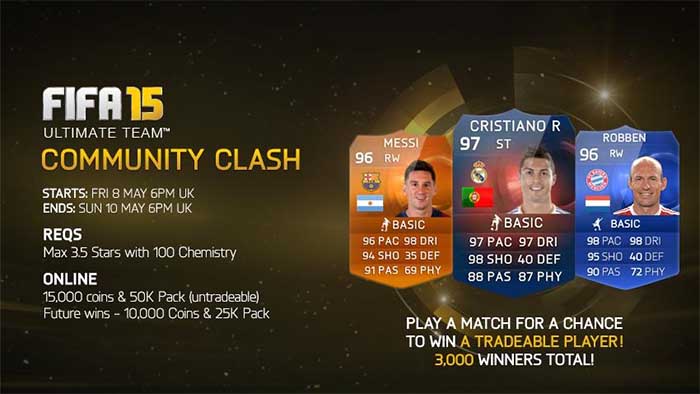 Here it is the list of the top rare tradeable IF players that you can get for free just for playing in the Community Clash Tournament during this FUT 15 Community Weekend. The winners will be announced later in the month. The cards are sorted by the higher overall rating.
| | | | |
| --- | --- | --- | --- |
| First Name | Last Name | OVR | Type |
| | | | |
| C. Ronaldo | dos Santos Aveiro | 99 | TOTY |
| Lionel | Messi | 98 | TOTY |
| C. Ronaldo | dos Santos Aveiro | 97 | Record Breaker |
| Lionel | Messi | 96 | MOTM |
| Arjen | Robben | 96 | TOTY |
| Manuel | Neuer | 96 | TOTY |
| Philipp | Lahm | 95 | TOTY |
| Andrés | Iniesta Luján | 95 | TOTY |
| C. Ronaldo | dos Santos Aveiro | 95 | MOTM |
| Lionel | Messi | 95 | Record Breaker |
| Ángel | Di María | 94 | TOTY |
| Sergio | Ramos García | 94 | TOTY |
| Thiago Emiliano | da Silva | 93 | TOTY |
| Toni | Kroos | 93 | TOTY |
| Zlatan | Ibrahimović | 93 | MOTM |
| Luis | Suárez | 92 | MOTM |
| Eden | Hazard | 90 | Hero |
| Luis | Suárez | 90 | MOTM |
| David Luiz | Moreira Marinho | 89 | TOTY |
| Neymar | da Silva Santos Jr. | 89 | MOTM |
| Gonzalo | Higuaín | 88 | MOTM |
| Thiago Emiliano | da Silva | 88 | MOTM |
| Carlos | Tévez | 88 | MOTM |
| Sergio | Ramos García | 88 | MOTM |
| Yaya | Touré | 87 | MOTM |
| Jérôme | Boateng | 87 | MOTM |
| Gonzalo | Higuaín | 87 | MOTM |
| Thibaut | Courtois | 87 | MOTM |
| Arturo | Vidal | 87 | MOTM |
| Kevin | De Bruyne | 86 | MOTM |
| Christian | Eriksen | 86 | MOTM |
| John | Terry | 84 | MOTM |
| Joe | Hart | 84 | MOTM |
| Ricardo Andrade | Quaresma Bernardo | 82 | MOTM |
| Danny | Welbeck | 81 | MOTM |
| Harry | Kane | 80 | Hero |