It's time for a fresh spin on holiday fun with FUT 21 Freeze. From a new squad of tailored boost possessing Special Player Items to daily player Squad Building Challenges, there's plenty to look forward to this time of year.
FUT 21 Freeze Event
FUT 21 Freeze is a promo event that started on December 11, 2020 and will include several offers.
Freeze Team
Freeze themed Special Player Items are coming to FIFA Ultimate Team featuring position swaps along with permanent upgrades that leverage stat adjustments with those new roles in mind. The FUT Freeze Player Items elevate your squad with new-found versatility that can help change the way you think about building your Ultimate Team.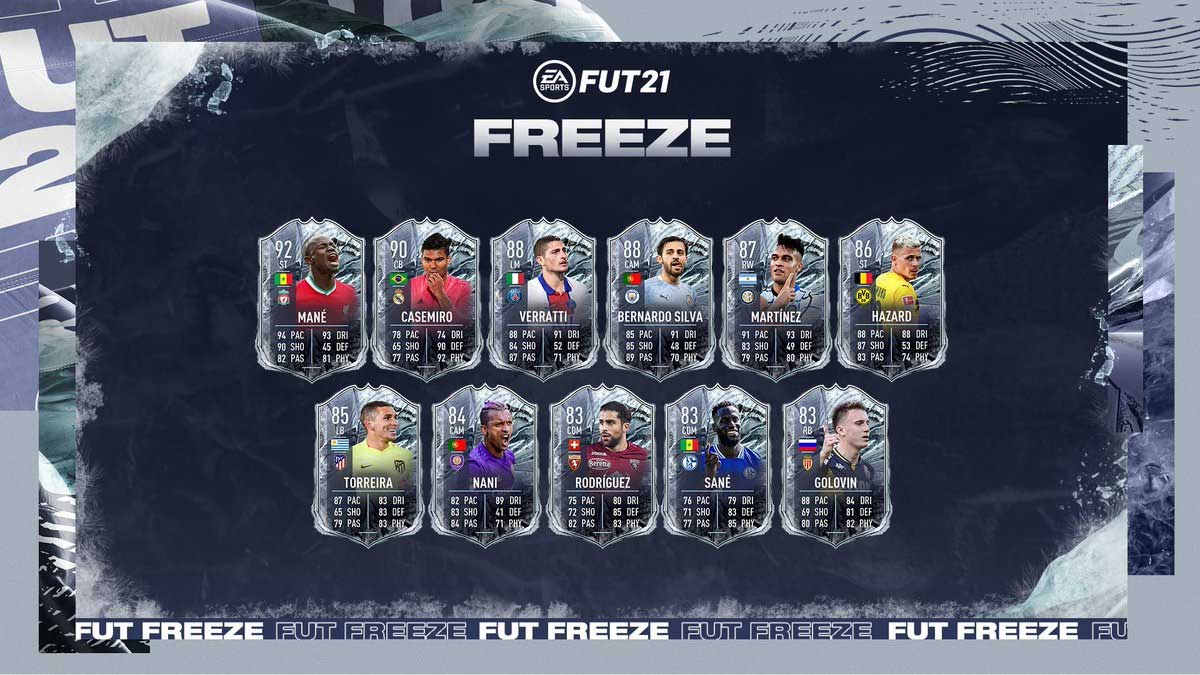 Freeze Player SBCs
Freeze themed player Squad Building Challenges will go live throughout the event. Freeze themed player SBC releases will be accompanied by a second SBC giving you the option to unlock a loan version of that day's player; the perfect way to audition and determine who works best in your team.
Road to the Final Team 3
With the biggest competitions in Europe's Group Stages coming to an end, a third squad of Road to the Final dynamic Special Player Items will be coming to FIFA Ultimate Team. As with other Road to the Final Items, additional team accomplishments achieved throughout the respective UEFA Champions League and UEFA Europa League competitions can lead to subsequent stat boosts throughout those competitions' culminations.
Prime Icons are here
Reflecting an era of an ICON's career when they were at the height of their skills and abilities, Prime Icons are taking the place of Base Icons in packs. Over two different releases in the weeks ahead, FIFA 21's full roster of Prime Icons will be introduced into packs and remain available until the end of FUT 21.
Icon Swaps #1
Icon Swaps are back. Including a greater mix of ICON and pack rewards, Icon Swaps enables you to complete specific in-game Objectives to then receive Player Tokens that can be redeemed for ICON player or pack rewards via the Token Booth Squad Building Challenges. Throughout Icon Swap #1, you'll be able to earn up to 18 tokens by completing various Objectives through February 12th. To follow everything about Icon Swaps, click HERE.