The FUT 22 Birthday Promo event is now officially out. Let's celebrate the 13th anniversary of FIFA Ultimate Team.
FUT 22 Birthday Promo
FUT 22 Birthday brings you two weeks of content to help you give your squad a boost. From special FUT Birthday player items with five star weak foot or skill moves upgrades to login bonuses, SBCs, FUT Birthday Swaps, and more, you're invited to join the celebrations in FUT 22!
FUT BIRTHDAY SQUADS
Two squads of special FUT Birthday player items are coming to FIFA 22 Ultimate Team starting with team one on Friday 4th March, with the second team following on Friday 11th March.
Each FUT Birthday player will have a five star upgrade to either their weak foot or skill moves, bringing an exciting new dimension to their abilities in-game.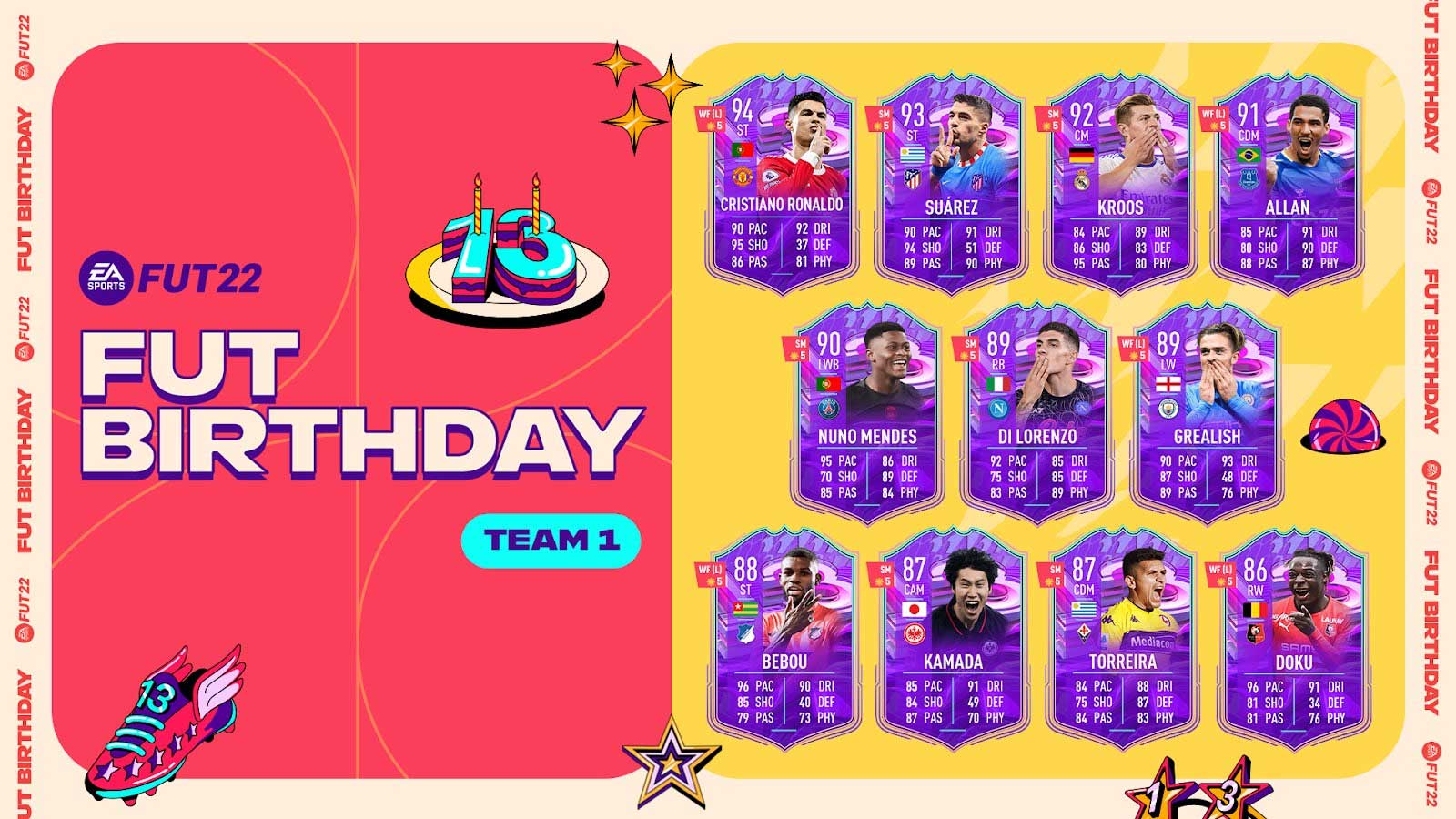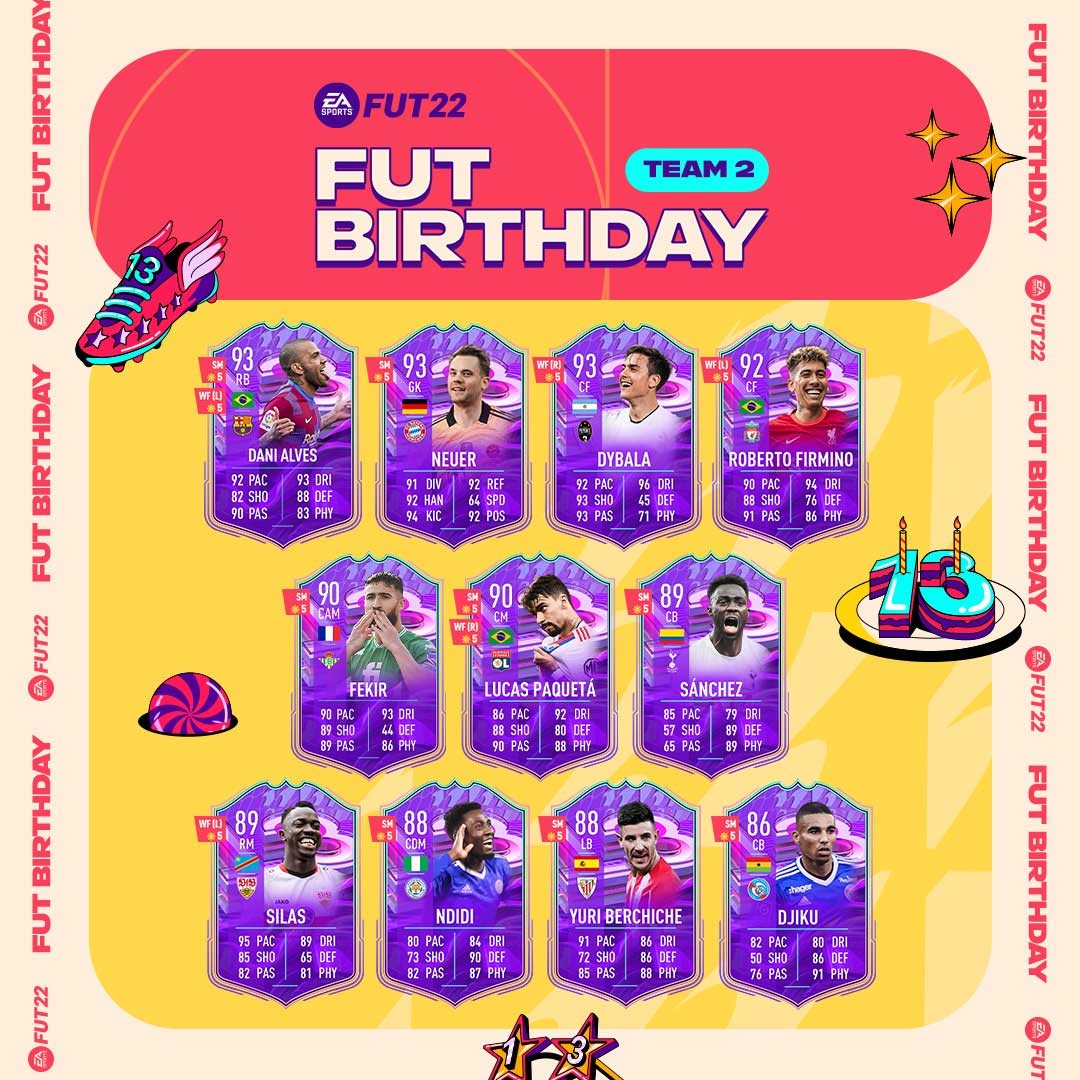 FUT BIRTHDAY PLAYER SBCs
Take a trip down memory lane with themed FUT Birthday Player Squad Building Challenges, released during the course of the celebration. These will be released as FUT Birthday special player items with either a 5-star Skill Move or Weak Foot upgrade. Unlock FUT Birthday players via Squad Building Challenges, including some legendary players from the past 13 years of FUT.
LOGIN BONUS
Log into FIFA 22 Ultimate Team during FUT Birthday (March 4th 10am PT until March 18th at 10am PT) and you'll receive an untradeable Rare Players Pack
FUT BIRTHDAY GIFT REWARD
A free 50k Rare Players Pack was offered to all FUT players.
FUT BIRTHDAY SWAPS
Swaps returns for FUT Birthday, allowing you to earn tokens that you can exchange for rewards.
Earn your first FUT Birthday Swaps token by logging in to FUT between March 4th and March 18th, 10am PT. You can earn up to 24 FUT Birthday Swaps tokens in-game. FUT Birthday Swaps tokens will mostly be made available across various Squad Building Challenges and Objectives, with one being offered in a pack in the FUT Store during the FUT Birthday campaign.
You can redeem the tokens you've earned for the following rewards from March 11th until March 24th:
22 Tokens – FUT Birthday Team 1 Player Pick (2 players shown)
17 Tokens – FUT Birthday Ezequiel Ávila 90 OVR
14 Tokens – 86+ x 7 Player Pack
10 Tokens – FUT Birthday Jean-Paul Boëtius 89 OVR
10 Tokens – FUT Birthday Team 1 Pack (one FUT Birthday player from Team 1)
8 Tokens – FUT Birthday Cristian Ansaldi 88 OVR
5 Tokens – Ultimate Pack
3 Tokens – 83-90 x 6 Player Pack
2 Tokens – Rare Players Pack