Find out how you can win incredible prizes just by winning one FIFA 14 Utimate Tem match. Check the rules of the FUT United contest here.
FUT United Contest for FIFA 14 Ultimate Team
Have you ever wanted to experience the thrilling atmosphere of the Barclays Premier League? Do you love FIFA 14 Ultimate Team? Well, EA Sports is giving one lucky person and a friend the opportunity to attend two BPL fixtures over the course of a weekend.
Not only that, we are also giving away 1 Million FIFA Ultimate Team Coins to ten lucky FUT players! Getting high-end items just became significantly easier.
Prize Details:
Grand Prize: One (1) package which includes round-trip airfare and accommodations for two people to see two Barclays Premier League matches on the weekend of March 29, 2014
Secondary Prizes: Ten (10) unique winners of 1 million coin prize packs for use in FIFA 14 Ultimate Team.
To enter, play and win any FIFA Ultimate Team match (which includes the mode's introductory match, seasons, tournaments and challenges, both online and off) in FIFA 14 between 19:00 GMT on February 21 and 23:59 GMT on February 23.
Win a match and you're automatically entered; it's that simple.
FUT players who don't wish to enter into the contest can opt-out by e-mailing at [email protected].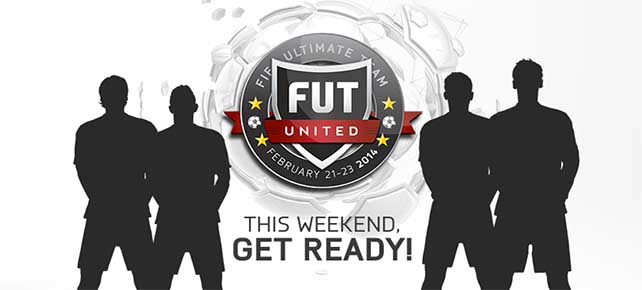 Terms and Conditions for FUT United – Official Rules
1. Eligibility: FUT UNITED 14 (the "Promotion") is aimed at promoting FIFA 14 Ultimate Team and is open only to legal residents of Austria, Canada (excluding Quebec), Chile, France, Germany, The Netherlands, New Zealand, Thailand, United Kingdom, the United States (including the District of Columbia and excluding Florida and New York) who are at least as old as the minimum age of majority in the jurisdiction from which they enter the Promotion. Those who are employees of Electronic Arts Inc. or its affiliates, subsidiaries, representatives, advertising, promotion and publicity agencies ("Sponsor and its agents") or who are immediate family members or persons living in the same household of each such employee are not eligible. Subject to all applicable laws and regulations. Void where prohibited. By participating in the Promotion, the participant signifies his or her full and unconditional agreement to these Official Rules. For Austrian residents only: You are hereby notified that you have seven (7) calendar days from the date of your registration for participation to rescind your agreement to the terms of this electronic agreement. After such period of time, you are bound by the terms of these Official Rules. Winning a prize is contingent upon fulfilling all requirements set forth herein.
2. How to Enter: Play and win one (1) game in FIFA Ultimate Team 14 during the Promotion Period and you will be automatically entered into the Promotion ("Entry" or "Entries"). FIFA Ultimate Team 14 is a game mode available within FIFA 14 on the PlayStation 3 computer entertainment system, PlayStation 4 computer entertainment system, Xbox 360 video game and entertainment system, Xbox One, the all-in-one games and entertainment system from Microsoft and PC. FIFA 14 and an Origin account are required to play FIFA Ultimate Team 14. Alternately, participants may enter the Promotion by sending an email to [email protected] with first and last name, home address, email address and birthdate.
For residents of France only: Telecommunication and access expenses corresponding to the time of connection on the Prize Draw have been evaluated at the flat fee of 0.50 Euros per Entry and shall be reimbursed to any on-line participant requesting it in writing at Electronic Arts Publishing – Concours FUT United 14 – 50, rue Joannes Carret – 69009 Lyon – France .The participants claiming reimbursement of the costs of connection must provide their telephone bill justifying that they do not benefit from unlimited access. Any incomplete request of reimbursement sent to a false or mistaken address won't be taken into consideration. The request of reimbursement shall be sent within two months (60 calendar days) from the prize draw closure. Reimbursement of connection costs, photocopy is limited to one participation by participant (same first name and last name, same postcode, same age). Postal fees related to the sending of justifying documents or the Official Rules will be reimbursed upon request sent in the above described conditions and in the limit of low postal fee applying for a letter of 20 grams.
LIMIT: One (1) Entry per person or e-mail address. Use of any automated system to participate in the Promotion is strictly prohibited and will result in disqualification and all entries submitted or received via such automated system will be void. The Promoter is not responsible for lost, late, incomplete, invalid, unintelligible or misdirected information or entries, which will be disqualified and void. In the event of a dispute as to the identity of any entrant, the authorized account holder (as defined herein) of the email address used by, or connected to, the eligible entrant will be deemed to be the entrant. The "authorized account holder" is the natural person assigned an email address by an Internet access provider, online service provider, Internet service provider or other organization responsible for assigning email addresses for the domain associated with the submitted address. Potential winners may be required to show proof of being the authorized account holder.
3. Personal Information: Nothing in these Official Rules shall be deemed to exclude or restrict any of the winner's or the entrant's statutory rights as a consumer. Participation in the Promotion implies authorization to collect, use and disclose entrant's personal information including the right to transfer personal data to the United States for purposes of administration of the Promotion and prize fulfillment. All information submitted to the Sponsor as part of this Promotion will be treated in accordance with the EA's privacy policy, available at https://www.ea.com/privacy-policy. Personal information includes name, address, email address, birthday and will be used to: (a) contact potential winners; and (b) if an entrant selects to receive additional information from EA on the entry form, to send additional information to that entrant. The recipient of your personal data is the Sponsor. YOUR INFORMATION WILL NOT BE STORED OR PROCESSED ON SERVERS LOCATED IN THE EUROPEAN UNION. Entrants have the right to access, withdraw, and correct their personal data. Entrants may request such action by sending a message with the request, subject line "FUT United 14 Sweepstakes" to [email protected]. For Residents of Germany: This personal information is collected and processed only for the purposes of organising, running and monitoring the campaign. The organising entity shall be considered the data controller for the database containing this personal information and provides for an appropriate data protection level. Entrants have the right to access, withdraw, and correct their personal data. Entrants may request such action by sending a message with the request, subject line "FUT United 14 Sweepstakes" to [email protected].
For Residents of France: Personal information provided to the Sponsor in the course of this Promotion shall be processed according to the Legislation "Informatique et Libertés n°78-17" of January 6th, 1978.
4. Promotion Period: The Promotion begins at 19:00:01 Greenwich Mean Time ("GMT") on February 21, 2014 and ends at 23:59:59 GMT on February 23, 2014 ("Promotion Period"). Winners will be randomly selected from among all eligible entries received during each Prize Period.
5. Prize Drawings: Sponsor will randomly select the potential winners from all eligible Entries received during the Promotion Period, on or around February 25, 2014 at approximately 08:00 GMT. The drawings will take place at the Sponsor's offices at the address set forth below. The potential winners will be notified by email. Except where prohibited, each potential winner will be required to sign and return a Declaration of Eligibility and Release of Publicity and Liability, which must be received by Sponsor, within 7 days of the date notice or attempted notice is sent, in order to claim his/her prize. If any potential winner is a Canadian resident he/she will be required to answer a time limited skill testing question without assistance of any kind whether mechanical or otherwise, in order to be eligible to receive a prize. If any potential winner cannot be contacted, is contacted and does not respond as directed within 7 days of attempted notification, fails to sign and return the Declaration of Eligibility and Release of Publicity and Liability within the required time period, fails to answer the skill-testing question correctly within the time limit provided (if applicable), refuses the prize, is ineligible to accept the prize, or prize is returned as undeliverable, the potential winner forfeits the prize. Receiving a prize is contingent upon compliance with these Official Rules; all prizes claimed in accordance with these Official Rules will be awarded. In the event that a potential winner is disqualified or the prize is forfeited for any reason, Sponsor will award the applicable prize, time permitting given the nature of the prize, to an alternate winner by random drawing from among all remaining eligible Entries. Only three (3) alternate drawings will be held, after which EA retains the discretion to donate the applicable prize to a charity of Sponsor's choosing.
6. Prizes: Prize #1: One (1) winner will receive a prize trip to the UK, including two (2) tickets for each of two (2) English Barclay's Premier League games, taking place on March 29,, 2014 and March 30, 2014. Winner must be available to travel and attend the defined Barclay's Premier League games in March 2014.
The prize trip includes roundtrip, economy/coach class airfare (or train fare) for 2 people (Winner and 1 Guest) from the major commercial airport/train station nearest the Winner's residence (Winner and Guests must travel together on same itinerary); hotel accommodations for three days / two nights (one (1) double occupancy rooms) at a Hotel of Sponsor's choosing; two (2) tickets for each of two (2) English Premier League games, taking place on March 29th 2014 and March 30th 2014. Incidentals, including, without limitation: telephone calls, facsimile charges, Internet charges, Spa/beauty salon services, laundry, tours/excursions, gift shop purchases, hotel processing fees and airline service charges, are the sole responsibility of the Winner and his or her Guest. Hotel and airfare cannot be used separately. Winner must notify Sponsor of intended dates of travel by March 4th, 2014. All travel must be completed by March 30th, 2014 or prize will be forfeited in its entirety. Travel and accommodations are subject to availability and certain restrictions, so Sponsor cannot guarantee prize trip will be available on the exact dates specified by Winner. Any extra nights' stay and any additional costs associated with an extended stay are the sole responsibility of the Winner and his or her Guest. Additional restrictions may apply. The approximate retail value (ARV) of the Prize is USD $10,000 / €7,313.84. Actual value of Prize Trip may vary depending on Winner's residence and seasonal rates.
Prize #2: Ten (10) winners will each receive one million (1,000,000) FIFA ULTIMATE TEAM 14 coins each. Total value of each prize is approximately USD $100 / €73.92. Prize requires FIFA 14 for PlayStation 4, PlayStation 3, Xbox 360, Xbox One or PC, Origin account and may require acceptance of a Digital Services Agreement. Allow two (2) weeks for deposit of FIFA Ultimate Team Coins into Origin account.
The odd of winning any prize depend upon the number of eligible Entries received. If for any reason an advertised prize is unavailable, we reserve the right to substitute a prize of equal or greater value.
7. General Terms: a. By participating in this Promotion, each participant agrees: (1) To the extent allowable under applicable law, to release and hold harmless Sponsor and its agents from any and all liability or any injury, loss, damage, right, claim or action of any kind arising from or in connection with this Promotion or any Promotion- related activity or the receipt, possession, use or misuse of any prize won, except for residents of the United Kingdom, France and Germany with respect to claims resulting from death or personal injury arising from EA's negligence and for residents of the United Kingdom with respect to claims resulting from the tort of deceit or any other liabilities that may not be excluded by law; (2) That EA's decisions will be final and binding on all matters related to this Promotion; (3) That by accepting a prize, EA may use your name and place of residence online or in any other media, in connection with this Promotion, without payment or compensation to the winner or anyone else, except where prohibited; and (4) The Promotion is governed by the laws of the United States and all claims must be resolved in the United States. b. EA reserves the right to cancel, suspend and/or modify the Promotion, or any part of it, if any fraud, technical failures or any other factor impairs the integrity or proper functioning of the Promotion, as determined by Sponsor in its sole discretion. If the Promotion is terminated Sponsor may, in its sole discretion, determine the winners from among all non-suspect, eligible Entries received up to time of such action using the judging procedure outlined above. Sponsor, in its sole discretion, reserves the right to disqualify any individual it finds to be tampering with the entry process or the operation of the Promotion or to be acting in violation of these Official Rules or those of any other Promotion or in an unsportsmanlike or disruptive manner and void all associated entries. Any attempt by any person to deliberately undermine the legitimate operation of the Promotion may be a violation of criminal and civil law, and, should such an attempt be made, Sponsor reserves the right to seek damages and other remedies (including attorneys' fees) from any such person to the fullest extent permitted by law. Sponsor's failure to enforce any term of these Official Rules shall not constitute a waiver of that provision. c. Winners are responsible for any applicable taxes on prizes.
8. Winners List: Winner List requests will only be accepted after the end date of the Promotion Period (listed above) and no later than May 22, 2014. Send an e-mail to [email protected] on or before May 22, 2014, and we will provide you with a list of winners that received a prize.
9. Sponsor: Electronic Arts Inc., 209 Redwood Shores Parkway, Redwood City, CA 94065.