The Future Stars Squad of FIFA 19 Ultimate Team was announced. Let's see who were the young players chosen for this squad.
Team of the Year of FIFA 19 Ultimate Team
FUT Future Stars is EA's definitive list of breakout stars for 2019. This squad of wonderkids are on the cusp of breaking through into the football mainstream this season. In Future Stars EA flash forward to what these youngsters could become if they fulfil their potential. A squad of 21 Future Stars will be released in packs, for a limited time, with supercharged stats to help them compete with today's FUT elite.
Throughout the event 6 more Future Stars will be available through SBCs and Objectives. The final Future Star will be decided by you, the FUT community. Fan's logging into FUT between 6PM UK Saturday 19th January & 6PM UK 21st January will get to decide who should become the Fan's Future Star by casting their vote in a special Player Pick.
Here is the Future Stars Squad for FIFA 19 Ultimate Team: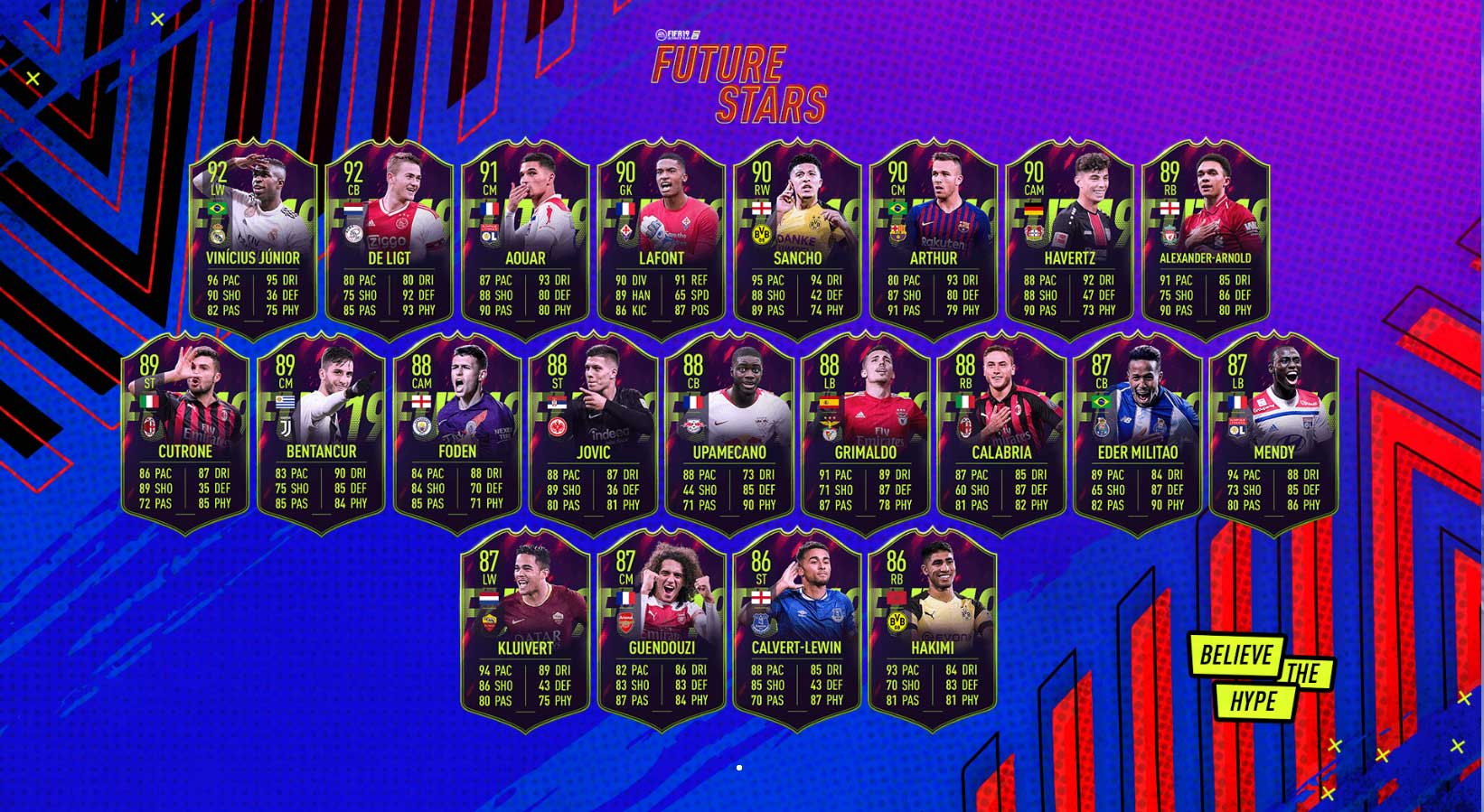 GOALKEEPERS
90 🇫🇷 GK: Alban Lafont (Fiorentina) PACKS

DEFENDERS
92 🇳🇱 CB: Matthijs de Ligt (Ajax) PACKS
88 🇫🇷 CB: Dayot Upamecano (RB Leipzig) PACKS
88 🏴󠁧󠁢󠁥󠁮󠁧󠁿 CB: Joe Gomez (Liverpool) SBC
87 🇧🇷 CB: Éder Militão (FC Porto) PACKS
89 🏴󠁧󠁢󠁥󠁮󠁧󠁿 RB: Trent Alexander-Arnold (Liverpool) PACKS
88 🇮🇹 RB: Davide Calabria (AC Milan) PACKS
86 🇲🇦 RB: Achraf Hakimi (Borussia Dortmund) PACKS
88 🇪🇸 LB: Grimaldo (SL Benfica) PACKS
87 🇫🇷 LB: Ferland Mendy (Olympique Lyonnais) PACKS

MIDFIELDERS
91 🇫🇷 CM: Houssem Aouar (Olympique Lyonnais) PACKS
90 🇳🇱 CM: Frenkie De Jong (Ajax) SBC
89 🇺🇾 CM: Rodrigo Bentancur (Juventus) PACKS
90 🇧🇷 CM: Arthur (FC Barcelona) PACKS
88 🇫🇷 CM: Ndombele Tanguy (Olympique Lyonnais) SBC
87 🇫🇷 CM: Mattéo Guendouzi (Arsenal) PACKS
90 🇩🇪 CAM: Kai Havertz (Bayer 04 Leverkusen) PACKS
88 🏴󠁧󠁢󠁥󠁮󠁧󠁿 CAM: Phil Foden (Manchester City) PACKS
90 🏴󠁧󠁢󠁥󠁮󠁧󠁿 RW: Jadon Sancho (Borussia Dortmund) PACKS
86 🇫🇷 RW: Allan Saint-Maximin (OGC Nice) SBC
87 🇨🇦 LM: Alphonso Davies (Bayern München) SBC
92 🇧🇷 LW: Vinícius Júnior (Real Madrid) PACKS
87 🇳🇱 LW: Justin Kluivert (AS Roma) PACKS

STRIKERS
89 🇮🇹 ST: Patrick Cutrone (AC Milan) PACKS
88 🇷🇸 ST: Luka Jović (Eintracht Frankfurt) PACKS
86 🏴󠁧󠁢󠁥󠁮󠁧󠁿 ST: Dominic Calvert-Lewin (Everton) PACKS
86 🇵🇹 ST: Rafael Leão (LOSC Lille) OBJECTIVES
86 🇧🇷 ST: Joelinton (TSG 1899 Hoffenheim) SBC