The most popular mode in FIFA returns with brand new ways to build your dream squad with players and superstars past and present in FIFA 21 Ultimate Team.
Whether you're a seasoned vet or in your first season, here are some tips to get you off to the best start in FUT 21.
Squad Building
Building your dream squad of players is at the heart of FIFA Ultimate Team. FUT has thousands of player items for you to build your team around, with different categories of player: Bronze, Silver, Gold, and Special, based on their rating and rarity in-game.
One of the key things to consider when building your squad is Chemistry. By placing players from the same club, league or nationality next to each other, you will create links in your team.
The more matching elements, the stronger the chemistry link is, and the more your players' attributes will be boosted. You can see the impact of chemistry on your players' stats from the squad screen. Players on 10 chemistry will have the highest possible attributes boosts, whereas players on 0 chemistry would perform at their base level.
Get inventive with how you link players by changing formation, manager, players' positions, and more to get your squad up to that perfect 100 Chemistry mark.
Earning Rewards
You can earn rewards like Coins, Packs, Players, Stadium items and much more by playing matches, completing objectives, or completing Squad Building Challenges.
Coins are a key part of FIFA 21 Ultimate Team, enabling you to buy packs, or sign new players to your squad from the Transfer Market to further your journey to glory.
In FUT, you earn Coins by playing matches, completing Objectives, and selling or discarding unwanted tradable players and club items.
Keep on top of new Objectives, and make weekly progress through the Squad Battles, Division Rivals and FUT Champions leaderboards to keep earning those rewards that will help keep your squad fresh and competitive all season.
Transfer Marker
Once you have the Coins, dipping into the Transfer Market helps you find players and items to take your squad to the next level.
The Transfer Market is where other players sell their unwanted players and items in return for Coins. You can use it to search for players that will improve your team. From the Transfers tab, go to the Transfer Market and use filters like nationality, rarity, max price, position, or even choose a specific player, then hit search to find players that match your criteria.
You can make offers for players auction-style with the highest bidder winning the Item, or go straight for the buy it now price to recruit your new talent. Make sure to scour the market to get the best value for your Coins though, as other players list their items for sale.
Find the right match for you
When you're ready to take your team to the pitch, FUT gives you a range of ways to play and opponents so you can find the right game mode for you:
– Play on your own: In Squad Battles you take on an AI-controlled team of players from the FUT Community with each result pushing you further up the Weekly Leaderboards. Test your skills against the FUT squads of professional footballers, FIFA players, and celebrities in the Featured Squad Battle each week. You can also shake up your team and tweak with your lineup in the new Live FUT Friendlies – where Squad Rules and House Rules combine to offer you a range of limited-time matches that'll change as your season progresses.
– Play together: Team up with your mates in FUT Friendlies to take on friends or the wider FUT community in a variety of modes including House Rules. Or work together in FUT Co-Op to help each other unlock better rewards in Squad Battles and Division Rivals.
– Play the world: Take your game online in Division Rivals, where you match up online against players of a similar skill level as you compete for your choice of weekly rewards. Every win in Division Rivals not only gets you closer to your next Division, it also takes you one step closer to the Weekend League.
– Play the best: Compete against the best of the best for the ultimate bragging rights as the best player in FUT each weekend in the FUT Champions Weekend League. Take on the top FUT players from around the world as you compete for the best rewards FUT has to offer.
– Play Draft: Draft a squad of 23 players – including the chance to play as the game's best players – and win four games in a row against other Draft squads to earn big rewards.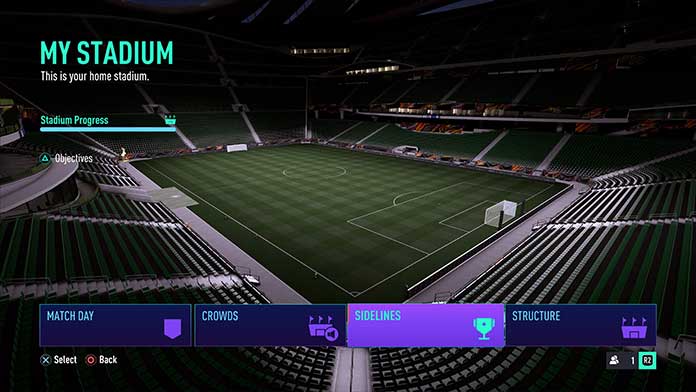 Club Customisation on FIFA 21 Ultimate Team
FIFA Ultimate Team also gives you the chance to make your club your own by customising it to your tastes.
Head to the Match Day tile in the My Stadium screen to pick from any kits, badges, and balls that you've acquired in Packs, through Objectives, or off of the Transfer Market and choose your team's on-pitch look.
FIFA 21 Ultimate Team also introduces FUT Stadium, a home ground for your team that you can customise visually, and in which you can crank up the atmosphere to intimidate your opponents. Choose Tifos, Stadium Banners, seat colour, pitch trophies, and more, then pick your Club's anthem, chants, goal music, and celebration before topping it off with pyrotechnic displays as you create your one of a kind home stadium for your team.