The Headliners Squad of FIFA 20 Ultimate Team was announced. Let's see who were the players chosen for these dynamic items.
Headliners Squad for FIFA 20 Ultimate Team
They're set to write the headlines in 2020 thanks to their incredible form, glimpses of potential under a new manager, system or a return from the treatment table. FUT 20 Headliners celebrates these players with special unique dynamic items that are permanently upgraded with the potential to be further upgraded based on individual and team performances throughout the 2019-2020 season!
At the launch of the event, each FUT 20 Headliners player item is released at one in-form upgrade higher than their latest qualifying performance based In-Form (TOTW, MOTM, Hero, Record Breaker or Team of the Group Stage item) or their base item.
Each time a Headliner gets a performance based In-Form, their Headliner item will also receive an In-Form upgrade. This ensures that their Headliner item will always stay one in-form ahead for the remainder of the season.
In addition, FUT 20 Headliners will also receive an additional one-time permanent upgrade if their club achieves four back to back wins during the remainder of the domestic league season. If this occurs, the Headliners item will remain two In-Forms ahead of their last performance based In-Form throughout FUT 20, making Headliners one of the most powerful and dynamic player items ever!
The first group of FUT 20 Headliners released on Friday 17 Jan. A second group of FUT20 Headliners will be released on Friday 24 Jan.

Available in packs from January 17 6pm to January 24 6pm
87 🏴󠁧󠁢󠁥󠁮󠁧󠁿 RB: Kyle Walker (Manchester City)
86 🇵🇹 RB: Nélson Semedo (FC Barcelona)
88 🇫🇷 CB: Raphaël Varane (Real Madrid)
87 🇧🇷 LB: Alex Telles (FC Porto)
87 🇪🇸 CM: Saúl (Atlético de Madrid)
86 🇫🇷 CM: Morgan Sanson (Olympique de Marseille)
94 🇧🇷 CAM: Neymar (Paris Saint-Germain)
88 🇪🇸 CAM: Luis Alberto (Lazio)
87 🇧🇪 CAM: Radja Nainggolan (Cagliari)
93 🇪🇬 RW: Mohamed Salah (Liverpool)
87 🇪🇸 RW: Gerard Moreno (Villarreal CF)
90 🇧🇪 CF: Dries Mertens (Napoli)
86 🏴󠁧󠁢󠁥󠁮󠁧󠁿 ST: Jamie Vardy (Leicester City)
93 🇵🇱 ST: Robert Lewandowski (Bayern München)
VIA SBCs & OBJECTIVES
85 🇪🇸 RW: Adama Traoré (Wolverhampton Wanderers)
86 🇫🇷 ST: Alassane Pléa (Borussia M'gladbach)
85 🏴󠁧󠁢󠁥󠁮󠁧󠁿 CB: Chris Smalling (AS Roma)
87 🏴󠁧󠁢󠁥󠁮󠁧󠁿 CAM: Dele Alli (Tottenham)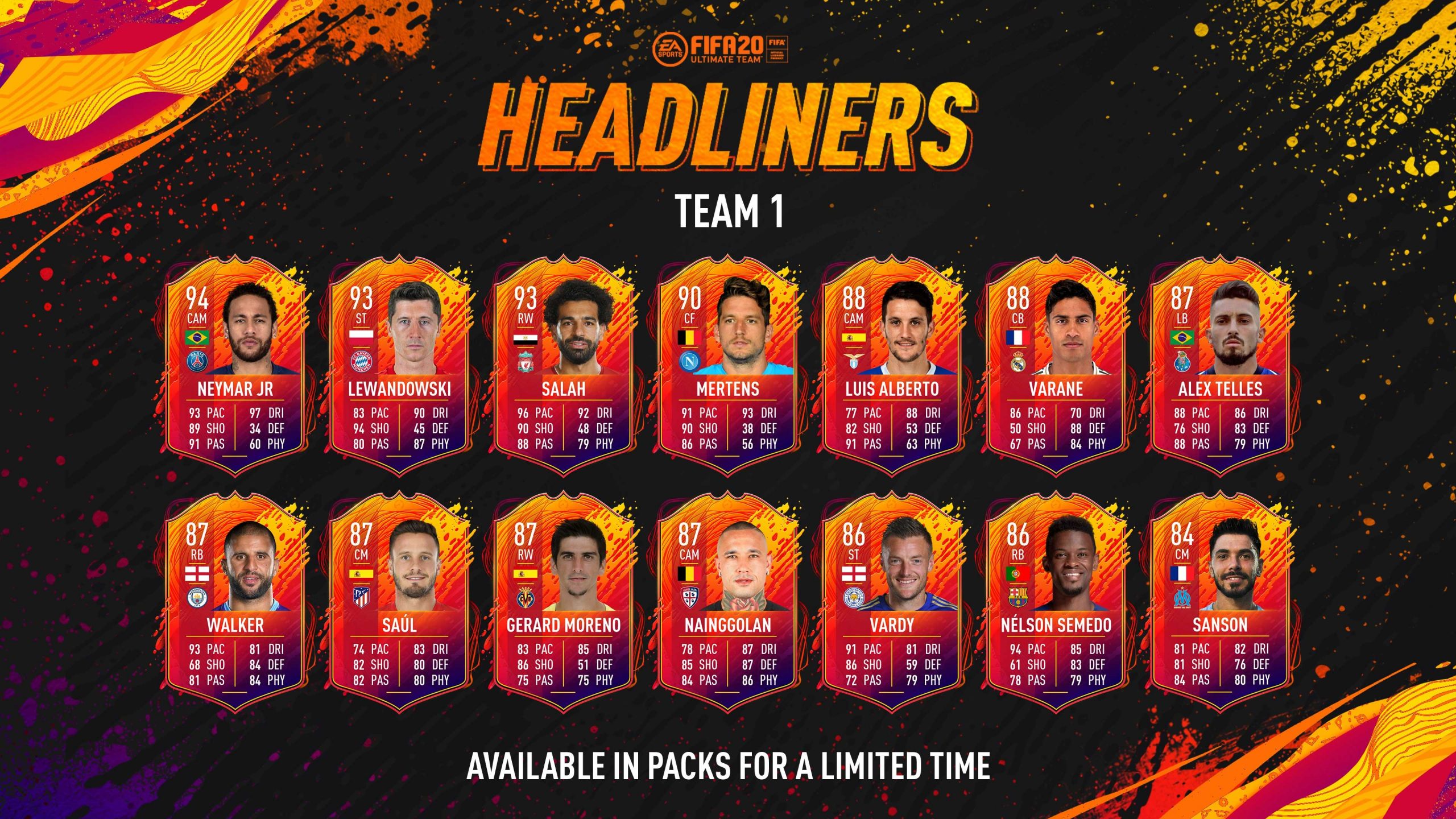 Available in packs from January 24 6pm to January 28 6pm
84 🇪🇸 RB: Capa (Athletic Club de Bilbao)
89 🇧🇷 CB: Thiago Silva (Paris Saint-Germain)
87 🇦🇷 LB: Nicolás Tagliafico (Ajax)
86 🇫🇷 LB: Lucas Digne (Everton)
86 🇩🇰 CDM: Thomas Delaney (Borussia Dortmund)
87 🇳🇱 CM: Georginio Wijnaldum (Liverpool)
86 🏴󠁧󠁢󠁥󠁮󠁧󠁿 CM: James Maddison (Leicester City)
90 🇩🇪 CAM: Marco Reus (Borussia Dortmund)
90 🏴󠁧󠁢󠁥󠁮󠁧󠁿 LW: Raheem Sterling (Manchester City)
89 🇬🇦 ST: Pierre-Emerick Aubameyang (Arsenal)
88 🇸🇮 ST: Josip Iličić (Atalanta)
87 🇩🇪 ST: Timo Werner (RB Leipzig)
VIA SBCs & OBJECTIVES
84 LM: Mislav Oršić (Dinamo Zagreb)
86 🏴󠁧󠁢󠁥󠁮󠁧󠁿 ST: Tammy Abraham (Chelsea)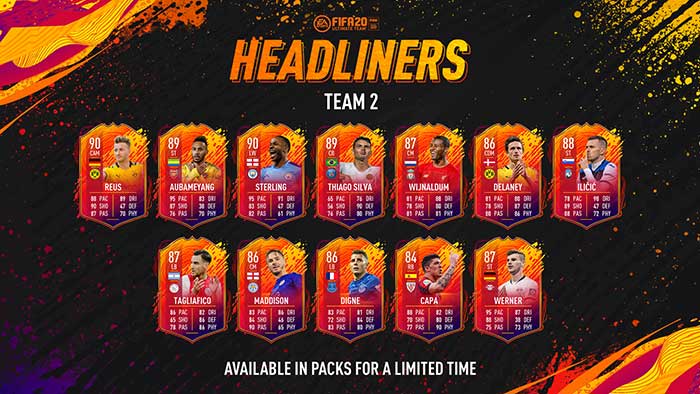 FAQ
Q: Who qualifies to be a FUT 20 Headliner?
A: FUT 20 Headliners is a selection on the most form players in world football currently.
Q: Are FUT 20 Headliners dynamic items?
A: Yes, FUT 20 Headliners are dynamic items that get automatically upgraded each time the player earns a qualified in-form during the remainder of the current season.
Q: What is a performance based In-Form?
A: A performance based In-Form is an item awarded from real world performances. Performance Based in-forms include: TOTW (until the end of the 2019-20 season), MOTM, Hero, Record Breaker and Team Of The Tournament selections. Headliner items will NOT be upgraded based on POTM, Award Winner, SBC, or other in-game event selection.
Q: Which games qualify for a domestic league club wins upgrade?
A: Only domestic league fixtures count towards a players' clubs winning streak. Domestic Cup, UEFA competitions, and international fixtures do not count towards a club win streak.
Q: When does the club winning streak start from?
A: The Winning streak for each club starts from the launch of Headliners on Jan 17 2020. Any club wins before that date do not count towards the upgrade.
Q: How long will a FUT 20 Headliners player take to get updated in-game?
A: Similar to other dynamic items, individual performance upgrades will be available shortly after their most recent In-Form Item is available in-game. An upgrade based on a team's winning streak will be updated within 48 hours of a team winning their fourth game in the winning streak.
Q: What happens if a Headliners Player is transferred/loaned to a different club?
A: If a Headliners player transfers/goes on loan during the season the Headliners item will remain at their previous club until they either receive an IF at their new club or their new club achieves a club winning streak from the time the player joins onwards. At that point the Headliners item will be updated with the player's new club.
Q: What happens if a player's in-form item is in a different position to their FUT 20 Headliner item?
A: The position of the headliner item will always stay the same as the position at which it was released.
Q: Will FUT 20 Headliners' dynamic images change if they get an upgrade?
A: Headliner items will have their own unique image, the image will remain the same regardless of how many performance based in-forms they get.
Q: Will FUT 20 Headliners' dynamic images change if they get a club winning streak upgrade?
A: If a player's club achieves the four game winning streak upgrade the image will show a glow around the player.