EA Sports introduced purple Heroes In-Form Cards on FIFA 15 Ultimate Team last week. Now it is time of the round 2 of these purple players cards.
Heroes In-Form Cards of FIFA 15 Introduction
Heroes In-Form Cards of FIFA 15 Ultimate Team represent individual honours and moments such as:
Award Hero

These honour individual league awards, including Player of the Year and Young Player of the Year.
Club Hero

These honour a player's heroic contribution during an important match such as a league derby, winning promotion to a higher league, or saving his club from relegation.
Excepting the first round, all the others Heroes In-Form cards will be available for 24 hours much like Man of the Match in-forms. Like Team of the Week or Man of the Match items, a player's hero item will be rated higher than his previous in-form but below his potential Team of the Season and/or Team of the Year in-form. If a player who is already selected for the Community Team of Season receives a Hero item before Team of the Season launches, he will not be removed from the Community TOTS.
Heroes In-Form Cards of FIFA 15 – May 12
The first of these players will be available from May 12 12am to May 13 at 12am (UK time).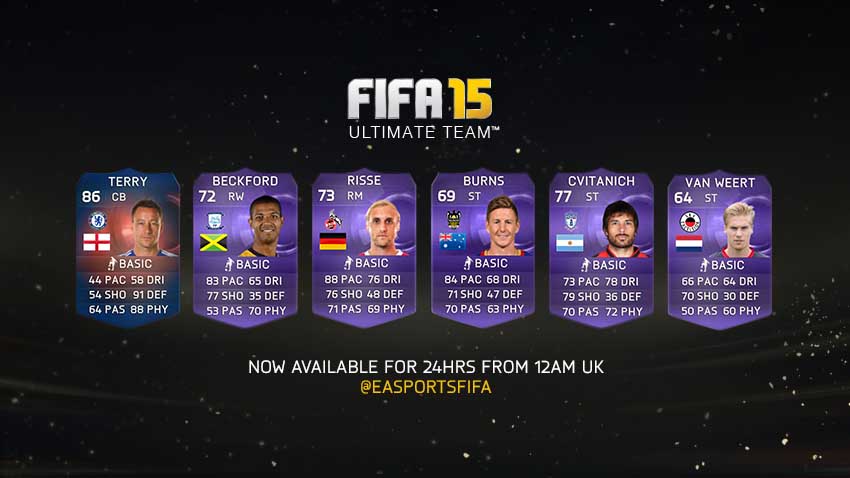 Click over the image to maximize it
RM: Marcel Risse (1. FC Köln) – 73
RW: Jermaine Beckford (Preston) – 72
ST: Nathan Burns (Well. Phoenix) – 69
ST: Tom van Weert (Excelsior) – 64
ST: Darío Cvitanich (Pachuca) – 77
These were not the only special cards released today. A Record Breaker card of John Terry is now live too. He became the highest scoring defender in Premier League history when opened the scoring for Chelsea against Liverpool at Stamford Bridge. David Unsworth, with 38 goals, is the second one.