EA Sports introduced purple Heroes In-Form Cards on FIFA 15 Ultimate Team. Check the first ones.
Heroes In-Form Cards of FIFA 15 Introduction
Heroes In-Form Cards of FIFA 15 Ultimate Team represent individual honours and moments such as:
Award Hero

These honour individual league awards, including Player of the Year and Young Player of the Year.
Club Hero

These honour a player's heroic contribution during an important match such as a league derby, winning promotion to a higher league, or saving his club from relegation.
Excepting the first round, all the others Heroes In-Form cards will be available for 24 hours much like Man of the Match in-forms. Like Team of the Week or Man of the Match items, a player's hero item will be rated higher than his previous in-form but below his potential Team of the Season and/or Team of the Year in-form. If a player who is already selected for the Community Team of Season receives a Hero item before Team of the Season launches, he will not be removed from the Community TOTS.
Heroes In-Form Cards of FIFA 15 – May 5
The first of these players will be available from May 5 6pm to May 11 at 6pm (UK time).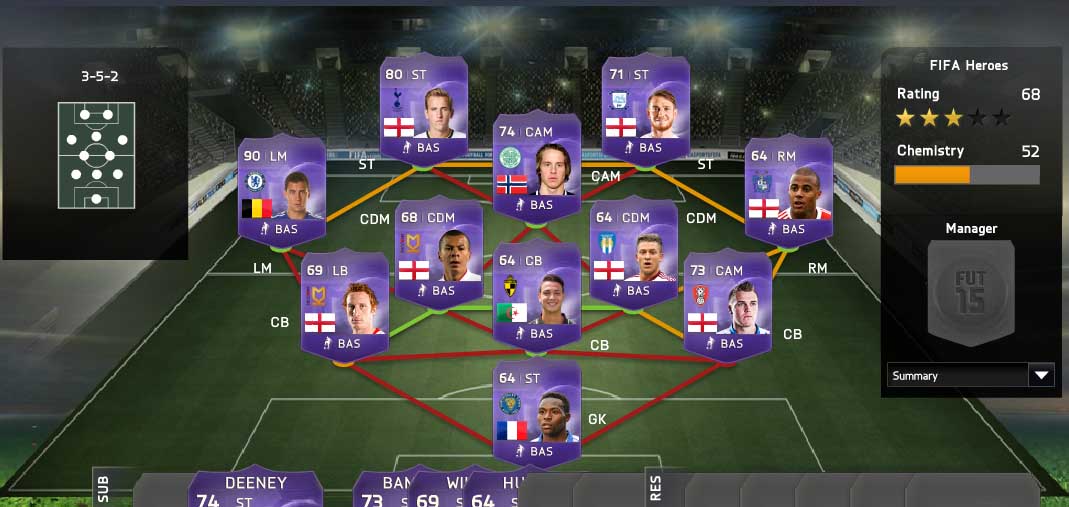 Click over the image to maximize it
Award Heroes
Eden Hazard (Chelsea FC – England) – Named Player of The Year and in TOTY with 18 goals so far, winning League Cup & Premier League title.
Harry Kane (Tottenham Hotspur – England) – Lifted the Young Player of The Year award after scoring 30 goals so far this season.
Joe Garner (Preston North End – England) – Named League 1 POTY and followed that with a hat-trick in a 3-0 win to put Preston on the verge of promotion!
Patrick Bamford (Middlesborough – England) – Named the Championship's Player of the Year for a very successful loan spell from Chelsea.
Dele Alli (MK Dons – England) – Named Football League Young Player of the Year making him most impressive 21 or under player in all 72 FL clubs
Stefan Johansen (Celtic – Scotland) – named Scottish FA Player of the Year yesterday after his club Celtic sealed the title.
Club Heroes (Promotion)
Callum Wilson (Bournemouth – England) – Scored and won a PK in Bournemouth's 3-0 win vs. Bolton which all but confirmed their promotion.
Jean-Louis Akpa Akpro (Shrewsbury Town – England) – Scored the goal that promoted Shrewsbury and relegated Cheltenham at the same time.
Troy Deeney (Watford – England) – Scored the all-important opener in Watford's 2-0 win at Brighton which sealed their promotion.
Dean Lewington (MK Dons – England) – scored a brace which saw his team promoted on the final game of the season.
Tom Soares (Bury – England) – Soares goal in the 1-0 win at Tranmere secured Bury promotion to League One at the expense of Southend.
Club Heroes (Avoid Relegation)
Jordan Hugill (Hartlepool United – England) – Hugill scored the winning goal that ensured Hartlepool avoided relegation from the Football League.
Danny Ward (Rotherham United – England) – Grabbed two assists in 2-1 win against Reading which secured their Championship survival.
Ramy Bensebaini (Lierse S.K. – Belgium) – Top performer in the decisive relegation duel vs. Cercle Brugge (3-1), great defending also scoring the late 2-1 knockout.
George Moncur (Colchester United – England) – Scored the winning goal to secure Colchester United's League One status.