Who are the best highest goalkeepers of FIFA 13 Ultimate Team ?
Highest Goalkeepers of FIFA 13 Ultimate Team
Did you know that the height of a goalkeeper is one of the most important things that he should have in order to make great saves? It's true. The other players have more than 30 attributes to help to distinguished from each others but the goalkeepers only have the main six (diving, handling, kicking, reflexes, speed and position). In our opinion, diving and reflexes are the two most important but if you really play a lot of FIFA 13, you should know that short goalkeepers is something to avoid. To some gamers, the height is the most important thing a goalkeeper should have. The highest the goalkeeper, less goals he will conceded.
But who are the highest goalkeepers of FIFA 13 Ultimate Team ?
Here is the list of the highest goalkeepers:

[accordion]
[accordion_item title ="First Place"]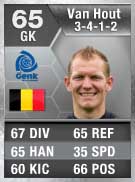 First Place: Kristof Van Hout
Nationality: Belgium
This man lives in the sky. He is the highest player of FIFA 13. 208 cm is amazing even to some NBA players.
He plays on RC Genk, Belgium Pro League, and he is a silver player. His stats are not great but if you really want the tallest player, he is your man.
[/accordion_item]
[accordion_item title ="Second Place"]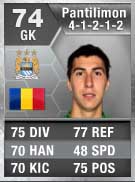 Second Place: Costel Pantilimon
Nationality: Romania
Pantilimon is the Romanian goalkeeper that plays in Manchester City. He is 5 cm short than Van Hout but his stats are much better. Since signing for Manchester City, he has become the tallest player in the Premier League.
He usually plays for his country in the national team and he is a good option to silver squads.
[/accordion_item]
[accordion_item title ="Third Place"]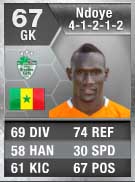 Third Place: Issa Ndoye
Nationality: Senegal
Ndoye signed for Esfahan side Zob Ahan F.C. in 2005. After Iranian football league imposed foreign goalkeepers ban he moved to Ukraine. He was linked with Metalist Kharkiv first and had a short trial there, but then he signed two-year contract with Volyn Lutsk.
Now, he plays in the SpVgg Greuther Fürth, from Bundesliga, and he is the third highest goalkeeper from FUT 13 with 202 cm. He is slow but with great reflexes.
[/accordion_item]
[accordion_item title ="1st to 10th Place"]
Kristof Van Hout (65), Belgian goalkeeper that plays at RC Genk (Belgium Pro League) – 208 cm
Costel Pantilimon (74), Romanian goalkeeper that plays at Manchester City (Barclays PL) – 203 cm
Issa Ndoye (67), Senegalese goalkeeper that plays at SpVgg Greuther Fürth (Bundesliga) – 202 cm
Nicolas Lemaire (56), Belgian goalkeeper that plays at Lokeren (Belgium Pro League) – 201 cm
Fraser Forster (74), English goalkeeper that plays at Celtic (Scottish PL) – 201 cm
Ján Novota (63), Slovakian goalkeeper that plays at Rapid Wien (Austrian Bundesliga) – 199 cm
Marcel Höttecke (65), German goalkeeper that plays at 1. FC Union Berlin (2. Bundesliga) – 199 cm
Peter Brezovan (64), Slovakian goalkeeper that plays at Brighton & Hove Albion (npower Championship) – 199 cm
Thorsten Stuckmann (66), German goalkeeper that plays at Preston NE (npower League One) – 199 cm
Benedikt Pliquett (64), German goalkeeper that plays at St. Pauli (2. Bundesliga) w- 199 cm[/accordion_item][/accordion]