As fans of both football and video games, we know first-hand the thrill of competition and the rush of victory. FIFA, the world's most popular soccer video game, has captured the hearts of players all over the globe with its realistic gameplay.
Today, we'll explore the impact of its innovative features and gameplay and the role that online play. This ability to compete against other players has impacted its popularity. We will also delve into the newest addition, Fifa 23, and comment on its latest features and improvements.
Whether you're a seasoned pro or new to the game, this blog will give you an in-depth look at how it continues to dominate the soccer world.
The first version of the game
The first version, titled "FIFA International Soccer," was released in 1994 for various gaming platforms. At the time, it was a revolutionary soccer video game that featured realistic gameplay and lifelike graphics. Over the years, FIFA games have continued to evolve and improve. Each installment builds upon the success of its predecessor.
Since its inception, it has seen numerous changes and updates. For example, it added more realistic player models and animations. They've improved artificial intelligence for better match simulations. They also incorporated various modes such as Ultimate Team and Career Mode. The series has embraced the evolution of online gaming. It allows participants to compete against each other in real-time matches and tournaments.
As it approaches its 30th anniversary, it is clear how much the game has changed and improved. From its humble beginnings, it has become highly sophisticated. It still continues to captivate players around the world up to now.
Rise in Popularity
Several factors have contributed to its rise in popularity over the years.
One key factor has been the commitment to realism and authenticity. From the very beginning, it has strived to replicate the look and feel of real-life soccer as closely as possible. They use official team and player licenses and implement advanced graphics and gameplay mechanics. This attention to detail has helped it stand out from other soccer titles and has attracted a devoted following of people.
Another factor in its popularity has been the expansive and varied mode. In addition to basic matchplay, it has offered various gameplay options. They include career mode, where players can manage and coach their team. This is the ultimate team where players can build and customize their team using real-life players. These diverse modes have helped keep players engaged and coming back for more.
Finally, the growth of virtual gaming has also played a significant role in FIFA's rise in popularity. The ability to compete against other members from around the world has added an extra layer of excitement and competition. It helped make version 23 a mainstay in the virtual gaming community.
FIFA elements on the different areas
FIFA is more than just a video game; it has become a cultural phenomenon that has infiltrated many different areas of society.
One of the most visible examples of FIFA's widespread appeal is its presence in grocery stores and other retail outlets. Many brands have partnered with this title to create a range of licensed merchandise. These goods include clothing, accessories, and even snacks and drinks. This is often prominently displayed and eagerly sought after by supporters.
FIFA's popularity has also led to its inclusion in various media outlets. Many TV analytical shows now feature segments discussing the latest developments. Sometimes they analyze the strategies and techniques of top players.
Online casinos have also embraced FIFA, with many offering a range of slots and other casino based on the franchise. These titles often feature popular teams and players and iconic elements such as soccer balls and stadiums. Thus, people are provided with all the information. Furthermore, All Slots Casino review often have a full list of FIFA thematic games on their machines. Finally, it has also had a significant effect on the world of cybersports. Professional members and teams compete in organized tournaments and leagues. This has helped to elevate its profile further and has attracted a dedicated following of competitive players.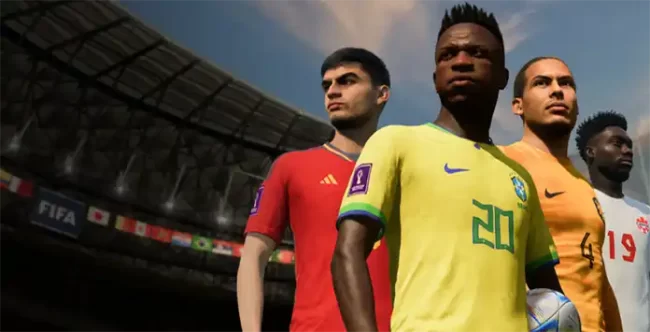 FIFA vs PES
There has been a longstanding rivalry between the two and their respective fan bases. While FIFA and PES offer realistic and immersive gameplay, they have some key differences that set them apart.
One of the main differences is the licensing. FIFA has official licenses for many real-life teams, players, and leagues, while PES does not. This means that FIFA can use real team names and player names, while PES has to use fictional names and teams.
Another difference between the two is the focus of their gameplay. FIFA tends to focus more on the realistic simulation of soccer matches. But PES puts a greater emphasis on allowing players to make creative and exciting plays on the field. This means that the two can appeal to different types of players and offer slightly different experiences.
New game edition FIFA 2023
The upcoming edition, FIFA 23, is set to be the most exciting and innovative installment yet. According to reports, the modern product will feature a range of elements and modes that are sure to keep players coming back for more.
FIFA 23 will introduce a revamped career mode that puts players in the role of a manager tasked with guiding their team to success. It will also include a range of advanced gameplay mechanics and enhanced artificial intelligence. Thanks to the HyperMotion2 Technology, the more realistic player animations will make a beautiful game.
They will include a special World Cup mode, allowing players to face the excitement of the world's biggest soccer tournament. It will feature a dedicated mode for Women's Football for the first time ever. It allows players to compete as and against some of the best female players in the world.
Conclusion
In conclusion, it is clear that FIFA has won players' hearts worldwide through a combination of strategic marketing campaigns. This also includes exciting gameplay, tournament formats, and a strong focus on overall playing. FIFA has immersive social media campaigns and the introduction of innovative features in the game itself. It has consistently stayed ahead of the curve and provided football fans a memorable and enjoyable experience. FIFA has been able to attract and retain large and dedicated followers. It bases on combining engaging gameplay, realistic graphics, and a wide range of modes.