New Italian commentary team of FIFA 15 was officially announced: Pierluigi Pardo and Stefano Nava.
New Italian Commentary Team of FIFA 15
When FIFA 15 launches this September, Italian fans will be treated to an all-new commentary team. Famed TV Journalist Pierluigi Pardo is leading the EA Sports commentary booth and will be joined by former AC Milan defender and current SKY Italia analyst Stefano Nava.
Pardo is best known for his Italia 1 TV programme "Tiki Taka – Il calcio è il nostro gioco" (Tiki Taka – Football is our Game) and his daily radio show"Tutti Convocati" (All Players Chosen) which airs on Radio24.
Its is not the first time that Pardo is doing this. In fact, him and Luca Marchegiani work together in Pro Evolution Soccer 2012.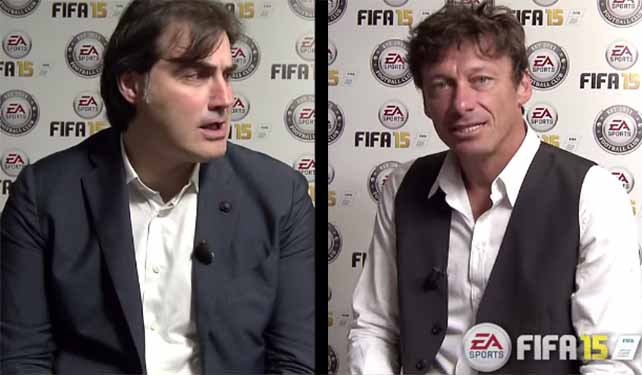 Pierluigi Pardo and Stefano Nava will give their voice to the Italian version of the new FIFA
But Pardo is not alone. Stefano Nava is also responsible by the Italian commentary of FIFA 15. He has born in Milan, 45 years ago. He is best known as a former Italian footballer, in the role of defender. He played for AC Milan in the early 1990s, where he was a backup for players such as Franco Baresi, Paolo Maldini, Mauro Tassotti and Alessandro Costacurta. In his four non-consecutive seasons with AC Milan, Nava made a total of 21 Serie A league appearances with one goal scored.
As for Nava, his pro playing career lasted over a decade which saw him play for a number of clubs including AC Milan, Servette FC and Sampdoria. After retiring from the game, he joined SKY Italia and currently serves as both a commentator and pundit.
Both gentlemen have spent the last four months working with the EA Sports FIFA audio team to record several hours' worth of dialog. The aim is to deliver Italian FIFA fans a stronger local focus that is relevant to their game playing choices.