Every week there is a new FUT 14 Legends Spotlight. This week is the time of Christian Vieri.
FUT 14 Legends Spotlight – Christian Vieri is the New Legend of the Week
FIFA 14 Ultimate Team Legends are special cards that are included in the game as any other card. The players of these cards are some of the greatest football players of all time. Each football legend have unique attributes based on their skills and flair during the peak of their careers. They probably are the best cards of the game. These special cards are only available for XBox One and for XBox 360.
During the week in which a Legend is featured in the Spotlight, you are more likely to find this item than at any other time of the year. During a Legends Spotlight, all other Legends will still available in FIFA 14 Ultimate Team. However, you are more likely to find that featured legend for that particular week.
Each week, EA Sports will highlight a particular Legend, whom players can then challenge along with a few of his legendary friends in Legends Team Challenge. Gamers will be able to earn coins for defeating that week's featured Legend and their squad (only the first time). It's just like FUT Team of the Week, but with the world's finest footballers.
The first player to be nominee to Legend of the Week was Christian Vieri. He was named in the FIFA 100, a list of the 125 greatest living footballers. For a number of years he was regarded as one of the finest strikers in Europe, leading to him becoming the world's most expensive footballer in 1999 when Inter Milan paid Lazio £32 million for his services. Most notable clubs were his spells at Juventus, Atlético Madrid, Lazio and Inter. Christian Vieri has often been described as an old fashioned centre forward, due to his physical presence and outstanding aerial ability, he is the all time top scorer of headed goals in Italian league history.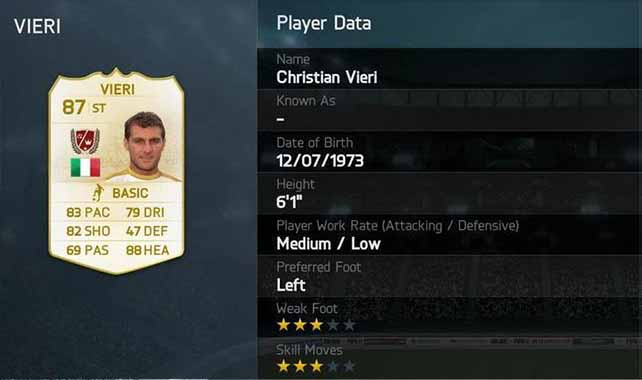 Click on the image in order to maximize it
The Spotlight changes to a new Legend each week on Friday at 6pm UK time (9am Pacific). Check our website to know who are the FUT 14 Legends Spotlight.