Celebrate the Lunar New Year in FIFA 18 Ultimate Team with Coin Discounted packs, claim your reward and play the Year of The Dog SBC!
Lunar New Year Event in FIFA 18 Ultimate Team
The Lunar New Year event in FIFA 18 Ultimate Team will be live from January 16 to January 19. It includes many surprises, like coin discounted packs, an exclusive SBC and other rewards.
Millions of people around the world are celebrating Lunar New Year. Now you can join the fun in FIFA 18 Ultimate Team! Start the Year of the Dog off right by logging into FUT during the event and you could receive a special reward. But the festivities don't stop there! The party continues throughout the event with Squad Building Challenges, special pack discounts, and a themed kit to show off on your FUT squad.
Red Envelopes Rewards
Unwrap a special Lunar New Year gift the first time you open FUT during the celebration. The type of gift you receive is based on how many days you have logged into FUT since launch. See below for how the tiers for this promotion are broken down and what reward(s) you will be given during the event:
1-6 Session Days: Lunar New Year Kit
7-35 Session Days: Lunar New Year Kit + Jumbo Premium Gold Pack
36-80 Session Days: Lunar New Year Kit + Prime Gold Players Pack
81-125 Session Days: Lunar New Year Kit + Rare Players Pack
126+ Session Days: Lunar New Year Kit + Ultimate Pack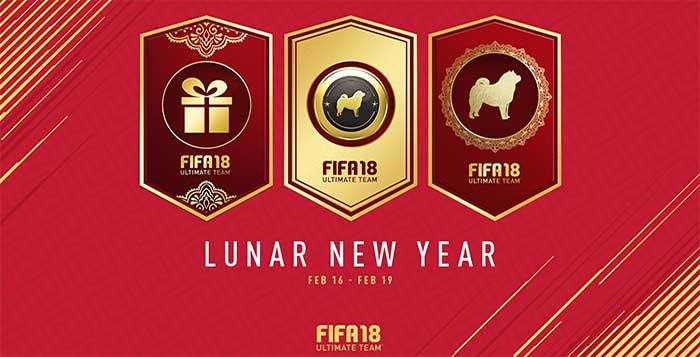 Squad Building Challenges
A wide variety of Squad Building Challenges will be offered throughout the event, including flash and repeatable SBCs that dole out rewards worthy of the Year of the Dog. Don't forget to complete the Lunar New Year Weekly Objectives either; the rewards for completion will be bigger and better than they usually are.
Pack Offers
To celebrate the Year of The Rooster, play this special SBC with the chance to earn unique rewards. Hurry though, it's only available for a limited time!
New year, new squad. Give your FUT team a fresh start in the new year by taking advantage of these special pack offers that could make your team better than ever. Certain packs will get discounted FUT Coin prices—but quantities are limited.