The EAS FC Catalogue was updated and now you have the chance to try new FUT 15 players for loan, including Neuer or Aguero.
New FUT 15 Players for Loan in your EAS FC Catalogue
The EAS FC Catalogue players loan item allows you to try in your team some of the most popular football players of the world during the loan duration.The player is added to your team the next time you go to FIFA 15 Ultimate Team after purchasing the item.
Players on loan is the biggest addition to the EAS FC Catalogue for FIFA 15 Ultimate Team. During the season, there will be new loan players added. You should redeem these items as soon as possible. You can play with several players on loan at the same time. If they remain on the subs or reserves, their loan duration keeps the same.
The EAS FC Catalogue was updated and the list of FUT 15 players for loan has changed. If you haven't redeem James Rodriguez or Gareth Bale, you lost your chance. But don't worry, there are great players to be redeem in the new list, including Neuer and Aguero.
The new list of FUT 15 players for loan is this one (the number in front of the player is how many matches are included):
NOVEMBER 23, 2014 TO UNKNOWN
LEVEL
PRICE
PLAYER
2
200 FC C
Mauricio Albornoz (23)
5
400 FC C
Sven Lüscher (22)
7
800 FC C
Habib Habibou (17)
10
1,000 FC C
Graham Zusi (16)
12
1,200 FC C
Esteban Paredes (12)
15
1,200 FC C
Arribas (12)
18
1,800 FC C
Juanfran (11)
21
2,200 FC C
Rémy Cabella (11)
23
2,500 FC C
Marko Baša (10)
25
3,000 FC C
Paul Pogba (9)
27
3,500 FC C
Sergio Agüero (3)
30
4,000 FC C
Manuel Neuer (3)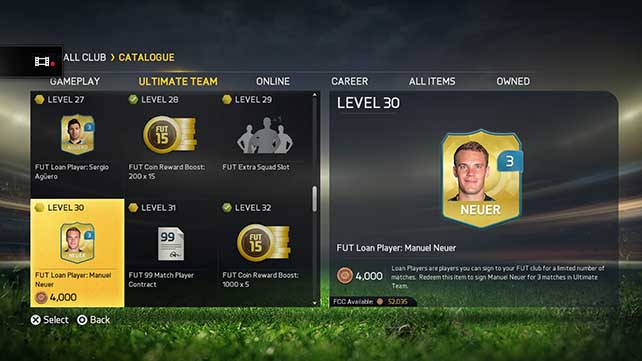 You can also remember the old list of FUT 15 players for loan here:
SEPTEMBER 23 TO NOVEMBER 23, 2014
LEVEL
PRICE
PLAYERS
2
200 FC C
Killian Brennan (24)
5
400 FC C
Sam Winnall(24)
7
800 FC C
Luca Toni (15)
10
1,000 FC C
Jonathan Soriano (14)
12
1,200 FC C
Raheem Sterling (11)
15
1,200 FC C
Aaron Ramsey (9)
18
1,800 FC C
Blaise Matuidi (8)
21
2,200 FC C
Wesley Sneijder (7)
23
2,500 FC C
James Rodríguez (5)
25
3,000 FC C
Arturo Vidal (5)
27
3,500 FC C
Gareth Bale (4)
30
4,000 FC C
Robert Lewandowski (4)