FIFA 14 is coming and EA Sports has released a batch of new fresh next-gen FIFA 14 screenshots.
Next-Gen FIFA 14 Screenshots Released in Gamescom 2013
EA Sports has released five new Next-Gen FIFA 14 Screenshots in the Gamescom 2013.
These pictures were used to introduce the Living Worlds:
It Just Got Real. In FIFA 14, stadiums will truly come to life as Living Worlds, thanks to EA Sports Ignite.
Feel the electricity and experience the mystique that only a football stadium can deliver, with dramatic broadcast-inspired fly-overs, emotional pre-match ceremonies and true living and breathing sidelines. Every match in FIFA 14 will feel unlike anything ever experienced before.
3D crowds come alive with distinctive home and away supporters cheering their sides for the first time in a FIFA game. As the match flows, so will the intensity from those experiencing in the stands, just like a real football match.
Match Flow will revolutionize the FIFA experience, delivering dynamic and continuous game play. Throughout games of FIFA 14, players on the pitch will interact with the sidelines, demanding the ball from ball boys to continue the action. Goal kicks, corners and free kicks will become more intense as the match progresses. And the pressure mounts.
With In-Game Director, FIFA 14 features over a hundred different camera angles, both in and outside the stadium to follow every bit of the action on and off the pitch. FIFA 14 will deliver stunning new replay angles, compelling story lines, and all the emotion that unfolds within a match.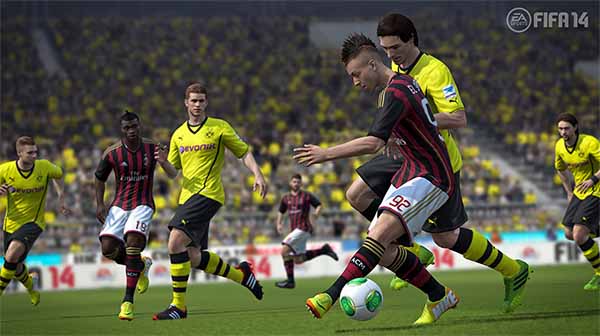 Keep with us to know everything about FIFA 14. Join us on Twitter to get all the updates.