EA Sports has shared with the community a couple of interesting official FIFA 14 stats, showing how the world plays FIFA.
How the World Plays FIFA – Check the Official FIFA 14 Stats
Every 90 minutes, there are nearly half a million matches of FIFA 14 being played. From FIFA Ultimate Team to Pro Clubs to Co-Op Seasons, there are a lot of ways to enjoy FIFA 14. But which are the most popular match-ups? Who are the most used goal-scorers? Who are the most transferred players in FIFA 14 Ultimate Team? There are so many cool facts about FIFA 14 that you can check on the following picture: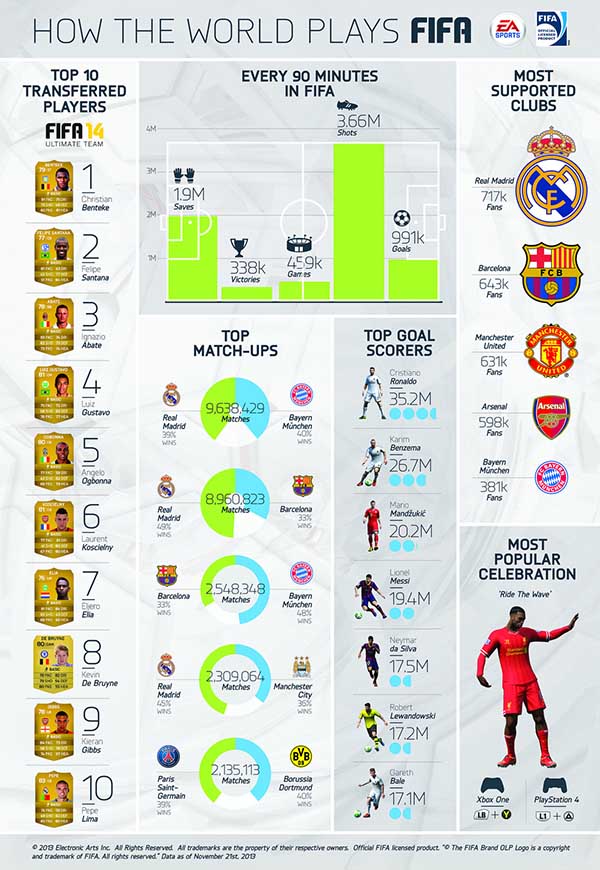 Click the image to enlarged it
As you can see on this Infographic (that we love!), Christian Benteke is the FIFA 14 Ultimate Team player card with higher card weight. Felipe Santana, Ignazio Abate, Luiz Gustavo, Angelo Ogbonna, Laurent Koscielny, Eljero Elia, Kevin De Bruyne, Kieran Gibbs and Pepe are the other cards of the Top 10 transferred players.
According to EA Sports, 'Ride the Wave' is the most popular celebration. If you don't know how to perform it, check HERE (PS) or HERE (XBox) our guide where you can watch video tutorials.
But there are more official FIFA 14 stats. Every hour, are scored more than 600 thousand goals on FIFA 14 online matches. The Portuguese Cristiano Ronaldo is the player who scores more goals. He scores almost the same number of goals that Messi and Neymar scored together. There are 3 players from Real Madrid in the Top 7 Goal Scorers. The number two is Benzema.
As we suspected, Real Madrid is the club with more supporters (almost two times more than FC Bayern) and the club with more matches played. The most popular match-ups are Real Madrid vs FC Bayern and 'el classico' Real Madrid vs Barcelona.
Source: EA Website