Every week, FGN picks the best FIFA 13/ FIFA 14 picture or the best football picture and show it to you. Let's take a look to the best picture of this week (POTW).
Picture of the Week – POTW Round 27
Here is the best image picked between May 05th and May 12nd 2013.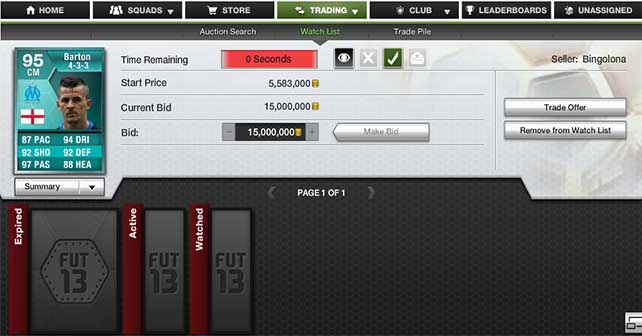 Screenshot by FUT Web App
In this POTW, we show you the highest amount paid for a player in FUT history. EA have given a number of professional footballers their own personal cards in a bid to make friends and gain exposure. Joey Barton, that plays on O. Marseille and that was suspended last week for calling Thiago Silva an "overweight ladyboy", has sold his own card by a amazing amount of coins: 15 million !
One image worth more than thousand words.
You can also watch the POTW of the previous weeks HERE.
Don't lose any great FIFA 13 or FIFA 14 picture or any great football image.