Every week, FGN picks the best FIFA 13/ FIFA 14 picture or the best football picture and show it to you. Let's take a look to the best picture of this week (POTW).
Picture of the Week – POTW Round 32
Here is the best image picked between June 8th and June 15th, 2013.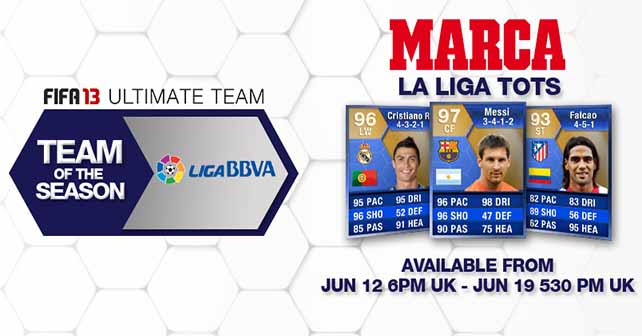 Picture by EA Sports
In this POTW, EA introduces the new TOTS of the best players from the BBVA. The three most popular players were chosen to this picture: Lionel Messi, from Barcelona, Cristiano Ronaldo, from Real Mdrid, and Ramadel Falcão, from Atlético de Madrid. EA have chosen to this promotional picture the three Liga BBVA Top Scorers of the last season. The clubs of these three players got the three top positions of the league.
These In Form cards will be available in packs for a week. You can now more about it HERE.
One image worth more than thousand words.
You can also watch the POTW of the previous weeks HERE.
Don't lose any great FIFA 13 or FIFA 14 picture or any great football image.