Who are the top Strength & Physical FIFA 15 Players ?
Top 10 Strength FIFA 15 Players
Strength players are rated on their ability to overpower and hold-off the opposition.
Here is the list of the 10 strength FIFA 15 players:
10. Assani Lukimya – Werder Bremen (Germany)
9. Moustapha Bayal Sall – Saint-Étienne (France)
8. Wilfried Bony – Swansea City (England/Wales)
7. Kim Shin-Wook – Ulsan Hyundai (Korea)
6. Abdoul Ba – RC Lens (France)
5. Christopher Samba – Dynamo Moscow (Russia)
4. Felipe Baloy – Monarcas Morelia (Mexico)
3. George Elokobi – Oldham Athletic (England)
2. Hérold Goulon – Zawisza Bydgoszcz (Poland)
1. Adebayo Akinfenwa – AFC Wimbledon (England)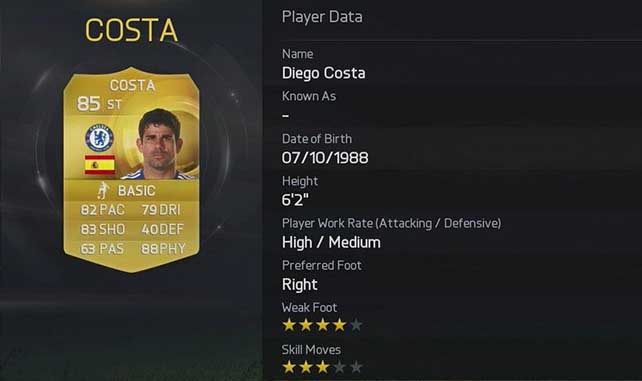 Top 10 Physical FIFA 15 Players
Physical is a new base attribute to FIFA Ultimate Team that is a measure of key physical traits such as Strength, Stamina, and Jumping. These players are able to win the physical battles on the pitch and maintain their fitness throughout a full match.
Here is the list of the 10 physical FIFA 15 players:
10. Diego Costa – Chelsea (England)
9. Yun Young-Sun – Seongnam FC (Korea)
8. Wilfried Bony – Swansea City (England/Wales)
7. Cheick Tioté – Newcastle United (England)
6. Leroy Fer – Queens Park Rangers (England)
5. Paul Pogba – Juventus (Italy)
4. Jean-Sylvain Babin – Granada (Spain)
3. George Elokobi – Oldham Athletic (England)
2. Yaya Touré – Manchester City (England)
1. Jelle Van Damme – Standard Liège (Belgium)