The FUT 16 Web App is Live now. It was supposed to be released on Thursday but it came two days earlier. Your FIFA 16 Ultimate Team season is starting…
The FUT 16 Web App is Live
To kick off the new Ultimate Team season, the Transfer Market is once again available within both the Web and Mobile Companion apps. You just need to go here and you are ready to go.
Returning and verified FUT 15 players will be able to get access to the web app and begin building their Ultimate Team club by opening free returning user packs and by trading early via the Transfer Market. Note that you'll need to start on the web app before you can use the mobile app.
New players to FIFA Ultimate Team must play on console or PC before accessing the Transfer Market via the web app. Within a few days of playing on console, new players will pass verification and be granted access to the Transfer market via the web app. This is a new security measure EA has implemented for FUT 16 to make sure all players are human, as opposed to bots that harm the Transfer Market. The health of the Transfer Market, which determines its availability on the apps will be consistently assessed throughout the season.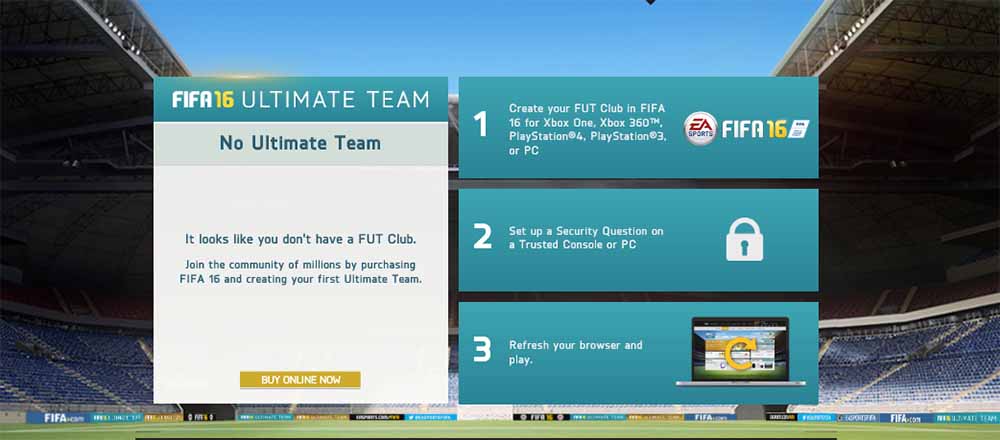 If you have any problem with the FUT 16 Web App, we suggest you go here.
FUT 16 Web App was supposed to be released on Thursday but it came two days earlier. According to Chu Boi, EA Sports FIFA Community Manager, "the web app is slowly rolling out early now" and it "won't be at full capacity till the 17th".
There's a few changes like EA's social networks links in the main menu, generations already live and of course, transfer market is working fine. The Companion App is also live. Have fun!