The best players of the year will make part of the TOTY that will be announced on next January 13th. Do you want to know who have the chance of being chosen ?
How the Players of TOTY are chosen ?
The players of the FUT 14 Team of the Year (TOTY) will be chosen from the FIFPro World XI. But what is that ?
Each year FIFPro invites all professional footballers in the world to compose their best team of the year. They have organized the vote for the World XI since 2005. Every year the world players' union, with the help from all of its associations, distributes more than 55,000 ballots all over the world. One ballot for each professional footballer, regardless where he is playing: Australia, Brazil, China, South Africa, Spain or the United States of America. Every player is requested to pick one goalkeeper, four defenders, three midfielders and three strikers. The result of this immense election is the FIFPro World XI.
In 2009 the world players' union joined hands with FIFA. The team name has changed into the FIFA/FIFPro World XI. Each year the eleven players from this elite squad will receive their awards during the FIFA World Player Gala.
FIFPro and FIFA might cooperate, but the procedure remains the same: it's the professional footballers who chose the World XI. FIFPro is responsible for the organization of the election.
From 2005 until 2008, FIFPro also asked the footballers to chose the Player of the Year. Ronaldinho won this award in the first two years (2005 and 2006), after him it was Kaká's turn (2007). In 2008 Cristiano Ronaldo won this trophy.
From 2009 on, the election for FIFPro Player of the Year has merged with the FIFA World Player of the Year and France Football's Ballon d'Or into one grand election for the Best Footballer of the Year.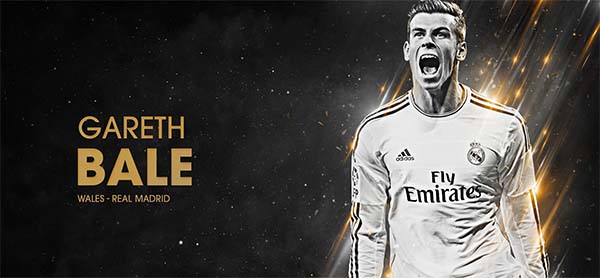 Gareth Bale should be one of the eleven players that will get a TOTY card
Who Will Be on the TOTY of FIFA 14 Ultimate Team ?
These are the 55 players that are nominated for the 2013 FIFA FIFPro World XI and that can make part of the FUT 14 TOTY:
Gianluigi Buffon (Italy, Juventus)
Iker Casillas (Spain, Real Madrid CF)
Petr Cech (Czech Republic, Chelsea FC)
Manuel Neuer (Germany, FC Bayern München)
Víctor Valdés (Spain, FC Barcelona)
David Alaba (Austria, FC Bayern München)
Jordi Alba (Spain, FC Barcelona)
Dani Alves (Brazil, FC Barcelona)
Leighton Baines (England, Everton FC)
Jérôme Boateng (Germany, FC Bayern München)
Ashley Cole (England, Chelsea FC)
Dante (Brazil, FC Bayern München)
Mats Hummels (Germany, Borussia Dortmund)
Branislav Ivanovic (Serbia, Chelsea FC)
Philipp Lahm (Germany, FC Bayern München)
David Luiz (Brazil, Chelsea FC)
Vincent Kompany (Belgium, Manchester City FC)
Marcelo (Brazil, Real Madrid CF)
Pepe (Portugal, Real Madrid CF)
Gerard Piqué (Spain, FC Barcelona)
Sergio Ramos (Spain, Real Madrid CF)
Thiago Silva (Brazil, Paris Saint-Germain FC)
Raphaël Varane (France, Real Madrid CF)
Nemanja Vidic (Serbia, Manchester United FC)
Pablo Zabaleta (Argentina, Manchester City FC)
Xabi Alonso (Spain, Real Madrid CF)
Gareth Bale (Wales, Tottenham Hotspur FC/Real Madrid CF)
Sergio Busquets (Spain, FC Barcelona)
Steven Gerrard (England, Liverpool FC)
Andrés Iniesta (Spain, FC Barcelona)
Isco (Spain, Málaga CF/Real Madrid CF)
Mesut Özil (Germany, Real Madrid CF/Arsenal FC)
Andrea Pirlo (Italy, Juventus)
Marco Reus (Germany, Borussia Dortmund)
Franck Ribéry (France, FC Bayern München)
Arjen Robben (Netherlands, FC Bayern München)
Bastian Schweinsteiger (Germany, FC Bayern München)
Yaya Touré (Ivory Coast, Manchester City FC)
Arturo Vidal (Chile, Juventus)
Xavi (Spain, FC Barcelona)
Sergio Agüero (Argentina, Manchester City FC)
Mario Balotelli (Italy, AC Milan)
Edinson Cavani (Uruguay, AS Napoli/Paris Saint-Germain FC)
Diego Costa (Spain, Atlético de Madrid)
Cristiano Ronaldo (Portugal, Real Madrid CF)
Didier Drogba (Ivory Coast, Galatasary SK)
Radamel Falcao (Colombia, Atlético de Madrid/AS Monaco FC)
Zlatan Ibrahimovic (Sweden, Paris Saint-Germain FC)
Robert Lewandowski (Poland, Borussia Dortmund)
Mario Mandzukic (Croatia, FC Bayern München)
Lionel Messi (Argentina, FC Barcelona)
Neymar (Brazil, FC Barcelona)
Robin van Persie (The Netherlands, Manchester United FC)
Wayne Rooney (England, Manchester United FC)
Luis Suarez (Uruguay, Liverpool FC)