Do you want to know what will change in FIFA 14 ? We bring you everything about the new features that EA has announced: gameplay, career mode and more…
What Will Change in FIFA 14 Game Play
Let's start by the FIFA 14 gameplay. Check what will change in the FIFA 14 gameplay.
Pure Shot, Real Ball Physics
Zlatan Ibrahimovic's bicycle-kick against England, Lionel Messi's first goal at Barça as a 17-year-old, Papiss Cisse's volley against Chelsea; an amazing goal can set the world abuzz. The EA SPORTS FIFA development has taken that into consideration when building features for FIFA 14. Two new gameplay features will transform the way goals are scored and make every shot feel real and rewarding.
Pure Shot will let FIFA fans feel what it is like to connect with the perfect strike while a brand new ball physics system called Real Ball Physics will ensure the trajectory of the ball behaves as it would in real life. The combination of Pure Shot and Real Ball Physics will open the door for the most rewarding and varied shot selection in the FIFA franchise to date.
Pure Shot was developed to enable players to feel the same emotion of scoring great goals in FIFA 14 that your favorite striker does on Saturday mornings. The best goals are a combination of perfect timing, anticipation, and great positioning. Fans will be rewarded for all three in FIFA 14. Players now adjust their approach angle when the shot is started looking for a more suitable angle for hitting the ball. They also understand the phases of shooting and will adjust their stride and pace to hit the ball.
Players will try to set up for the best possible shot, but that will vary depending on where they are on the pitch and how the ball is delivered to their feet. Players will take what is available to them and that may mean taking an off-balanced shot or taking a rushed shot which can hinder the accuracy and strength of their attempt. New animations will support this and the foot sliding, skipping and scissor legs that can be seen in FIFA 13 will be eliminated.
Along with changes to the shooting system, the ball in FIFA 14 acts as it would in real world football, thanks to authentic ball physics based on new formulas which dictate the flight path and trajectory of a shot. Both were overhauled for FIFA 14 to match how the ball moves in space. This opens the door to more shot options. Players will now be able to strike the ball with force from distance, drill low rising shots with accuracy, and blast dipping, or swerving shots. There are also turbulence effects. None of this was ever possible in FIFA 13.
Pure Shot and Real Ball Physics are bound to make every shot attempt feel real and, when players connect with the perfect strike, exhilarating. Players will truly experience the emotion of scoring great goals.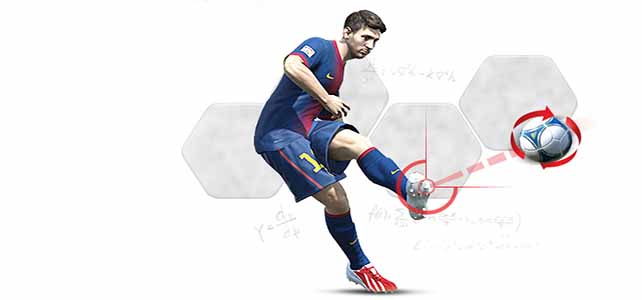 Protect the Ball
Arguably the best group of players ever assembled in La Liga, FC Barcelona has possessed the ball over an estimated 67 percent during their games this season. That's 10 per cent better than second-place, Real Madrid, and a big reason why Barca sits 16 points clear of their rivals with less than two months remaining in the season.
The development team at EA Canada has always recognized the intricacies of ball possession. In FIFA 14, franchise fans will dictate the tempo of a match with an all new gameplay feature: Protect the Ball.
An intuitive mechanic, Protect the Ball is expected to enable players to fend off and block opponents from the ball while running at any speed. Now, when a ball carrier is being pulled while advancing, they will be able to counter this by stepping in front of the defender and using their body to shield the ball. With the ball at their feet, players will be able to step into the opposition and hold them off to maintain possession and make a pass.
Protect the Ball also gives players the ability to fight for position prior to receiving the ball. Picture a striker at the top of the box waiting for an incoming ball from a midfielder; he will now be able to win that space, receive the ball with his back to the goal, and then turn defenders to create opportunities.
Controlling play through midfield and staying in possession of the ball will be very important to whether or not players can dictate the tempo of a FIFA 14 match. Protect the Ball. Dominate the midfield. Dictate the tempo.
Teammate Intelligence
Better decision-making delivers tighter, smarter marking and improved run tracking. Defenders recognize opportunities to provide support and win back possession. Attacking players have new ways to outsmart their opponents and break down tighter, more intelligent defenses by creating space for themselves, running along the backline and checking their pace.
What Will Change in FIFA 14 Career Mode
The FIFA 14 news are not only in gameplay. Career mode also has some news.
Global Scouting Network
Experience the world of professional scouting as you search for talent around the world. Develop and refine your own scouting network. Evaluate footballers to uncover the attributes of players who could bolster your squad during the transfer windows. A new hub delivers easy navigation, fewer interruptions and live scouting reports.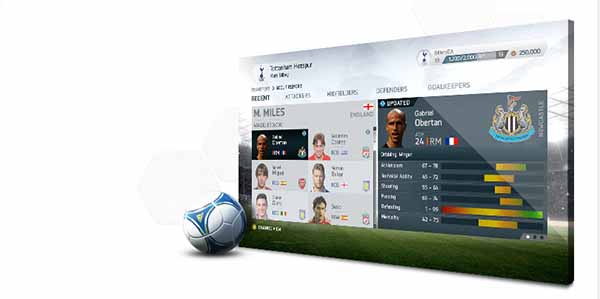 What More Will Change in FIFA 14
FIFA 14 is in development at EA Canada and will be available in stores world-wide this September. Additional platforms will be revealed in the months ahead.
Besides gameplay and career mode, the other FIFA 14 changes are:
Changes to the wildly popular FIFA Ultimate Team;
A new online Mode that will encourage social competition;
Multiple new features and benefits to EA SPORTS Football Club, the live service that is the heartbeat of FIFA;
Complete authenticity with more than 500 officially licensed clubs.
This article was based on EA Blog.