Vardy, Mahrez and Kanté are in form and for that reason they got an upgrade this Winter. Take a look to the FIFA Ultimate Team Winter Upgrades Interview with these Leicester City FC players.
FIFA Ultimate Team Winter Upgrades Interview with Leicester City FC
Q: Congratulations on what has no doubt been a tremendous season for both yourselves and Leicester City FC. Jamie off the back of these performances you've been awarded a winter upgrade by EA SPORTS FIFA can you tell us what you think about your new stats?
JV: I think they should've been higher at the start of the season!
Q: Your pace stat is 92 out of 99. Is 92 good enough?
JV: No, I should've been given 99!
Q: How about you Riyad, you've been bumped up to a 76 rating overall any thoughts or feedback?
RM: I think maybe I should be 85?!
Q: So what attribute stats are you unhappy about in particular?
RM: Dribbling, dribbling should be higher.
Q: You have 82 out of 99 for dribbling, what rating do you think you should be?
RM: I think dribbling should be 88!
JV: (Directed to RM) What about defending?
RM: Defending should be, maybe, 70.
Q: 70 instead of 29, that's a big difference!
RM: Also my shooting should be 97!
Q: 97 instead of 73? That's another big upgrade! N'golo we've got your stats here as well, you've increased from 76 to 77 overall are you happy with that?
NK: Yes I'm happy, they're good stats!
JV: (Directed to NK) What about your shooting, especially after your Watford goal?
NK: Yes I scored a good goal against Watford.
Q: So do you think your shooting should be higher?
NK: Maybe a little, but everything is OK. My stats are OK.
Q: Moving on, who is the best FIFA player at Leicester City?
RM: We play FIFA in the hotel room, me and N'golo.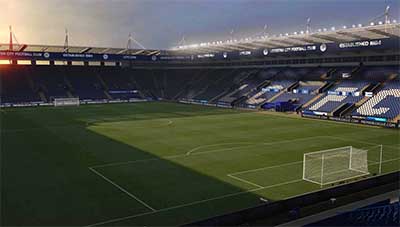 King Power Stadium where Leictesr City FC plays
Q: Who is the better player, who wins most?
RM: I think its N'golo, he's a bit of a geek, he plays all night!
Q: So Riyad, you're relying on N'golo when you take on the lads at COPA 90 and Spencer FC?
RM: Yes he's the better player!
Q: There're thirteen games left to go in the season, how far do you think Leicester City can go this year?
RM: We are just taking it game by game, we don't have a (specific) target. Now we are safe in the premier league so that's good.
JV: We're just enjoying it aren't we. We're just enjoying the ride.
Q: Riyad, this season you've registered 9 assists in the premier league, combining to great effect with the man sat next to you Jamie Vardy. How much do you enjoy playing in the same side as each other?
JV: Match days good, training no!
RM: We never get to be in the same team together in training! We enjoy playing (together) though, I know how to find him, and we've played together for two years now so we know each other well.
Q: Anything to add to that Jamie?
JV: No Riyad's right, that's how it is. You find out where people are going to make the runs or what passes are going to be made and then it's just down to us to put it into practice.
Q: Staying on partnerships, N'golo, you and Danny Drinkwater have partnered to great effect in the centre of the park this season. Why do you think the partnership has worked so well this season?
NK: We try to complement each other, when we play together we don't speak a lot because we understand each other's game.
Q: Do you think Danny Drinkwater is a player that should be considered for the England setup now given how far he's kicked on this year?
JV: Hell yes!
Q: Great stuff! Given the strength of your squad and your performances this season, how important do you think it is that in the January transfer window you've managed to maintain the squad you have?
RM: The window in January is difficult because there can be lots of changes, this January we signed two players, but it's good we have kept a strong squad.
JV: I just miss Harry Redknapp hanging out of a car window to be honest!
EA SPORTS: So moving onto the Premier League and this weekend's game against Arsenal. If you manage to come out of the game with a positive result do you think that's the point you can consider yourselves genuine title contenders?
JV: No
Q: No?
JV: If you start thinking about it too much it's going to affect you, it's as simple as that. We'll just continue to do exactly the same thing we've done all season.
Q: Great! Do you view Arsenal as one of your main rivals this year?
JV: They're up there, we're up there, (Manchester) City are, Tottenham, Manchester United might be ten points adrift but the way this season's going those ten points can be picked up quickly. We'll just take every game as it comes, knuckle down and hopefully keep picking points up.
Q: Staying on Arsenal, Hector Bellerin is another player who has had a great season, he's also received an EA SPORTS FIFA Winter Upgrade. How do you approach playing against some of the best defenders in the Premier League, the likes of Bellerin and Koscielny?
RM: It's approached the same way as every other defender in the Premier League, don't look at the name, just enjoy the season, we are doing well, we just have to keep going.
Q: Lastly on the Arsenal game, Arsene Wenger's Arsenal are renowned for their ability to keep the ball for long periods of play, just how much of a challenge do you think this will pose?
JV: No doubt it will be tough, we know the players they've got are world-class but although we lost 5-2 when we played them last time we did show that we can hurt them, and I think that it'll be a matter of us tightening up a bit defensively which as we've seen, we've kept a lot of clean sheets recently. It's going to be a good, entertaining game.
Q: Thanks Jamie. To close, if you had to give one piece of advice to someone playing as you in FIFA what would it be?
JV: Put it in the channels and I will run, that's why that pace stat needs to be up! If it we're N'golo he would probably tell you to pass it to the other team so he can get the ball back!
NK: Move the ball quickly, one or two touches and get passes out to the wingers.
RM: For me it's about fast play, be fast and make good passes
JV: And that's why N'golo always beats you!
Q: Thank you all and best of luck for the rest of the season!