Women will not be included in FIFA 14. Now, it is official.
Women will not be included in FIFA 14
FIFA games are for anyone. No matter what their gender is. It is what many people think and that's why Fernanda Schabarum of Boca Raton, Florida started a petition to tell EA Sports to include female characters on their FIFA games.
She justifies that FIFA is "one of the best-selling video game franchises of all time" but "none of the FIFA games has an option for women's teams or female players". In her opinion, it "makes no sense" since that "47% of all players are women" and "40% of soccer players in the US are girls". According to her, "Soccer is the most popular women's sport in college and in some cases women soccer stars are more well-known than men". The petition also says that "by offering just men's teams as playable options on FIFA we're not only denying these girls a chance to relate to the characters they play on a video game, but we're also wasting a great opportunity to encourage those same girls to be who they are, develop their passion, motivation and promote a healthy image and relation between women and sports". It ends asking by Wambach, Sawa, Morgan, Cristiane, Miyama, Rapinoe, Marta, Hope Solo, Mia Hamm and Birgit Prinz in the next FIFA.
You can read the complete petition HERE.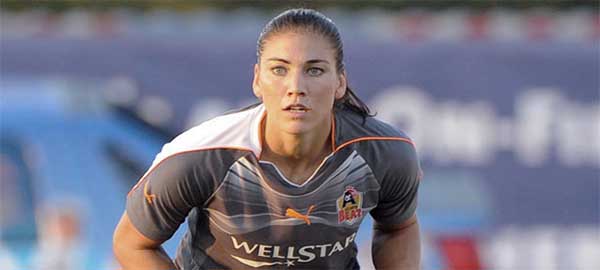 Hope Solo, US goal keeper, is one of the most famous women football players
Even with more than 10,000 signatures, women will not be included in FIFA 14.
About this subject, the FIFA 14 producer Sebastian Enrique said that "it is something we have talked about but there are no plans at the moment". In order to be possible, "there are lots of things we would have to change though, like the physics would be different, it would affect collisions". According to him, to include women in a FIFA game, "there are lot of things that are involved" like "new models and hair styles".
Women in FIFA games could be a great improvement, specially in the Virtual Pro mode.
Maybe in FIFA 15…