We want to know if you are happy with FIFA 14 or not. Share with us your opinion about FIFA 14.
Share with us your opinion about FIFA 14
EA Sports FIFA 14 was released in most of the countries a week ago and in North America ten days ago. Some of you are Season Ticket holders which means that have played more three days than the other players. There are people, like the Japanese, that do not have the game yet due to different release dates. In Brazil, for example, the game was released yesterday.
Take a look to the most popular reviews made about FIFA 14:
Liam Martin (Digital Spy)
"FIFA 14's most significant changes affect the way matches are paced, removing the reliance on speedier players in favour of a much more balanced style, where strength and positional awareness is key."
Ben Wilson (Official PlayStation Magazine UK)
"Momentum takes into account the speed and angle at which a player is moving, enabling you to beat opponents with a well-timed turn of pace rather than a ballet-worthy trick."
Matthew Kato (Game Informer)
"Players' actions in relation to the ball feel more free and unpredictable, leading to less reliance on canned animations."
Ben Griffin (CVG UK)
"Essentially, Precision Shot adds a fresh array of outcomes to goal efforts, and it's FIFA 14's best bit."
Richard Grisham (Official Xbox Magazine)
"FIFA is always better with friends, and being able to work with a buddy to advance upward through online divisions (or be relegated) introduces a whole new way to fall in love with the game"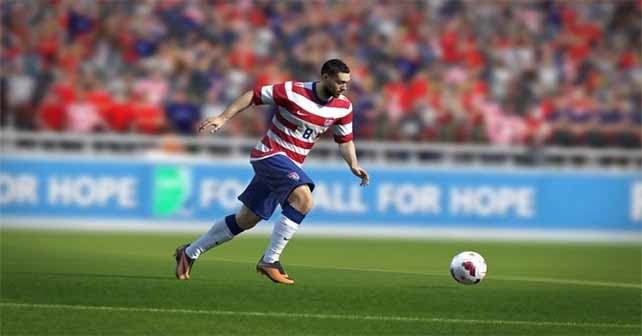 Do you agree with them ? We are waiting your feedback. Your opinion about FIFA 14 is very important.
No matters since when you have been playing FIFA 14, we want to know if you are enjoying or not. Share with us your opinion about FIFA 14. The good and the bad stuff. It is better than FIFA 13 ? How are you adapting to the new gameplay ? Do you have any problems to play it (freezes, servers issues, etc…) ? It is more difficult ? How good is your team ? We are waiting your feedback in the comments.