It was announced today that Corinthians is fully licensed for EA Sports FIFA 14.
Corinthians Is Finally Fully Licensed for EA Sports FIFA 14
FIFA 14 rounds out the number of fully-licensed Brazilians clubs with the inclusion of São Paulo's Corinthians. Corinthians has won five Brazilian league titles and two World Club titles throughout their 102-year history, and is one of the biggest and wealthiest clubs in Brazil.
Corinthians joins 19 other fully-licensed Brazilian clubs coming to FIFA 14 this September, and the Brazilian National Team. A four-year partnership between EA Sports and the Brazilian Football Confederation ensures fans will see the iconic Brazilian National Team in FIFA for years to come.
The addition of Corinthians, the current world champion, doesn't represent the fully license of Brazil's Serie A. Bahia is the only club form the major Brazilian league that is not included in the game. FIFA 14 will have 19 clubs of Serie A and one of the second division (Palmeiras). EA Sports has announced that FIFA 14 will have 33 fully licensed leagues: the same 29 of the last year, the Argentine League, the Colombian League, the Chilean League and… one more. We think that it will not be the Brazilian League. It should be another one that will be announced very soon. Pay attention to our website to know everything about the game.
To Celebrate this inclusion, EA Sports have published a new screenshot of a Flamengo vs Corinthians match: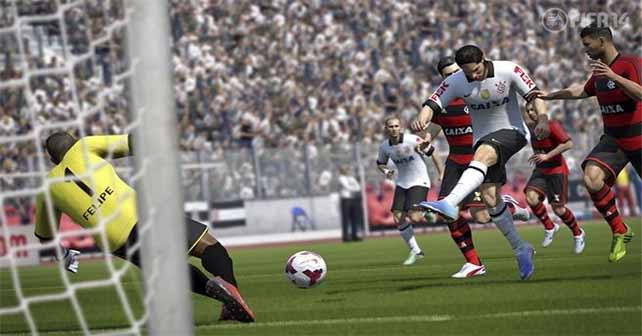 Fans of Latin-American football can look forward to clubs from Argentina, Chile, and Colombia included in FIFA 14. In all, FIFA 14 features 33 leagues, more than 600 clubs and 16,000 players.