EA Sports and Borussia Dortmund have extended their partnership for the 2013/14 season. The same is to say, for FIFA 14.
Members of BVB will be featured in FIFA 14 after their likenesses were captured using 3D head-scanning technology. Additionally, two fans will get the opportunity to sit in the best seats in the stadium on the field level at each Dortmund home match.
This is just one of the many partnership announcements EA Sports have made for FIFA 14 in recent weeks. Previous partnerships include Liverpool FC, FC Barcelona and five clubs from La Liga.
In addition, current Borussia Dortmund striker Robert Lewandowski was recently revealed as the co-cover athlete for FIFA 14 when the game launches in his home country of Poland this September.
EA Sports and Borussia Dortmund Sealed a Partnership for FIFA 14
When they kick off against Eintracht Braunschweig at Signal Iduna Park on August 18th, it won't just be Borussia Dortmund's first home match of the new Bundesliga season. The league game will also signify the next round for a comprehensive cooperation between BVB and the football simulation series EA Sports FIFA. As in previous years, EA Sports will be the official partner of BVB with its successful FIFA series.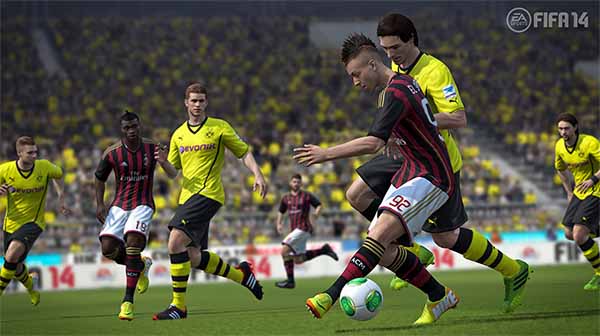 Arranged by SportFive, this cooperation centres on the EA Sports fan bench. Starting with Sunday's home match against Eintracht Braunschweig at Signal Iduna Park, BVB fans will have the opportunity to experience a football game from the side-lines throughout the whole season. Two winners per Bundesliga home match can use this unique chance. They can apply directly for the best seats in the stadium on the competition pages www.easportsfanbank.de and www.bvb.de/easportsfanbank.
"We are pleased that the partnership with EA SPORTS was extended. The football simulation FIFA established itself as a part of the sport we all love so much. It offers football fans worldwide a great platform to identify with their clubs. EA Sports is an important international partner for us, bringing the BVB brand to living rooms across the world", says Carsten Cramer, Sales & Marketing Director for Borussia Dortmund, adding: "Our players also enjoy playing FIFA.So everyone is looking forward to experience the new instalment."
"Borussia Dortmund has been one of the world's top clubs for a long time. The team's achievements in recent years are impressive" Björn Vöcking, Head of Marketing at Electronic Arts, commented. "With this partnership, EA SPORTS wants to take FIFA another step closer toward linking the real world of football with our game. BVB has been an appealing and valuable partner for several years, and they share our love and passion for football".
"We are pleased that the cooperation between EA SPORTS and Borussia Dortmund will be continued this season.It's great, both for football in general, and especially for the fans.I don't know a single BVB fan who wouldn't want to watch a match live from a bench at the edge of the field", said Stefan Heitfeld, SportFive team manager in Dortmund.
At the beginning of the year the BVB players were photo-realistically digitised for FIFA 14 using so-called 3D head scanning technology.
Not directly related to the cooperation, but still nice for Borussia Dortmund: Robert Lewandowski, BVB's top striker, will receive a special honour: He will be on the cover of FIFA 14 when it is released in his home country of Poland in September.
As a special surprise for fans of the BVB, EA Sports designed some great FIFA wallpapers in the look of Borussia Dortmund. Now, their fans can confess to their colours on their desktop and their iPhone. Click HERE to download it.