In the FIFA 14 Press Release, EA has announced the new game that will be available on September.
Check out how EA showed FIFA 14 to the world.
FIFA 14 Press Release
On the Wednesday, April 17, 2013, EA has revealed the new FIFA 14 that will be available on September.
We bring you here the most important news from this FIFA 14 Press Release:
(…)unveiled innovations to the greatest sports game on the planet that will enable fans to experience the emotion of scoring great goals.
(…)will make FIFA 14 the complete matchday experience, introducing features that inspire fans to build play through midfield, dictate the tempo of a match and create rewarding opportunities.
(…)Pure Shot and a brand-new ball physics system will transform shooting, making every shot attempt feel real, and when players connect with the perfect strike, feel exhilarating.
(…)Protect The Ball will enable players to fend-off and block defenders from the ball while dribbling at any speed, or out-muscle opponents for position before receiving the pass, then turn defenders to carve out opportunities.
(…)Teammate Intelligence has been improved on both sides of the ball.
(…)Sprint Dribble Turns enable players to turn in every direction at sprint speed while preserving momentum, delivering the control and confidence to take on defenders one-on-one.
(…)Variable Dribble Touches introduces variety on touches when sprinting.
(…)new way to play Career Mode. The Global Scouting Network brings the world of professional scouting to life.
(…)The game will also feature:
Changes to the wildly popular FIFA Ultimate Team
A new online Mode that will encourage social competition
Multiple new features and benefits to EA SPORTS Football Club, the live service that is the heartbeat of FIFA
Complete authenticity with more than 500 officially licensed clubs.
(…)FIFA 14 is in development at EA Canada and will be available in stores world-wide this fall. Additional platforms will be revealed in the months ahead.
Besides the FIFA 14 press release, EA also provided some screenshots.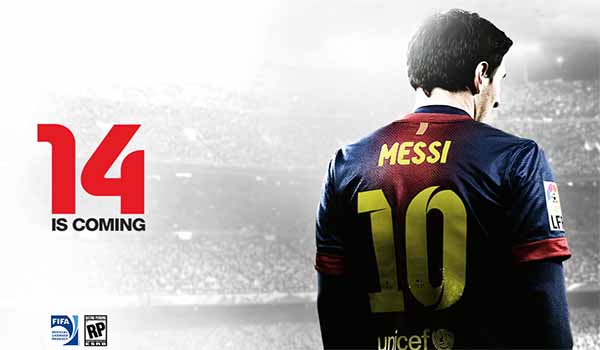 You can read the complete FIFA 14 press release HERE.