Learn about the FIFA 21 Pre-Order Offers available when you buy the Standard, Champions or Ultimate editions before launch on October 9, 2020.
FIFA 21 Pre-Order Offers
It's an exciting year with FIFA 21 launching on PlayStation 4, Xbox One, and PC on October 9th and coming to PlayStation 5 and Xbox Series X later in the year. You can get your hands on some great content when you pre-order FIFA 21 on PlayStation 4, Xbox One, or PC, including a special limited-time offer: get one untradeable FIFA 21 Ultimate Team (FUT) Ones to Watch player for your FUT squad when you pre-order the FIFA 21 Ultimate Edition before August 14th. What's more, if you entitle for FIFA 21 on either PlayStation 4 or Xbox One before the release of FIFA 22, you can upgrade your game for the equivalent next-generation console (Xbox Series X or PlayStation 5) at no additional cost. Learn more about it here.
You can be the first to play FIFA 21 as an EA Access member on PlayStation 4 and Xbox One, and Origin Access member on PC. By joining EA Access and Origin Access, you'll get:
– An early trial of FIFA 21 starting October 1st, as well as other EA Games before their full launch day.
– A 10% discount on EA digital purchases including FIFA 21, FIFA points, and other games and content.
– Access to all of the games in the EA Access collection.
Here are the FIFA 21 Pre-Order offers.
FIFA 21 Standard Edition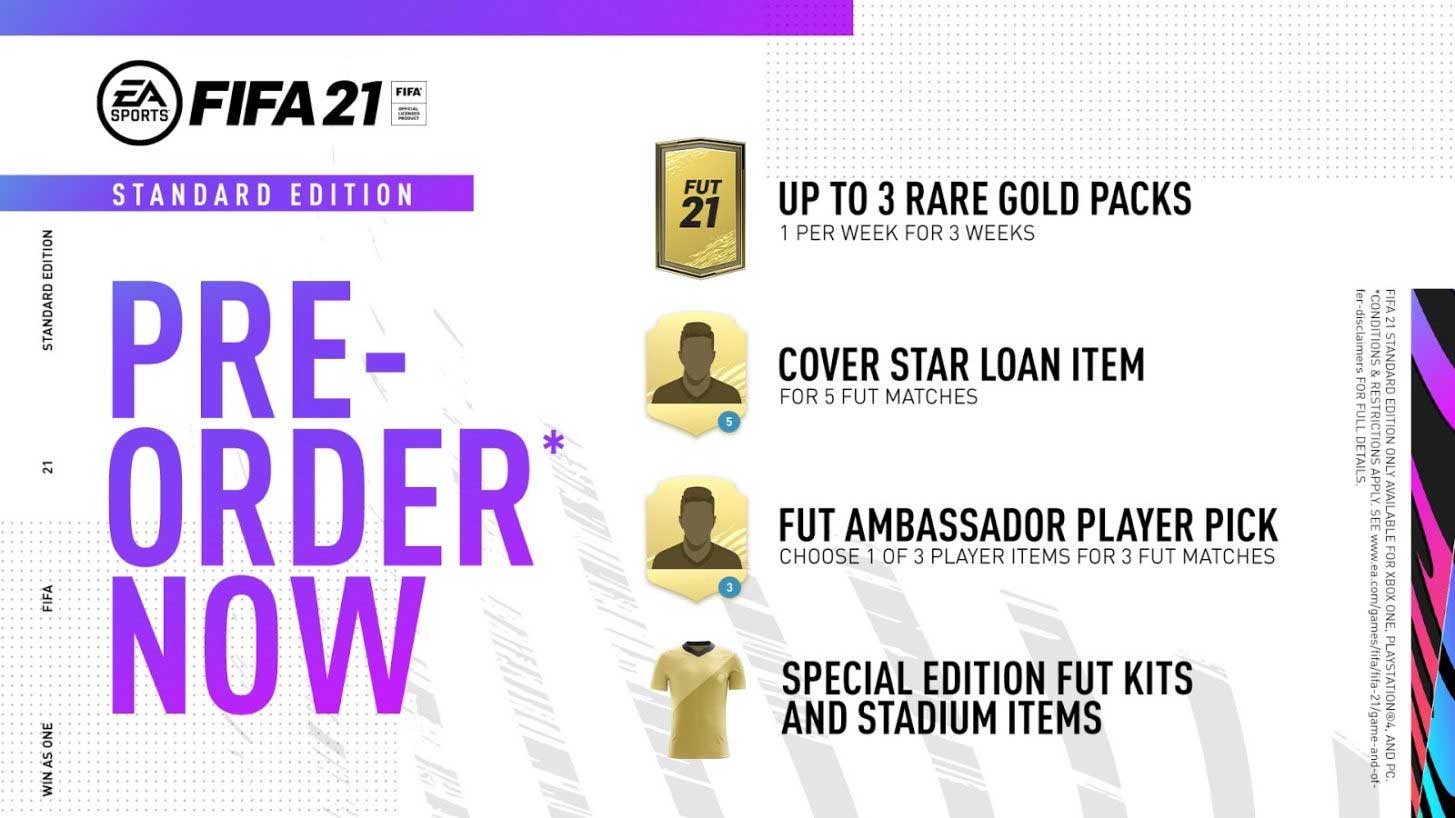 Price: $59.99 (consoles); $54.99 (PC)
Pre-order the FIFA 21 Standard Edition and receive:
– Up to 3 FUT 21 Rare Gold Packs (1 per week for 3 weeks)
– 1 Cover Star Loan FUT Item (for 5 FUT matches)
– 1 FUT Ambassador Loan Player Pick Item (Choose 1 of 3 player items for 3 FUT matches)
– Special Edition FUT kits and stadium items
FIFA 21 Champions Edition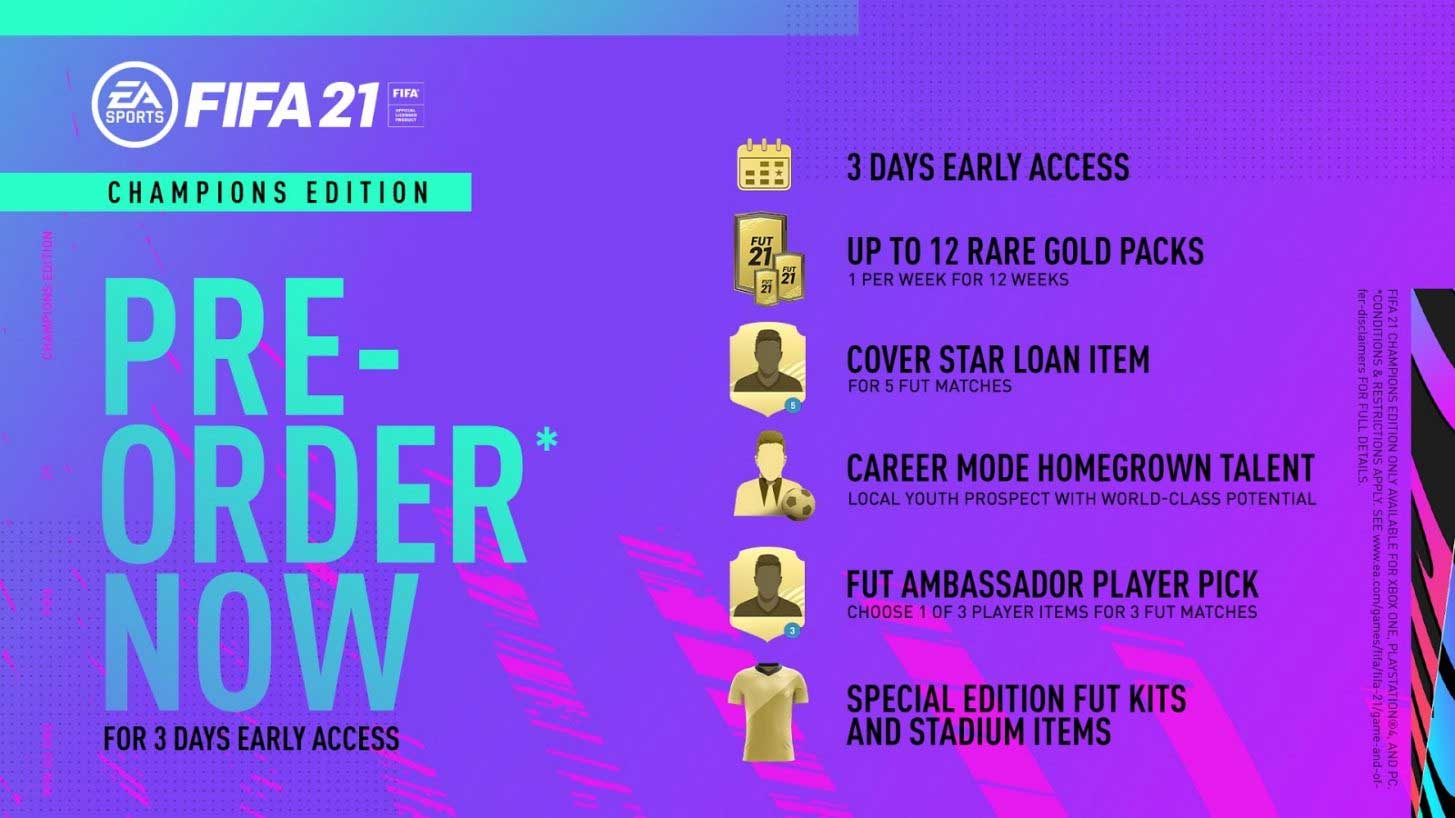 Price: $79.99 (consoles); $69.99 (PC)
Pre-order the FIFA 21 Champions Edition and receive:
– 3 days Early Access (play from October 6)
– Up to 12 FUT 21 Rare Gold Packs (1 per week for 12 weeks)
– 1 Cover Star Loan FUT Item (for 5 FUT matches)
– Career Mode Homegrown Talent (local youth prospect with world-class potential)
– 1 FUT Ambassador Loan Player Pick Item (Choose 1 of 3 player items for 3 FUT matches)
– Special Edition FUT kits and stadium items
FIFA 21 Ultimate Edition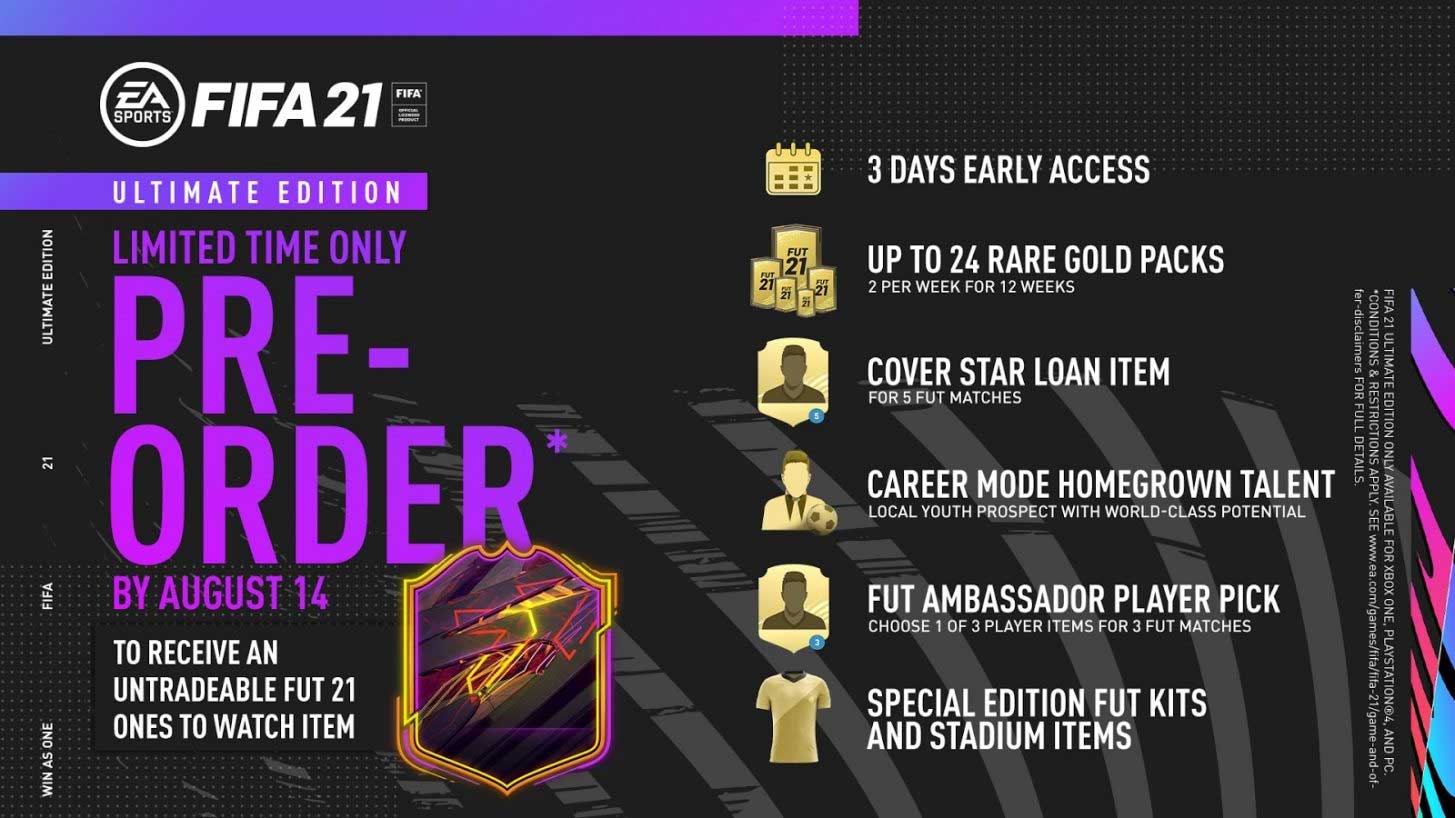 Price: $79.99 (consoles); $69.99 (PC)
Pre-order the FIFA 21 Ultimate Edition and receive:
– Untradeable FUT 21 Ones To Watch Item (Limited Time Offer available until August 14th)
– 3 days Early Access (play from October 6)
– Career Mode Homegrown Talent (local youth prospect with world-class potential)
– Up to 24 FUT 21 Rare Gold Packs (2 per week for 12 weeks)
– 1 Cover Star Loan FUT Item (for 5 FUT matches)
– 1 FUT Ambassador Loan Player Pick Item (Choose 1 of 3 player items for 3 FUT matches)
– Special Edition FUT kits and stadium items