Do you want to know what are the FUT 13 TOTS Release Dates ? Check it here.
FUT 13 TOTS Release Dates
EA is always trying to move to FUT 13 what is happening on the pitch. That's why they release special In Form cards at the end of each season. These blue cards are called TOTS (Team of the Season). The players of TOTS have attributes and rating much improved.
Usually these cards are released in May / June into seven TOTS. This year, it will be eight. The first one is to the gold players that played well the whole season but never had the luck of getting an IF card. The second one is also to the most consistent players but from bronze and silver levels. The best players of the Barclays Premier League are selected to the third TOTS. In the fourth are the players that played better in Bundesliga and the fifth in Serie A. The sixth TOTS should the one that is build with players from the French League. The players from Netherlands and Belgium will be in the seventh TOTS. The last Team of the Season to be released in FUT 13 will be the Liga BBVA.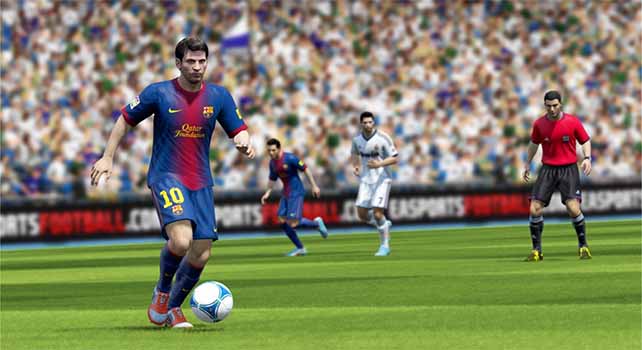 Messi will be in the last FUT 13 TOTS
EA has confirmed the release of these eight TOTS. Here are the TOTS release dates:

[accordion]
[accordion_item title ="Gold Most Consistent but Never IF"]Available in packs: May 8th 2013[/accordion_item]
[accordion_item title ="Silver / Bronze Most Consistent but Never IF"]Available in packs: May 8th 2013[/accordion_item]
[accordion_item title ="Barclays Premier League"]Available in packs: May 15th 2013[/accordion_item]
[accordion_item title ="Bundesliga"]Available in packs: May 22nd 2013[/accordion_item]
[accordion_item title ="Serie A"]Available in packs: May 29th 2013[/accordion_item]
[accordion_item title ="Ligue 1″]Available in packs: June 05th 2013[/accordion_item]
[accordion_item title ="Benelux"]Available in packs: June 07th 2013[/accordion_item]
[accordion_item title ="BBVA"]Available in packs: June 12th 2013[/accordion_item]
[/accordion]