Figo, Romário and Nedved are the new FIFA 14 Legends.
New FIFA 14 Legends
One of the good things of having a Microsoft console is the chance to get a FIFA 14 Legends card. Yes, it is something highly unlikely to happen but it is good the feeling that it may happen. Or not. Don't say that we did not advice you.
When the FIFA 14 legends have been introduced for the first time, 39 players were announced. Now, during a special next-gen preview event, three more legends were added to that list: Figo, Romario and Neeved.
This Microsoft exclusive addition will be available on the Xbox Marketplace as soon as Xbox One launches. Which means that FIFA 14 Legends will be launching on November 20 to XBox 360 and XBox One users.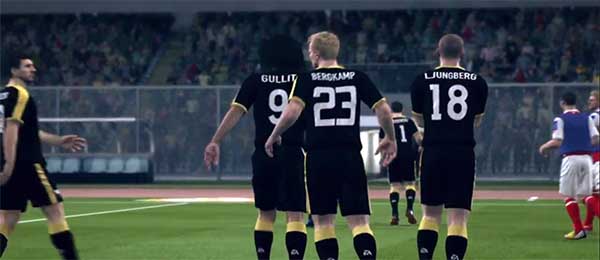 FIFA 14 Legends cards will be very rare
Until there, here is the list of the all confirmed FIFA 14 legends:
Bergkamp
Bierhoff
Campbell
Cannavaro
Crespo
De Boer
Desailly
Effenberg
Fowler
Hierro
Figo
Futre
Gullit
Hagi
Inzaghi
Kluivert
Larsson
Lehmann
Lineker
Ljunberg
Maldini
Matthaus
Neville
Nedved
Owen
Pauleta
Pelé
Pirès
Rijkaard
Romário
Rui Costa
Seaman
Sheringham
Shevchenkho
Suker
Van Basten
Van Der Sar
Van Nistelrooy
Vieira
Vieri
Whea
Zola
The star-studded lineup includes some of the greatest football legends to ever step onto the pitch. Freddie Ljunberg, Ruud Gullit, Pelé and Dennis Bergkamp are just some of the greats that players can now add to their FIFA 14 Ultimate Team starting XI. Each football legend will have unique attributes based on their skills and flair during the peak of their careers, and will be randomly inserted into FIFA 14 Ultimate Team Gold Packs beginning at the launch of the Xbox One.
You can learn more about FIFA 14 Legends HERE.
Here is a video of Football Legends, the exclusive content of FIFA 14 Ultimate Team XBox consoles: