In FIFA 13 Ultimate Team, there will be eight TOTS. But which ones?
UPDATE: the list of the eight TOTS and their release dates can be found HERE. Now it is official.
The Eight FIFA 13 Ultimate Team TOTS
A Team of the Season is a team that gathers the players who played better on the whole season. EA selects those best players and release them in special blue In Form cards. They do that every week with different Team of the Weeks until the last one.
This year, EA has announced that they will release not seven, as in FUT 12, but eight TOTS. What does it means? Which TOTS may we expect ? Let's talk a bit about it.
In the previous FIFA Ultimate Team, EA released the following seven Team of the Seasons:
TOTS Number One: Gold Most Consistent but Never IF
TOTS Number Two: Silver / Bronze Most Consistent but Never IF
TOTS Number Three: English Leagues
TOTS Number Four: Northern Europe Leagues
TOTS Number Five: Southern Europe Leagues
TOTS Number Six: Spanish Leagues
TOTS Number Seven: Major League Soccer
Until now, there is not any official information about all the Team of the Season that will be released in FIFA 13 Ultimate Team.
Let's take a look at the three options:
Number One – The Unlikely one
Although unlikely, there is a chance that EA will reformulate the leagues distribution by the 8 TOTS. It means that, for example, the leagues of northern and southern Europe TOTS could be shared by three TOTS, allowing more TOTS players from these countries. We really do not believe that it will happen, but we can not dismiss it.
Number Two – Our Suggestion
For us, the distribution of leagues by the FUT 12 Team of the Season was almost perfect. With an extra team, we think that there is a chance to create a new TOTS to all the other players from around the world. We already have the best players from Europe and North America leagues but where are the players form other countries? A player from Brazil league can only have a TOTS card on the Most Consistent but never IF TOTS ? In our opinion EA should keep with the seven Team of the Season from the previous year and add one more Team of the Season to the Rest of the World.
Number Three – What will Happen
We are almost sure that the extra team will not be ROTW. If you know EA as we do, you know that they will create a TOTS to sell even more packs. We need to understand that EA Sports create FIFA 13 to make money. And they only make money giving to gamers what they want. Most of gamers are from UK. So, we are almost sure that the extra TOTS will be to the other English leagues: Championship, League One and League Two. Moreover, it seems that EA will include the Blue Square Premier League on FIFA 14. There is one more thing that helped us to get until this conclusion: EA has changed the name of the "English Leagues" TOTS to "Barclays Premier League TOTS".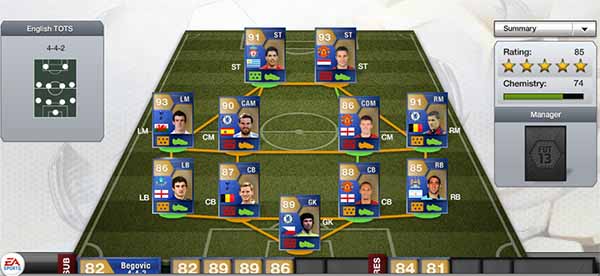 If you want to know anything more about Team of the Season just click on "TOTS" tag on the right side of this page.
You can check which TOTS are been releasing HERE.