Let's take a look to the elements of Presentation and Authenticity in EA Sports 2014 World Cup.
Presentation and Authenticity on EA Sports 2014 FIFA World Cup Brazil
We have already highlighted a few of the game's features, including various modes and game play improvements. Now, it is time to take a look to the elements of Presentation and Authenticity in this game.
Patriotic Presentation
You feel immersed in the world's passion when you're watching the FIFA World Cup, as crowd support roars in the stands and all around the world. It's a sight to be seen when fans drape themselves in their country's colours, cheerfully sing and dance to celebrate the beautiful game. New crowd scenes in In EA SPORTS 2014 FIFA World Cup include banners, flags and seat cards. The supporters in the stands will motivate the team on the field to push them further.
Additionally, you'll notice live shots from over fifteen different locations around the world. Score a goal with England and the game will cut to Trafalgar Square in London to show the exuberant England supporters. Other live site locations include Sydney's Opera House, the Congress Building in Buenos Aires, Brandenburg Gate in Berlin, Stradun in Dubrovnik, Croatia, and the Plaza de la Constitución in Mexico City.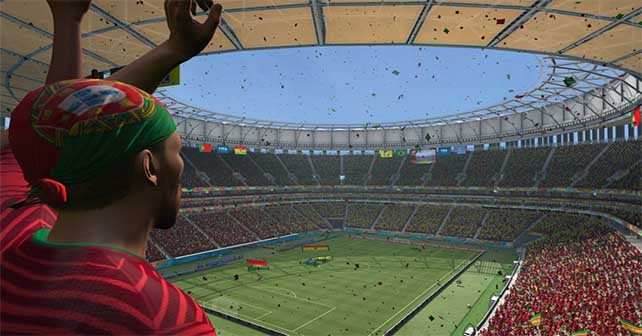 EA Sports Talk Radio
Fans, both casual and dedicated, love to sit down to discuss their country's chances and debate upcoming fixtures. In EA Sports FIFA World Cup 2014, we are introducing EA SportsTalk Radio to provide dynamic analysis of your FIFA World Cup adventure.
Your offline FIFA World Cup progress will be analysed by both Michael Davis and Roger Bennett of the Men in Blazers or Andy Goldstein of talkSports and Ian Darke of ESPN. Both teams have combined to record over 50 hours of audio that will change based on the outcome of your World Cup performance. They will remark on how you've played in a previous match as well as what to expect in an upcoming match. From Toga to Argentina, they will make specific mention of all 203 nations ensuring a one-of-a kind experience.
Teams, Players, and Managers
In EA Sports 2014 FIFA World Cup Brazil, we've gone the extra mile to deliver the most authentic football experience possible. There are 203 FIFA-sanctioned nations available, which includes 7,469 licensed FIFPro players as well as 19 officially licensed managers. You'll see the likes of Brazil's Luiz Felipe Scolari, Louis van Gaal of The Netherlands and England manager Roy Hodgson walking the sidelines and reacting to their team's performances on the pitch.
As an added bonus, once you've made your way to the finals and won the FIFA World Cup, FIFA President Sepp Blatter will be there in virtual form to award your squad the trophy.
Stadiums
All 12 2014 FIFA World Cup stadiums have been included with incredible detail, both inside and outside of the stadiums. In our other modes, including Road to the FIFA World Cup, Story of Qualifying and Offline & Online Friendlies, you will have the option of nine other stadiums with multiple weather options available. Feel free to recreate the memorable snow-covered match between the United States and Costa Rica.
Commentary
The commentary team of Clive Tyldesley and Andy Townsend are back in EA SPORTS 2014 FIFA World Cup Brazil. The long-time duo have been featured in the FIFA series for years and have recorded 15 hours of added in-game commentary. Geoff Shreeves also returns to the touchline, giving updates on any player injuries that may occur during the course of a match.