FIFA 15 is coming and everyone want to know how the game will looks like. There are lots of speculation. We have selected the best FIFA 15 rumours and we have made a huge research to know if they are true or not.
Here are your ultimate stop for FIFA 15 rumours.
UPDATE
August 20th, 2014
There will be a transfer market on FIFA 15 Ultimate Team. Now, it is official.
August 12th, 2014
Zidane and Beckham were not announced as new Legends in the Microsoft XBox Gamescom conference.
August 7th, 2014
Turkish League will be included in FIFA 15



FIFA 15 Rumours – #1
LEGENDS WILL BE INCLUDED IN ALL PLATFORMS
Description:
As you probably now, Legends were a new addition to Ultimate Team mode in FIFA 14. EA Sports signed a 1-year deal with Microsoft for the FUT Legends exclusivity and there are lots of speculation if FUT Legends will feature on PlayStation and PC platforms too next season.
What Will Happen:
In fact, Legends cards will not be released in other platforms besides XBox One and XBox 360. We have no official confirmation about this, but probably EA Sports has renewed the agreement with Microsoft. If you look to the FIFA 15 pre-orders XBox covers you will notice a "Legends only on XBox" bagde. The Playstation and PC users will have to wait another year…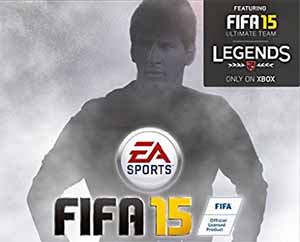 FIFA 15 Rumours – #2
THERE WILL BE NEW LEGENDS IN FIFA 15
Description:
Legends were a good addition to FUT 14 but gamers are not happy with the players chosen as legends. They want more. They are asking by Ronaldo, Maradona, Beckenbauer, Eusebio and Puskas.
What Will Happen:
The infographic that EA Sports has released during the '5 years of FUT' week, shows that Legends is a permanent addition. They know that gamers want more legends and it is a easy task for them. In FUT 14 there are 42 Legends. There are high chances to see Zidane added in FUT 15. And David Beckham too, who knows ? Why we say that ? Just look to the first seconds of the following adidas commecial video and you will find out yourself.
FIFA 15 Rumours – #3
WOMEN'S LEAGUES WILL BE INCLUDED IN FIFA 15
Description:
This is a top suggestion of every FIFA wishlist. Every year it is the same: the community ask but the EA Sports delays to the next year.
What Will Happen:
EA Sports producers already have explained in previous years, that this is a hard addition to implement. They would have a lot of work to do because the physics would be different, it would affect collisions, and also because it requires new models and hair styles. However, there are some chances to women's football league make its debut in FIFA 15. First, because the french journalist Elise Chassaing has twitted three pictures showing her at the EA's Motion Capture lab in Vancouver as you can see above. Then because Nick Channon, the senior producer on FIFA 15, hasn't denied when asked by X-ONE: "It's something that we've been asked quite a bit, and something we very seriously consider, but we don't have any news on it today. But it is definitely something we considered and continue to do so…". And finally because in FIFA 15, player models have new hair physics and that's something that could make things easier to include women in the game.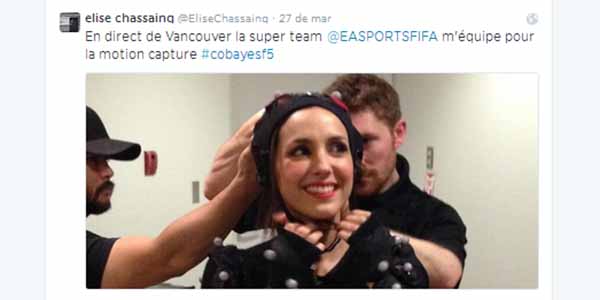 FIFA 15 Rumours – #4
IGNITE ENGINE WILL POWER FIFA 15 ON PC
Description:
The Ignite engine was the EA Sports FIFA 14 game engine for the next-gen consoles Playstation 4 and XBox One, but not for PC. PC gamers want to play FIFA 15 running Ignite Engine.
What Will Happen:
This is not a rumour any more. EA Sports has officially announced at the E3 venue that Ignite Game Engine will be running on FIFA 15 for PC. It is something good for PC gamers but remember that it will require a better machine to run FIFA than in the previous years. Check in the following picture the system specifications. If you want to know more about this subject, click here.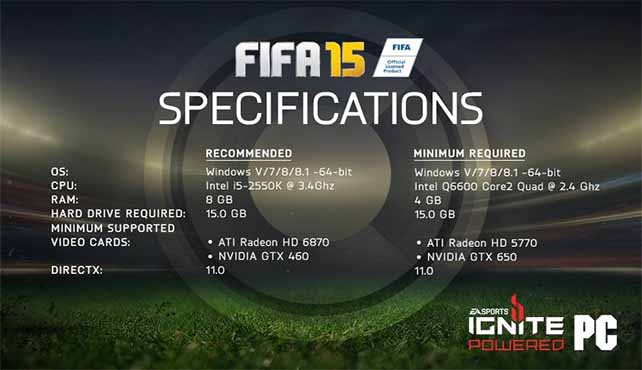 FIFA 15 Rumours – #5
UEFA COMPETITIONS ARE BACK TO FIFA
Description:
You can play with the largest selection of realistic leagues in FIFA but not the most important competition: the European Champions League. In fact, UEFA competitions are the most valuable resource of Konami which has the exclusive license to use it in Pro Evolution Soccer videogame.
What Will Happen:
There are many rumours saying that EA Sports have made a 3-years agreement to get the UEFA Champions League and Europa League licenses. However, it don't seem to be true. All these rumours have the same source: proevolutionsoccerbrasil website. In our opinion it is not a trustful source because they have publish different news in a couple of days about the same subject. We have made some research and we discovered that Konami has renewed with UEFA the exclusive license for these competitions for one more season. According to Adam Bhatti, PES European Brand Manager, ECL and Europa League will not be included in FIFA 15.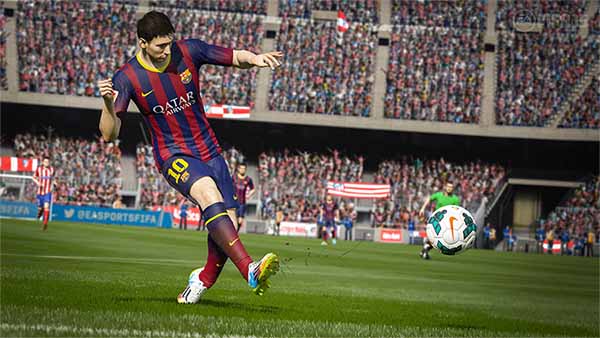 FIFA 15 Rumours – #6
NEW LEAGUES WILL BE INCLUDED IN FIFA 15
Description:
EA Sports knows that fans around the world want to feel free to play realistic matches with any team. That's why including new leagues is almost a 'must to do' for FIFA 15 producers.
What Will Happen:
The question is not if FIFA 15 will include or not new Leagues. The question is which leagues will be included. There are many strong candidates, as the Jupiler League (2nd Dutch league) or the Chinese Super League. However, according to our research, Uruguayan, Paraguayan and Ecuadorian leagues have the higher chances to be part of the new game. It is known that EA Sports is trying to add many South American leagues, in way to add Copa Libertadores as soon as possible. This information was confirmed by Sergio Jadue, the Chilean FA president. Until now, there is no signs to see Turkish league included in FIFA 15 but Fenerbahce fans may have better luck. According to their Vice President Omer Temelli, the team will return to FIFA franchise this year to be part of ROTW section.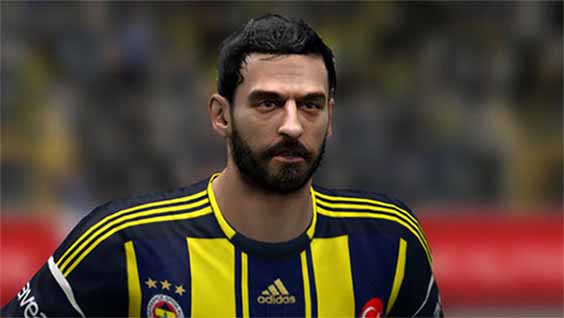 FIFA 15 Rumours – #7
FUT 15 WITHOUT MARKET
What Will Happen:
More than a game, FIFA 15 is a business. And the most important thing in any business is the profit. EA Sports feels that coins stores, autobuyers and scammers are reducing the margins profit of the company and they want to stop them. The best way to do it is to close the transfer market. In fact, we suspect that it is the reason why FUT Web App is unavailable for so long. They are testing if the they can remove the market from Ultimate Team or not. The greatest test was made with the free expansion FUT World Cup in which cards are all untradeable. Let's see if they realize in time that many gamers only play Ultimate Team because they love to trade.