FIFA World, the most advanced free to play football video game ever made, is coming.
FIFA World – The New Free Worldwide FIFA Game
Electronic Arts has announced that EA Sports™ FIFA World, a new free-to-play, downloadable soccer game for PC is coming to Brazil and Russia. FIFA World is being developed for fans who are not console gamers in Brazil and Russia. It will feature the award-winning EA Sports FIFA HD console gameplay, FIFA Ultimate Team and Seasons, and over 30 officially licensed leagues, including the Russian Football Premier League, and more than 600 clubs, including 19 officially licensed football clubs from Brazil.
FIFA World will be available free to soccer fans and gamers with more than 13 years old, in Brazil and Russia, with a broadband internet connection, Origin account and an average spec laptop computer or desktop personal computer. The new game will be built around FIFA Ultimate Team, the most popular game mode within EA Sports FIFA that reflects the best recent real-world performances of the world's best players. In Ultimate Team, fans have the freedom to build their own unique squads to play their own style of soccer, re-shaping their teams based on the real-world performances of their favourite players.
If you live in Russia or Brazil and want to participate in the closed beta development and testing of FIFA World, click HERE and enter your e-mail. The English Beta won't start for several months. The commercial launch of the game is scheduled for November 2013.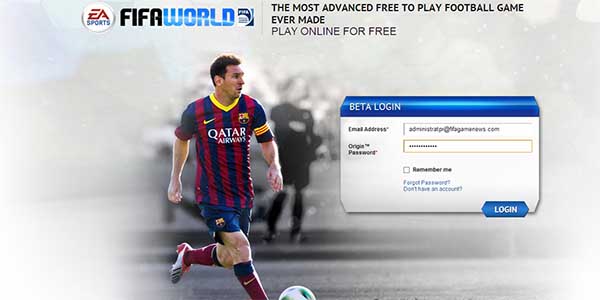 It is very easy to register
"Brazil and Russia are priority markets for EA Sports and especially our FIFA brand. We are excited to bring to these markets a custom-built, free-to-play PC experience developed around FIFA Ultimate Team" said Matt Bilbey, Senior Vice President and Group General Manager, EA Sports. "FIFA World will be a fun new way to play FIFA for new fans."
EA Sports has successfully implemented the free-to-play gaming model in Korea with an online football game for PC called EA Sports FIFA Online 3. It currently holds the number 2 spot in Korean PC café rankings according to Gametrics. EA also recently announced that FIFA Online 3 is in development for Southeast Asia and mainland China.
FIFA World is being created by the award-winning FIFA development team at EA Canada.