Do you want to know how the new FIFA 14 Career Mode will be ? Check it here.
EA Sports Introduce the new FIFA 14 Career Mode
We already brought some news about the new FIFA 14 Career Mode that you can check HERE. But now EA Sports has officially introduced this game mode and every improvements that you will find.
Take a club to glory with Career Mode in FIFA 14. Discover hidden talent with the all-new Global Transfer Network and help build a dynasty that wins trophies for years on end.
Watch the first video of the new FIFA 14 Career Mode :
Global Transfer Network
The all-new Global Transfer Network completely reinvents scouting for FIFA 14 Career Mode.
Clubs will start out with between one to four scouts on staff. Larger clubs will start with a number of scouts, while smaller sides may only have one available. All clubs can eventually hire up to six scouts to evaluate talent, and scouts themselves are rated from one to five stars depending on their influence and ability.
When looking for talent, scouts can target up to six traits to help zero in on the right fit for the squad. The search's specificity and the quality of the scout will determine the wait for results. Typically, scouts will report back with information on players after a few days, up to a week. Scouts can be relocated at any time and will be constantly searching for talent throughout the season.
The first round of transfer reports will include preliminary information and minor details about a player's potential strengths. As players are scouted, information becomes more detailed and accurate. Managers don't have to immediately make decisions based on scouting reports; information is always accessible but does become outdated over time. If an entire season goes by, the information that was once collected may not be valid, so it's best to keep tabs on targeted and viable players for your team.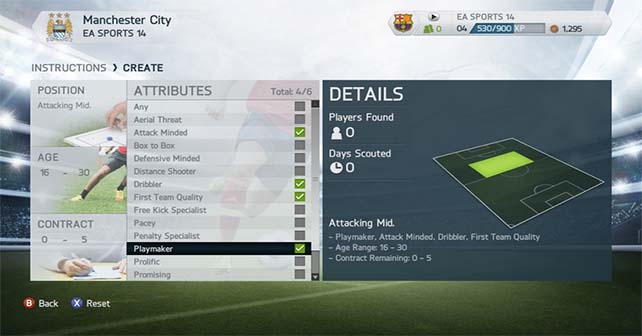 Player Details and Progression
When browsing the Global Transfer Network, player overall ratings for many players are no longer visible. A player must be on a club's squad for that information to be made available, which puts a higher importance on deeper scouting to improve a club. Players will develop and deteriorate more slowly to reflect the real world of football, another reason to take scouting seriously. Most of these changes will take place at the mid-point or towards the end of a season.
The Transfer section of the new FIFA 14 Career Mode houses all the latest news and rumours, including info on recent deals and moves. Eligible players can now be signed on a pre-contract agreement in FIFA 14. If a player is over the age of 23 and has less than six months remaining on their contract, they will be free to search for a new club on their own. Notifications will be made if and when a player is approaching this period of their contract.
Putting in a big offer or going after known targets will get the attention of clubs you don't control. If there is a high level of interest for a particular player, other teams can intercept a potential transfer. Transfer Deadline Day, now includes league-specific breakdowns, allowing players to focus on moves that will directly affect their club.
A new transfer option allows users to "reject all/disallow future offers", which can prevent other clubs from continuing to approach with offers for players that are not for sale. Non-user controlled clubs will never inquire about a player and will only approach when interested in purchasing someone from your team. Players can also disable the initial transfer window upon their first year in Career Mode, to allow for accurate, real-world squads. Afterwards, regular transfer options become available during the January transfer window.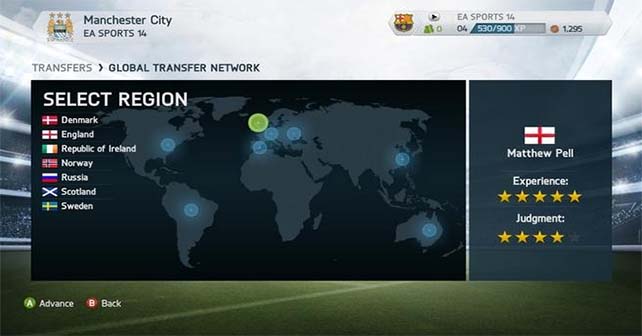 Updated Interface and Audio
All key details (Central, Squad, Transfers, Office and Season) will be found on the new, redesigned main page and all sub-menus can be accessed with the right analog stick. Within Squad, team formations can be changed without going into the Team Management screen.
When accessing your e-mails, all content is available in a reading pane. Now only the most important e-mails will stop the game flow and older e-mails are archived for easy access. Managers can look back when trying to determine an injured player's return date or to identify when certain players will be leaving for international duty.
FIFA 13 included commentary which made light of current transfer rumours, player performances and other on-field instances. Commentary in FIFA 14, takes the immersion even further with mentions of recent suspensions, potential player retirements, injury updates, and will discuss previous match results with greater detail.
If you want to play the new FIFA 14 Career Mode as soon as possible, don't forget to check HERE the budgets of the most popular European clubs.