It is not easy to find the right players for your club in FIFA 14 Career mode. We will try to help you with that. Check our player growths table.
Highest Player Growths in FIFA 14 Career Mode
If you are like us, you probably love to find young unknown talents as you did in the old times of Championship Manager 3. But it isn't easy to know if the players you choose have the chance to becomes great players.
The best way to do it is to check the list of the highest player growths that we bring you here. Player Growths represents how much rating points the player may increase between now and his best career moment. The higher this value, the bigger will be the improvement.
You should look to these player growths as a guide only. It doesn't mean that the player will reaches the potential rating. It only means that he may do it but it depends of several factors, as how well he performed over the seasons or how much matches he played.
| | | | | | | |
| --- | --- | --- | --- | --- | --- | --- |
| #1 |    Shaquille Hunter | RM | 18 | 51 | 79 | 28 |
| #2 |    Jordan Cousins | RB | 19 | 47 | 75 | 28 |
| #3 |    Jacob Murphy | RM | 18 | 53 | 80 | 27 |
| #4 |    Andrew Dawber | GK | 19 | 47 | 74 | 27 |
| #5 |    Conor Thompson | GK | 18 | 45 | 72 | 27 |
| #6 |    Hardy Cavero | CB | 17 | 51 | 78 | 27 |
| #7 |    Tyler Harvey | ST | 18 | 54 | 81 | 27 |
| #8 |    Nathan Curtis | CF | 17 | 42 | 68 | 26 |
| #9 |    Héctor Bellerín | RB | 18 | 56 | 82 | 26 |
| #10 |    Jesse Gonzalez | GK | 18 | 56 | 81 | 25 |
| #11 |    Jhoaho Hinestroza | RW | 18 | 50 | 75 | 25 |
| #12 |    Niccoló Belloni | RW | 19 | 48 | 73 | 25 |
| #13 |    Levin Öztunali | CDM | 17 | 60 | 84 | 24 |
| #14 |    Josh Murphy | LM | 18 | 56 | 80 | 24 |
| #15 |    Anthony Martial | ST | 18 | 63 | 87 | 24 |
| #16 |    Ferid Matri | CB | 19 | 56 | 80 | 24 |
| #17 |    Andelko Savic | ST | 20 | 51 | 75 | 24 |
| #18 |    Alberto Cerri | ST | 17 | 53 | 77 | 24 |
| #19 |    Bruno Petkovic | ST | 19 | 49 | 73 | 24 |
| #20 |    Siebe Schrijvers | ST | 17 | 61 | 85 | 24 |
| #21 |    Luca Pontigo | ST | 19 | 55 | 79 | 24 |
| #22 |    Duane Holmes | CM | 19 | 53 | 77 | 24 |
| #23 |    Devante Cole | ST | 18 | 56 | 79 | 23 |
| #24 |    Andrea Demontis | CM | 18 | 53 | 76 | 23 |
| #25 |    Jonathan Tah | CB | 17 | 60 | 83 | 23 |
| #26 |    Bryn Morris | CM | 17 | 53 | 76 | 23 |
| #27 |    Hayden White | RB | 17 | 56 | 79 | 23 |
| #28 |    Patricio Rubio | ST | 24 | 57 | 80 | 23 |
| #29 |    Brayan Córdoba | GK | 17 | 48 | 71 | 23 |
| #30 |    Jair Zacarías | CB | 19 | 53 | 76 | 23 |
| #31 |    Leo Chambers | CB | 18 | 56 | 78 | 22 |
| #32 |    César Valenzuela | CAM | 21 | 53 | 75 | 22 |
| #33 |    Roman Zobnin | CDM | 19 | 55 | 77 | 22 |
| #34 |    Phousseyne Diaby | CM | 18 | 54 | 76 | 22 |
| #35 |    Jack Grealish | LM | 18 | 62 | 84 | 22 |
| #36 |    Stepan Rebenko | CB | 18 | 53 | 75 | 22 |
| #37 |    Anton Mitryushkin | GK | 17 | 57 | 79 | 22 |
| #38 |    Nicolas Lüchinger | RB | 19 | 52 | 74 | 22 |
| #39 |    Scott Fraser | CM | 18 | 46 | 68 | 22 |
| #40 |    Dele Alli | CM | 17 | 54 | 76 | 22 |
| #41 |    Mahmoud Kahraba | CAM | 19 | 58 | 80 | 22 |
| #42 |    Vyacheslav Krotov | RW | 20 | 56 | 77 | 21 |
| #43 |    Declan John | LB | 18 | 59 | 80 | 21 |
| #44 |    Ebenezer Assifuah | ST | 20 | 57 | 78 | 21 |
| #45 |    Matt Lecointe | ST | 19 | 55 | 76 | 21 |
| #46 |    Vumbi Bundu | LB | 18 | 51 | 72 | 21 |
| #47 |    Diego De Girolamo | CAM | 18 | 54 | 75 | 21 |
| #48 |    Stefano Padovan | ST | 19 | 52 | 73 | 21 |
| #49 |    Gregory Karlen | ST | 18 | 54 | 75 | 21 |
| #50 |    Shaquille McDonald | ST | 19 | 51 | 72 | 21 |
| #51 |    Robert Andrich | CDM | 19 | 53 | 74 | 21 |
| #52 |    Craig Storie | CM | 17 | 51 | 72 | 21 |
| #53 |    Alvaro Salazar | GK | 20 | 54 | 75 | 21 |
| #54 |    Gilles De Waele | CM | 17 | 50 | 71 | 21 |
| #55 |    Anton Khodyrev | LB | 21 | 57 | 78 | 21 |
| #56 |    Ronan | LB | 19 | 59 | 80 | 21 |
| #57 |    Adriano De Pierro | CB | 22 | 57 | 78 | 21 |
| #58 |    Jordan Graham | RM | 18 | 58 | 79 | 21 |
| #59 |    Nico Brandenburger | CM | 18 | 58 | 79 | 21 |
| #60 |    Stefano Minelli | GK | 19 | 54 | 75 | 21 |
| #61 |    Christian Nørgaard | CM | 19 | 59 | 80 | 21 |
| #62 |    Nicola Lancini | LB | 19 | 55 | 75 | 20 |
| #63 |    Adama Diouf | CAM | 19 | 55 | 75 | 20 |
| #64 |    Andrés Robles | CDM | 19 | 59 | 79 | 20 |
| #65 |    Lorry Mengual | CAM | 23 | 55 | 75 | 20 |
| #66 |    Israel Alba | ST | 18 | 51 | 71 | 20 |
| #67 |    Fares Bahlouli | CAM | 18 | 60 | 80 | 20 |
| #68 |    Luca Maniero | GK | 18 | 52 | 72 | 20 |
| #69 |    Sondre Tronstad | CM | 18 | 53 | 73 | 20 |
| #70 |    Marcos Lopes | CAM | 18 | 63 | 83 | 20 |
| #71 |    Jean-Charles Castelletto | CB | 18 | 57 | 77 | 20 |
| #72 |    Alexandre Gonzalez Emerson | ST | 21 | 53 | 73 | 20 |
| #73 |    Tyias Browning | RB | 19 | 54 | 74 | 20 |
| #74 |    Danny Handling | ST | 19 | 53 | 73 | 20 |
| #75 |    Jonathon Black | ST | 19 | 52 | 72 | 20 |
| #76 |    Abdallah Yaisien | CAM | 19 | 61 | 81 | 20 |
| #77 |    César Fuentes | CM | 20 | 60 | 80 | 20 |
| #78 |    Liam Henderson | CM | 17 | 52 | 72 | 20 |
| #79 |    Alex Grant | CB | 19 | 52 | 72 | 20 |
| #80 |    Christopher Dilo | GK | 19 | 49 | 69 | 20 |
| #81 |    Mitchell Pinnock | LM | 19 | 52 | 72 | 20 |
| #82 |    Facundo Cardozo | CB | 18 | 61 | 81 | 20 |
| #83 |    Trifonas Kazviropoulos | CAM | 17 | 55 | 75 | 20 |
| #84 |    Sosthène Bah | CB | 19 | 51 | 71 | 20 |
| #85 |    Martín Rodríguez | CM | 19 | 55 | 75 | 20 |
| #86 |    Zakarie Labidi | CAM | 18 | 60 | 80 | 20 |
| #87 |    Ryan Woods | CM | 20 | 52 | 72 | 20 |
| #88 |    Anthony Syhre | CB | 18 | 55 | 75 | 20 |
| #89 |    Dario Del Fabro | CB | 18 | 62 | 82 | 20 |
| #90 |    Stefan Popescu | LWB | 20 | 58 | 78 | 20 |
| #91 |    Borys Tashchi | CAM | 20 | 62 | 82 | 20 |
| #92 |    Marco Chiosa | CB | 20 | 54 | 74 | 20 |
| #93 |    Andrea Petagna | ST | 18 | 57 | 77 | 20 |
| #94 |    Jon Toral | CM | 18 | 54 | 74 | 20 |
| #95 |    Aldair Santana | CM | 20 | 52 | 72 | 20 |
| #96 |    Marco Russu | RB | 18 | 56 | 75 | 19 |
| #97 |    Graham Burke | CF | 20 | 58 | 77 | 19 |
| #98 |    Mouez Hassen | GK | 18 | 57 | 76 | 19 |
| #99 |    Rani Khedira | CDM | 19 | 60 | 79 | 19 |
| #100 |    Daniel Bachmann | GK | 19 | 60 | 79 | 19 |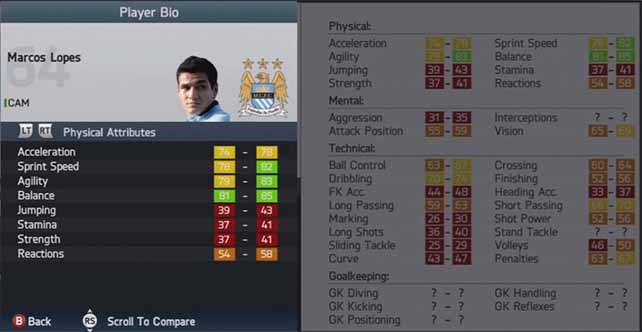 The City Portuguese Marcos Lopes is one of the players with higher potential growth