The FIFA 14 Update 3 is currently live on PC and it will be released for consoles later this week.

UPDATE
November 8th
The patch for XBox 360 and PS3 was released and it fixes the same issues of the PC version.


FIFA 14 Update 3
EA Sports has released the first update for FIFA 14 on September 25th and the second one on October 5th. Now they are releasing the FIFA 14 update 3. According to EA Sports, "our game data shows that previous updates and maintenance periods have helped immensely to improve stability but we will continue to investigate these reports internally and with our partners". So, we can expect less freezes and crashes. At least it is what we hope so.
But this FIFA Update 3 brought other important fixes. In addition to stability reports, they have addressed the following items in the most recent title update:
Career Mode lag when subbing players
Fixed several FIFA Ultimate Team hangs, including:
One instance of a crash when entering the FIFA Ultimate Team main menu.
A hang when comparing players after accepting a trade offer.
Skill Games pad arrows now switched to pass receiver when he gets the ball.
Virtual Pro numbers defaulting to 9 after a match.
Corrected instances of kit clashing.
New kits on Creation Centre showing as EA Kit 1.
Fixed some audio scenarios.
Co-Op Seasons squad changes will be reflected on team mate's screen.
Added Bahia licensed kits and crest.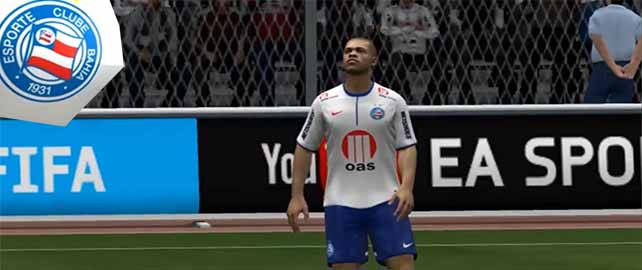 Bahia is the only club form the major Brazilian league that was not included in the game. With this patch, Bahia is finally on FIFA 14 with their real kits and badge You can learn more about it HERE.
We will update this post, as soon the FIFA 14 Update 3 for XBox and for Playstation 3 is out. Stay tuned with us.
If you want to see what has changed in the Update 1 and Update 2, click HERE and HERE.